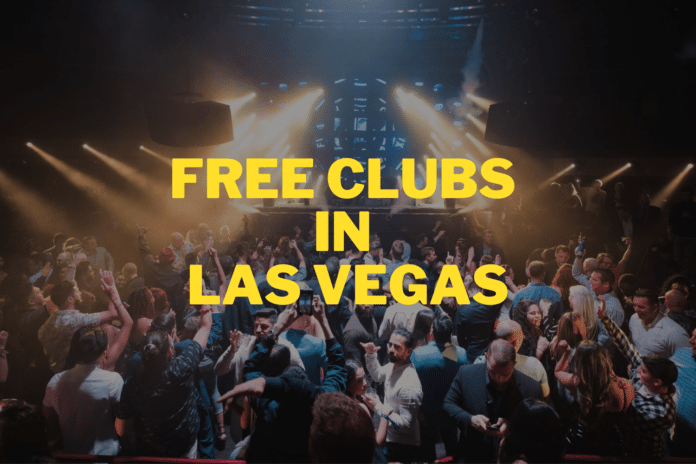 When planning a trip to Vegas, it's normal to set a budget and expectations of what you aim to spend. After all, Sin City wasn't built on freebies, but that isn't to say you can't find some around. Many clubs set general admission, tickets or table prices depending on the performer and if there is a holiday or other event. While many venues charge, you can find some that let people in for free on the guest list.
How are clubs free in Vegas, you ask? Well, as much as these spots want to make money, they also need to make sure there are people inside. So if you're looking to go out and party at some of the top clubs in the city, this list of which nightclubs are free in Vegas will help you get in – just make sure to follow the rules, then save that cash to splash on your favorite cocktails – and you don't even have to tip us for the intel.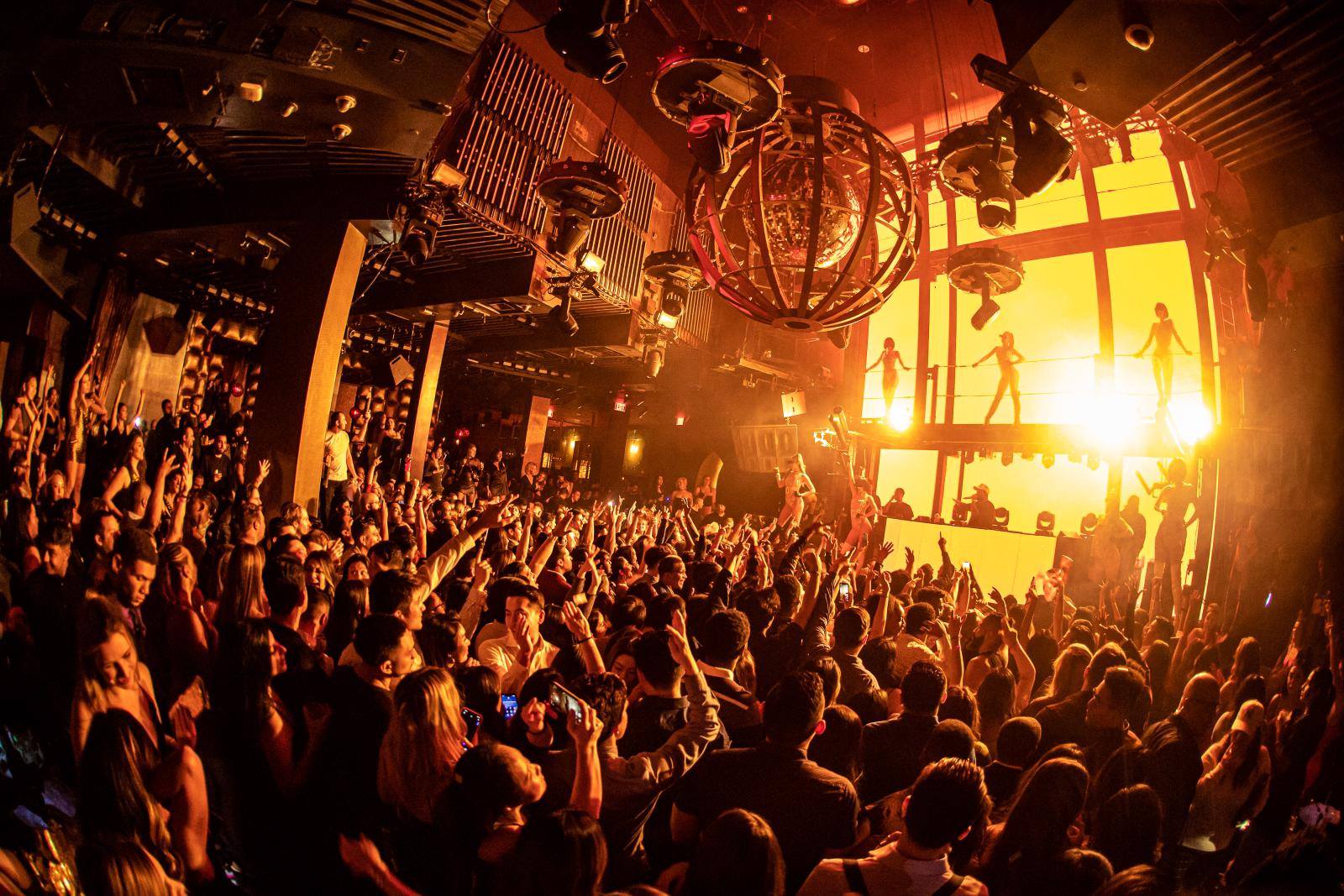 Located in the Cosmopolitan Hotel, Marquee Nightclub is 60,000 square feet of booming bass, mesmerizing lights, and intoxicating vibes. Open Wednesdays, Fridays, Saturdays, and Sundays from 10:30 PM to close, the venue boasts an upscale decor that includes three different rooms, each offering a new aesthetic. The library is a favorite among guests, with leather furniture and towering bookshelves. Throughout the club, you'll find a mixture of Deep House, Electronic, Hip Hop, and Top 40. The guest list is open from 10:30 PM until 1 AM and allows women free entry, whereas men are free if they have an equal ratio (an even number of males and females in the party). When using our guest list, we always informs attendees that further information will be sent on the day of the event with details.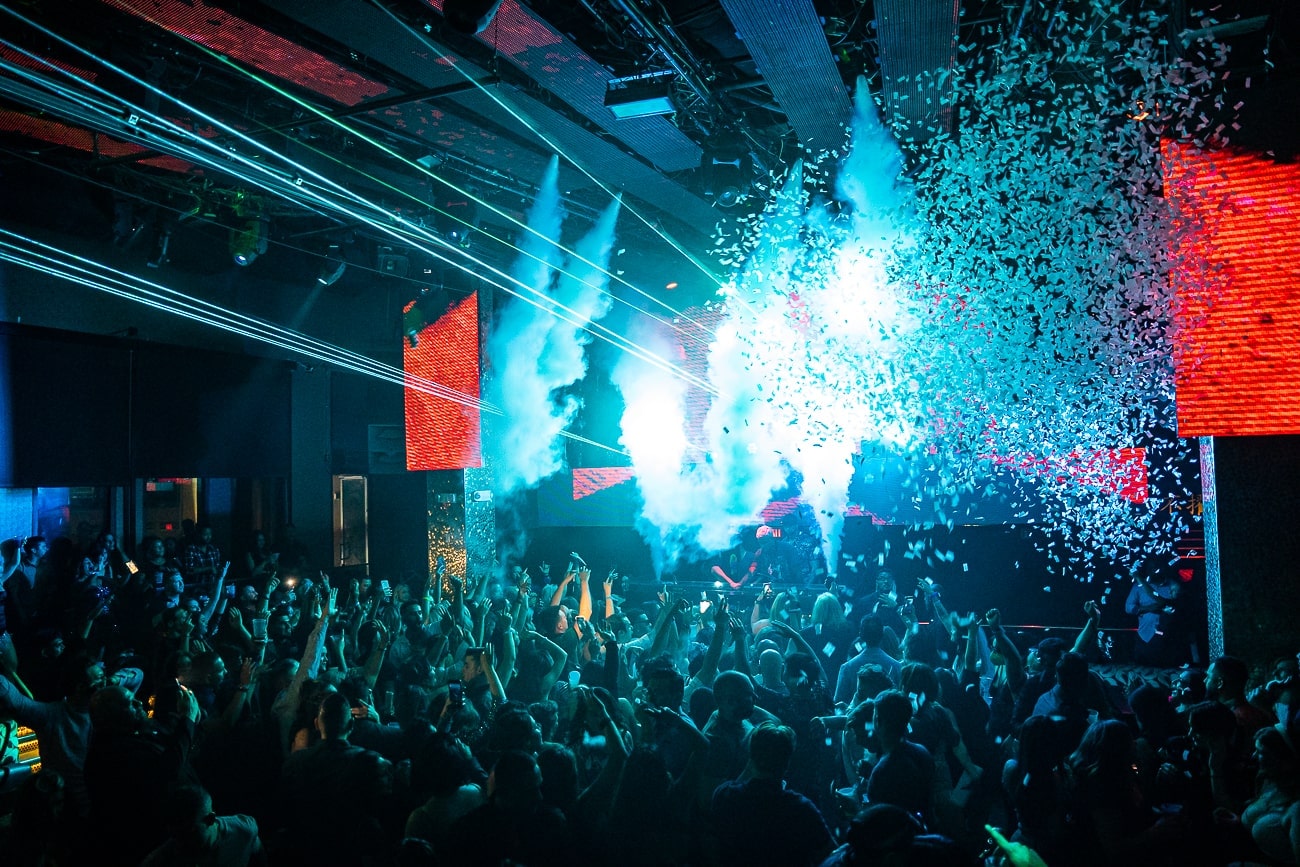 TAO Nightclub has become one of the most well-known names in Las Vegas, and the TAO Group now owns a majority of the party venues on the strip. Revered for its excellent DJ residencies and splendid decor, this spot is open Thursday – Saturday from 10:30 PM. They are best known for playing Top 40 beats, but also indulge patrons with Hip Hop and Electronic artists. The luxurious venue spans 10,000 square feet, and every inch screams opulence. It is located inside the Venetian Hotel, which already sets the precedence for what to expect when you head toward the entrance. Sky boxes, dance floor tables, and an outdoor terrace all culminate in an intimate but showy aesthetic, and the club does offer guest list which allows women in free from 10:30 PM to 1:00 AM, and men with even ratio in free as well.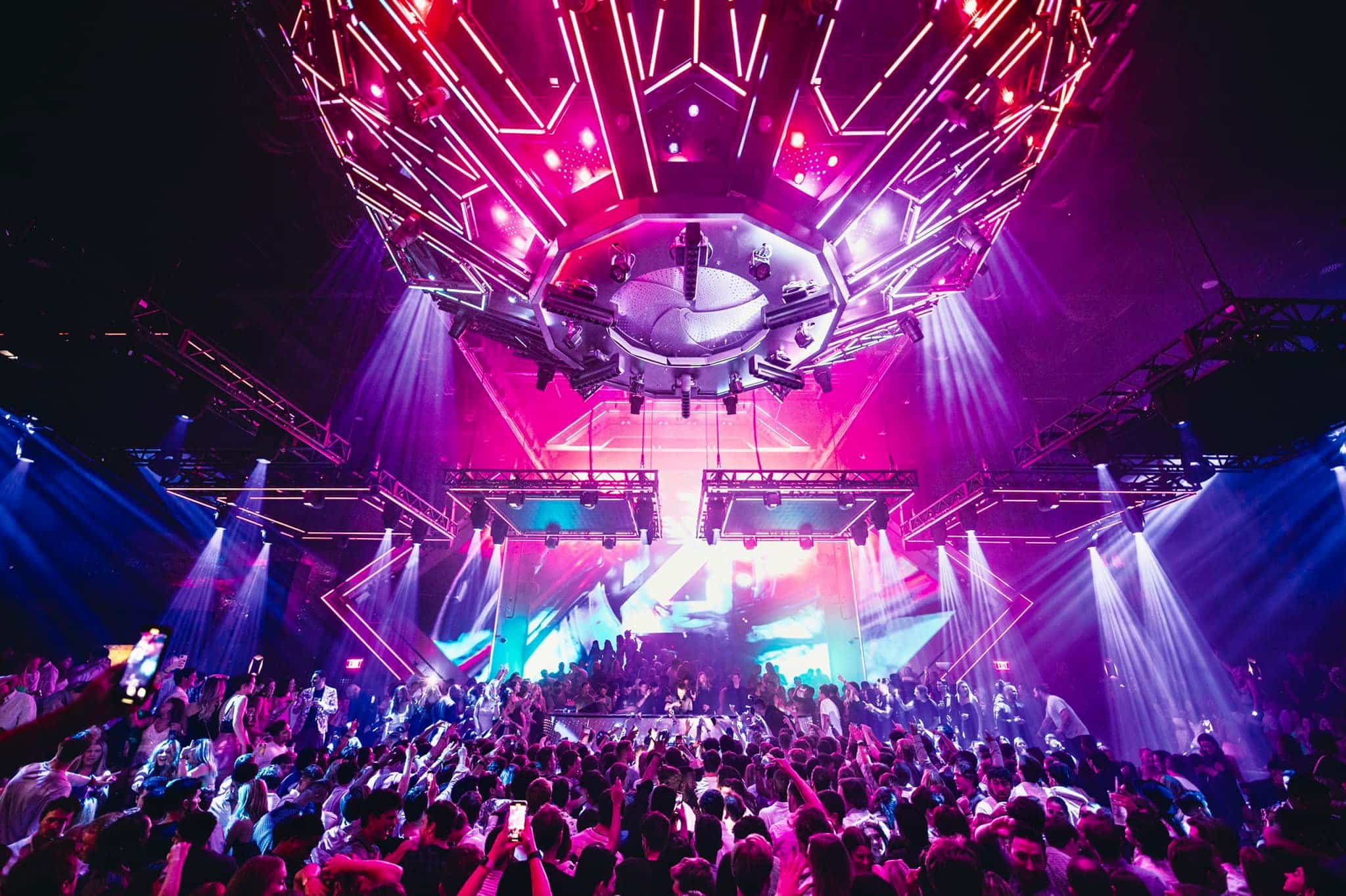 If you want to see something truly impressive, head over to Resorts World and hop on the guest list for Zouk Nightclub, which is one of the strip's newer venues. Don't be fooled by the relatively recent appearance on the scene, though, because this spot has already made a name for itself with big artist lineups and 26,060 sq ft of immersive technology and design. Expect your music preferences and knowledge to be expanded with the Tropical House, Reggaeton, EDM, and Deep House mixtures that pump through the state-of-the-art sound system from 10:30 PM every Thursday, Friday, and Saturday. Males and females can get in free on the guest list, which is open from 10:30 PM to 1:00 AM, but we do advise our attendees to check their messages before arrival for changes or updates to the requirements.
As one of the biggest names on the party scene, it might shock people to know Hakkasasn is also one of the free clubs in Las Vegas if you play your cards right. The venue offers guest list options for males and females, with the exception that management reserves the right to change entry options on the night. The list is good from 10:30 PM until 1:00 AM, but it is worth getting in line when the club itself opens at 10:30 PM. The MGM draws in people from all over the world thanks to its top-tier restaurants, gambling, and accommodations, but Hakkasan has helped turn the hotel into a worldwide phenomenon. The expansive venue offers multiple levels and rooms, including the Ling Ling room which is known for its Hip Hop stylings. The main stage plays everything from Top 40 to EDM and has hosted some of the biggest names in the genre. With 80,000 square feet to explore, there is no end to the exciting possibilities this free club offers, so make sure to get on that guest list to take advantage of savings. It is open every Thursday – Saturday, meaning every night could be "on the house" if you play your cards right… or just throw your name on the list.
XS Nightclub has always embodied the decadent and sophisticated vibes Las Vegas can be known for. Located at the Wynn and Encore hotels, this club is THE place to spend an evening listening to world renowned DJs and hang with locals, visitors, and even celebrities. The elegant setup both inside and out provides the ideal backdrop for a quintessential club night, and whether you're popping bottles or sipping from the bar, you are going to have a blast. With a set list comprised of EDM favorites like Marshmello and The Chainsmokers, the music alone is enough reason to come to Vegas. XS is open every Friday, Saturday and Sunday from 10 pm to close (4 am unless otherwise noted by the club), and guest list gets you free entry from 10 pm to 1 am. Guest list is open to men and women, but only even ratio parties will ensure guys get in free, too. This is one spot you do not want to miss, and saving the money on cover means your wallet won't feel light so early in the night. Add XS to your party list asap.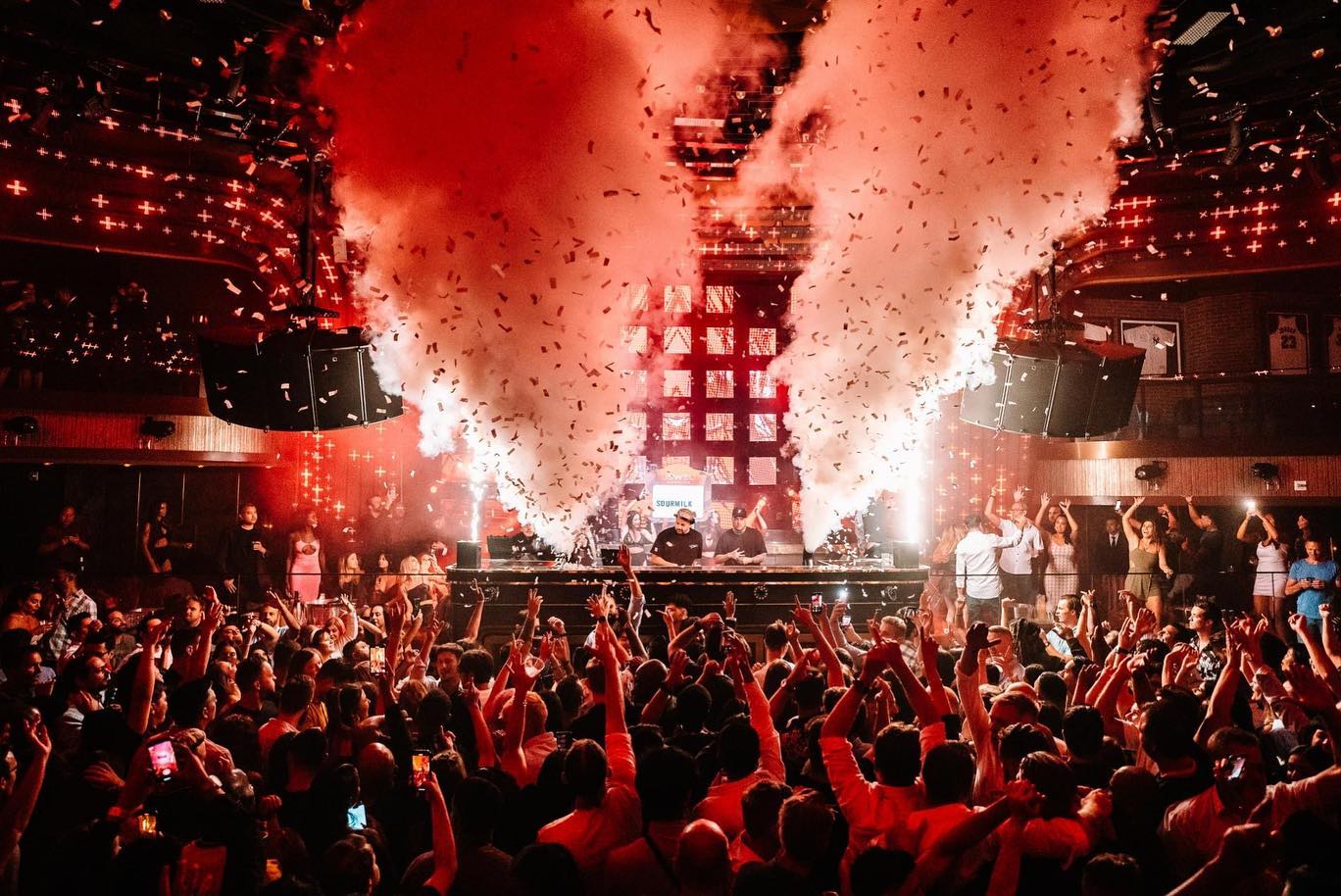 Jewel Nightclub may be dubbed as one of the smaller venues, but it is also one of the best free clubs in Vegas. While they offer a variety of table options and higher ticket accommodations, you can actually get in on the guest list for free every Monday, Friday, and Saturday from 10:30 PM to 1:00 AM. Their Top 40 lineups always impress, and the 24,000 sq ft setup is just as engaging as its' big sister clubs. It spans two levels and provides patrons with a decadent LED display that encompasses the entire space, bringing more than just sound to the forefront of the evening. Located inside the ARIA Hotel, it's no wonder why this spot has held its own while others have come and gone, and being able to get in free is just another bonus to the magic of this gem.
You may have heard of Drai's and the incredible shows it offers, but did you know it also offers a guest list? You can see some of the top names in the Hip Hop genre, without blowing your budget on one spot. If it seems too good to be true, there is one snag – only women are entitled to free entry. However, even if you're in a mixed group of males and females, saving money on the latter will mean less spends overall, so everyone still wins. The 30,000 sq ft space is well worth the money, even if you have to buy tickets to get in. Some of the biggest Hip Hop artists have taken the Drai's stage since it first opened, and the rooftop oasis is dazzling. Palm trees kiss the night sky while bright LED displays dance across the tables, bars, and floor, turning it into an immersive disco ball of light and sound. The club sits upstairs in the Cromwell Hotel, and is open every Thursday – Sunday. The guest list is only open from 10:30 Pm until Midnight, so make sure to get there and take advantage before the clock strikes midnight, or you might end up paying full price for everyone in the group. Worth it? Of course. But if you can save, that's more drinks and bigger vibes for all (or whatever the Musketeers said).
The OG of after-hours clubs is still holding the title for one of the best spots to party on the Strip, and it also offers free entry for anyone who isn't quite ready to call it a night. The guest list is available for females from 1 AM until 4 AM and is a great way to keep the party going once Drai's (or any of the other venues) closes. Also located in the Cromwell Hotel, this Sin City staple plays everything from Latin music to Top 40 and Hip Hop, offering people a little bit of everything to wet their whistles. While the 13,000 sq ft space is smaller than the above chamber, it still pumps out an impressive display and is open every Thursday – Sunday from 11:59 pm to 7:00 am.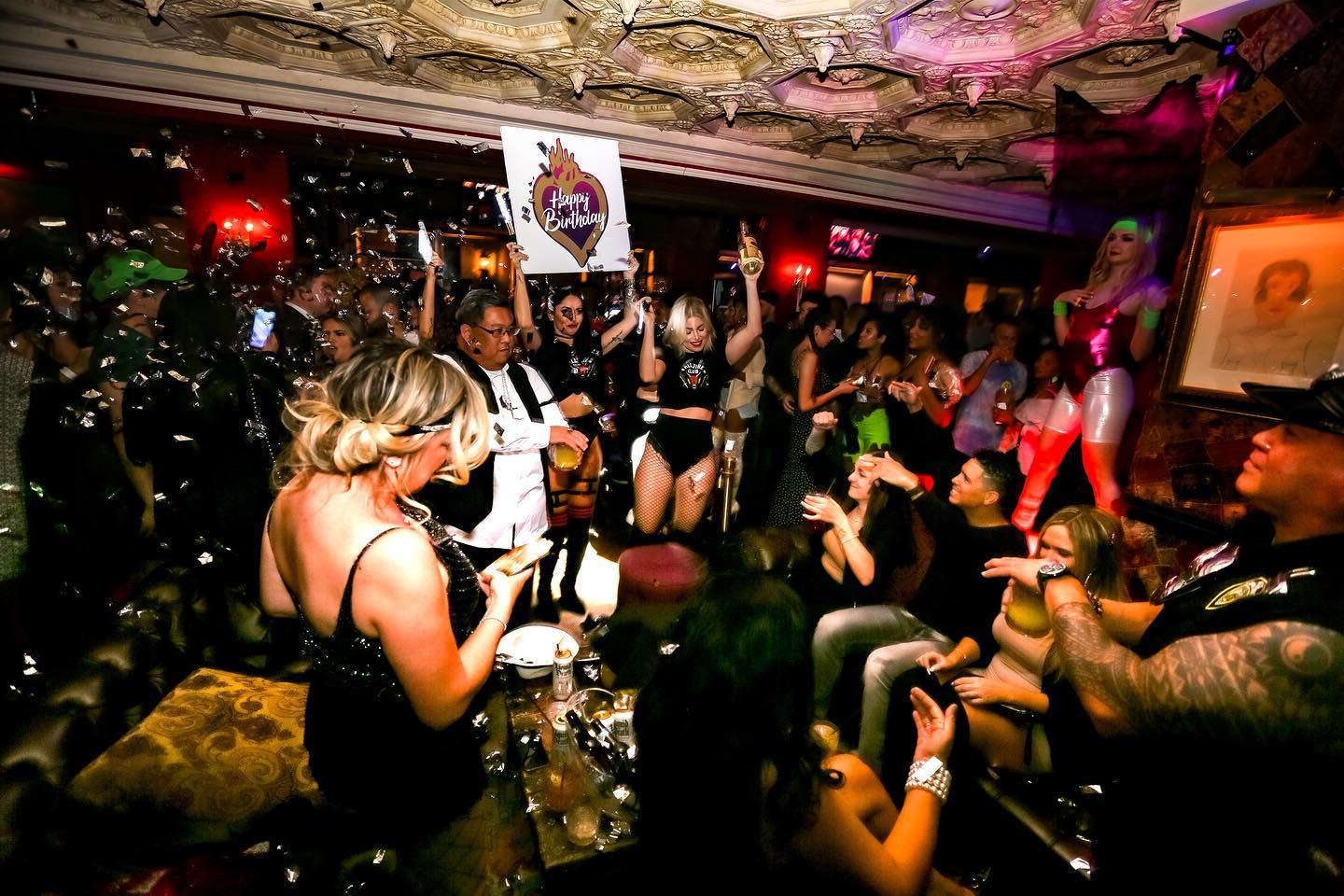 If you love a good view with your boozy beverage, look no further than Foundation Room inside the Mandalay Bay Hotel. This hidden gem sits on the 63rd floor and encompasses a view of the entire city which sprawls out below the open-air terrace. What makes this spot even more special is that is one of the free clubs in Las Vegas, allowing people to dance the night away with the strip at their fingertips. The 1,126 sq ft space is incredibly intimate, and while there are a number of tables for purchase, the guest list allows females to enter for free from 10:30 pm until Midnight, while males can get a discount on their fees during that window. The DJ plays top 40 favorites, but the view is the most sought-after part of the venue, and a must-see while there. Another perk of Foundation Room is that it is open almost every night of the week, Tuesday – Sunday, which gives you more chances to dance and sip sky-high.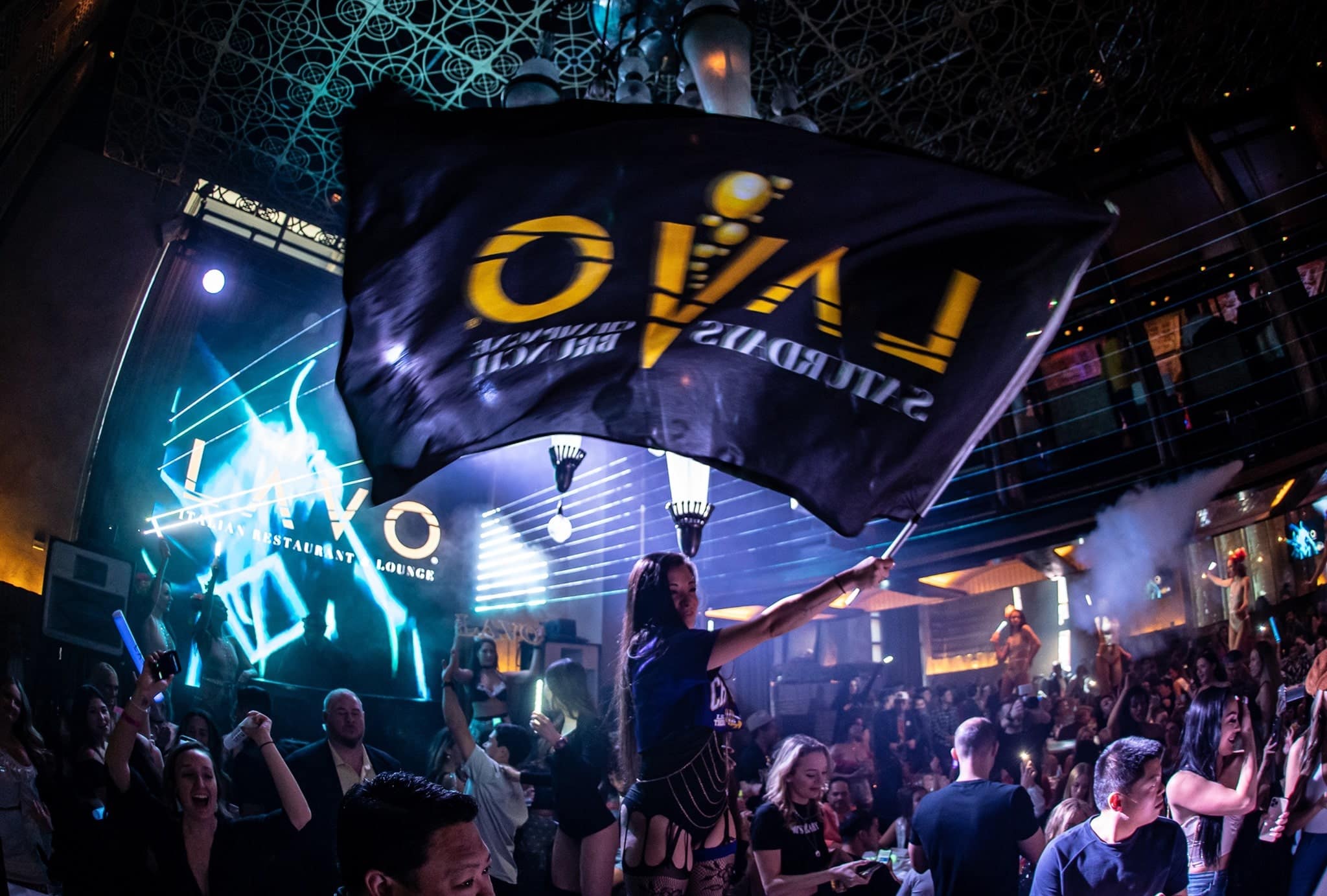 In the winter, Vegas has to channel its energy into daytime clubs since the pools are closed for the season. Lavo Brunch is one such event and offers visitors and locals the chance to get their party fill despite the chilly weather. With 20,000 sq ft of restaurant and bar space, this venue goes from a delicious sit-down affair to a wild festivity where people are dancing on the tables and costumed waiters conga with drink trays aloft. As if this offering couldn't get better, women can get in free from Noon until 3:30 pm, and their male counterparts, friends, or just a group of lads, in general, can get a discounted entry fee. Lavo Party Brunch is located inside the Palazzo Hotel and is open Saturdays from 12 pm until 6 pm, just in time to grab a bite, freshen up, then head back out to one of the other free clubs in Las Vegas!