As one of the top grossing nightclubs in the United States for over a decade, Tao Nightclub inside the Venetian hotel is one of the busiest in Las Vegas and is the perfect choice for those seeking a busy and upscale mega-club on a Thursday, Friday, or Saturday. Popular features of Tao Las Vegas are the 'Voyeur Models' located throughout the main-room, the club's frequent celebrity guests, special DJ performances, and of course being host to as many as 3,000 or more people throughout any given night.
Before we get into the insider tips, take a minute to watch this video and see what to expect when visiting Tao Las Vegas. When you're ready to book or have questions, visit our VIP host directory to get in touch with a lead VIP host at Tao directly!
About Tao Nightclub
Where is Tao located?
Tao Las Vegas is located within the Grand Canal shops of the Venetian Hotel and Casino. 3377 S Las Vegas Blvd, Las Vegas, NV 89109
How do I get to Tao?
The nightclub is accessible by way of the escalators on the main floor of the Venetian, or by walking through the mall from the parking garage. Those arriving through valet will want to use Tao Nightclub's valet which is towards the end of the main valet (look for the little stand that says Tao).
How much is cover charge at Tao?
Cover charge starts at $20 for women and $30 for men. Holiday weekends and special performances will be more expensive.
When is Tao open?
Tao Nightclub is open Thursday, Friday, and Saturday from 10:30pm until 4am.
What is the set up at the door?
If you are looking to skip the line, Tao Nightclub can be pretty tricky club to talk your way into as your access to the doormen is fairly limited. If you do not have a table reservation you can usually expect about a 45 minute wait to get in. Even if you are on the guest list, try and get there somewhat early to help avoid a long wait.
What are the best nights to go to Tao?
You will find celebrity hosts and performances on any regular club night. And A better mix of locals and tourists during their weekly Worship Thursday party. Check out the event calendar for all upcoming events.
What is the dress code at Tao?
So that there isn't any problem getting into Tao once at the rope, gentlemen should make sure to wear a collared shirt and / or sport coat to Tao. Always be mindful of wearing nicer shoes and avoid anything that can be considered sportswear (track jackets, jerseys, sports shoes, hats, etc). Remember, if you are unsure if something will work or not, play it safe. We also recommend reviewing their official dress code rules.
How much are drinks at Tao?
Both single mixed drinks and shots range from $18 to $30. While doubles range between $44 and $66. Beers will cost you $14 each.
What kind of music does Tao play?
Tao Nightclub features some of the hottest local DJ's playing a variety of music from EDM, top-40's and hip-hop.
Does Tao have a guest list?
Yes! You can quickly and easily sign up for the guest list at Tao. Just add your name, and we'll do the rest! The list is available from 10:30pm to 1am. Ladies are free and receive open bar until 11pm. Even ratio men free.
How much is bottle service at Tao?
Bottle service pricing at Tao varies based on demand and event for the night. Bottles start at $725. For an accurate quote on a bottle service minimum and table pricing, visit the Tao bottle service page.
If you would like to learn more, read our complete guide on how bottle service works.
What is the best table location at Tao?
Tao Nightclub has a variety of tables within the main room that appeal to different needs. The most popular tables or VIP booth are throughout the dance floor and 'moat area,' but can become very crowded very quickly. Those with larger groups who enjoy space and freedom will find the cabana tables to be more to their taste. The less desirable table locations will be in the lounge, hallway, and Opium Room.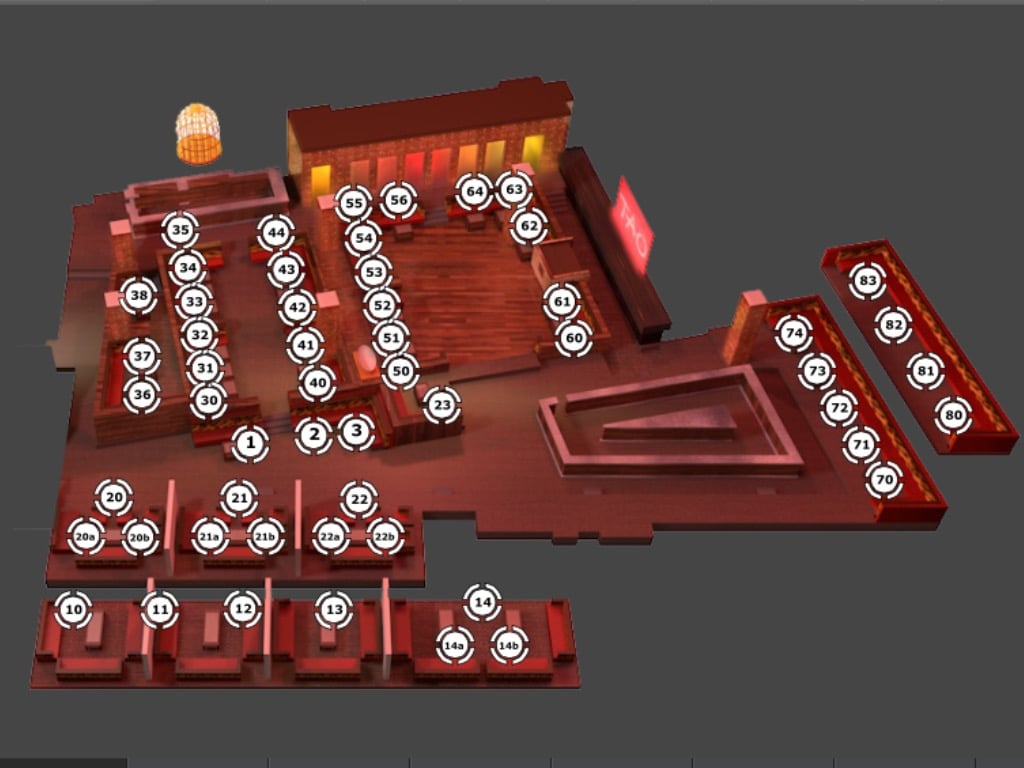 Photos of Tao Nightclub
Contact Tao Nightclub
We make getting in touch with Tao Nightclub easy. Fill out the form below and a Tao VIP host will get back to you as soon as possible. Once you have submitted the form, you will be given the hosts contact information incase you need to make a same day reservation or immediate response.
Upcoming Tao Nightclub Events