Home
Las Vegas Bottle Service
Las Vegas Bottle Service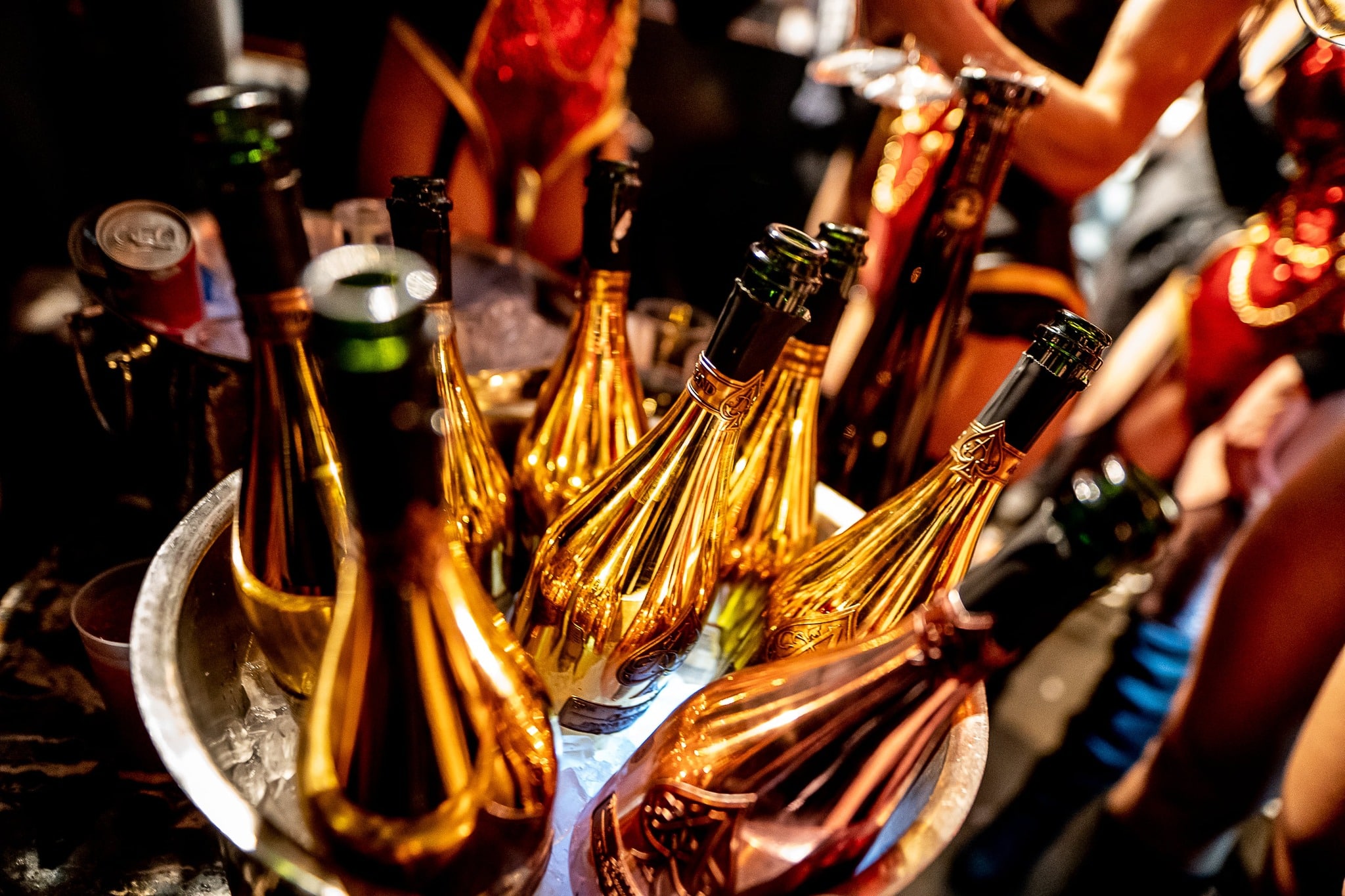 LasVegasNightclubs.com works directly with each nightclub and dayclub to provide you the most in depth and accurate information for Las Vegas bottle service! Simply select your club and fill out the form to get in touch with the clubs directly to receive the best pricing and table locations. We offer the best option for bottle service in Las Vegas! If you're not ready to book right now, but would like to learn more, read our in-depth guide to bottle service.
Pool Party Bottle Service
What better way to show off at of a nightclub or pool party, than to get bottle service in Las Vegas. From the light shows to the comfort of having your own private table, bottle service is the ultimate VIP experience and there's nothing else like it. We'll break down everything you need to know about Las Vegas bottle service including bottle service prices, bottle service minimums, how bottle service works, table options and who to contact to make a reservation at all of the Las Vegas clubs.
Lets start here…
What is Las Vegas bottle service?
Bottle service, also known as table service, is the ultimate experience at any nightclub or pool party to make you feel like a true VIP. You will be able to purchase bottles of liquor such as vodka, tequila, rum or champagne. Bottle service also includes reserved seating and mixers such as soda water, orange juice, pineapple juice, and cranberry juice. You will also have your own cocktail waitress and server assistant. You and your friends will gain expedited entry into the venue, and lets you enjoy the freedom of your own private area to avoid the general admission crowds.
How much does bottle service cost in Vegas?
There is no set pricing for bottle service in Las Vegas. Bottle service cost in Las Vegas is based on a few factors:
By Number Of People. "You must spend $__ per number of people at your table." Which typically means one bottle per 3 people. On average bottles cost between $450 and $800 per bottle.
Supply and demand. If a club is very busy because of holiday weekends, special performer, or….. because it's just busy, they will obviously want to sell table space to those who are willing to pay the most for it. In these cases, and especially for more in demand locations within the club (dance floor tables, etc), pricing will fluctuate separately from the size of your group and/or day of the week. "Dance floor table start at $10,000 tonight."
Location. This goes for both what club you decide to visit and where your table is located within the venue. Many of the top Las Vegas nightclubs such as XS, Omnia and Hakkasan, bottle service costs will be higher than smaller clubs like Marquee, Tao and Jewel. Also note that the closer your table is to the dance floor, the higher your table minimum will be.
Additional Costs. In addition to you minimum spend, expect to pay tax and gratuity. Your table cost does not include tax, tip or other fees. (We go in depth about this below.)
It's always best to contact a VIP host and discuss pricing and location options for your group. You can contact a VIP host at any club or pool in Las Vegas, using our VIP host directory.
How does bottle service work in Las Vegas?
Each table will have a table minimum based on location in the club. For entry level bottle service pricing, you will be asked to purchase at least 1 bottle for every 4-5 people in your group. These tables are usually smaller and located on the outskirts of the venue. The larger your group, the more you'll be asked to spend.
For example, if you're looking at a $1,000 table package. With this you could get two $500 bottles, or one $700 bottle and $300 worth of waters and Red Bulls. Remember water is key when you're out partying, especially at the pools. You get to choose how you spend your money, but you are responsible for meeting your table minimum, and if you go over it, you are responsible for that overage as well.
What is included with table service?
When purchasing table service in Las Vegas, you will receive the following VIP benefits:
A VIP host to assist with any questions or issues you have. And to assist getting in more guests.
You and your guests will NOT have to pay cover charge to enter the club.
VIP Table service and seating for the entire night.
Cocktail waitress.
Server assistant (a busser that will keep your table clean of empty glasses, etc.)
Security guard in your section.
Complimentary mixers such as soda water, orange juice, pineapple juice and/or cranberry juice.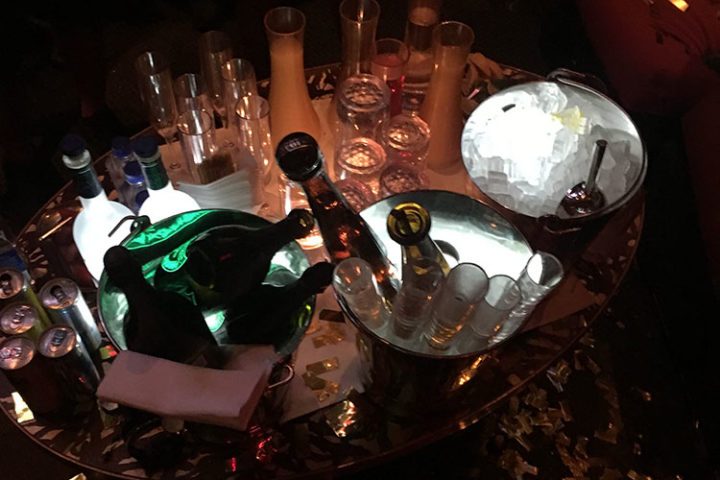 How many people can I get in with my table and do we have to pay entry?
The great thing about bottle service is that you won't have to pay for your entry as it is included. All your guests will be able to get in, even if you don't all arrive together.
Although there are instances if your table minimum is on the lower end and you're only allowed to have a certain number of guests. If this is the case, it's best to have the girls in your group sign up for the free guest list and meet you at your table once inside.
In this next section, you can find out individual club or pool pricing, more details about the venue and contact a VIP host that works directly at the venue to ask any questions or make a reservation of your own!
How can I reserve bottle service in Las Vegas if I don't know a VIP Host?
The easy answer to this is, go online, and book on the venue's website. But since you have landed here, LasVegasNightclubs.com is the only website that has a full list of VIP hosts at every nightclub and pool party in Las Vegas that are only a click away.
Once you submit your message, you will be provided their direct cell phone number and email to reach out immediately. Just know, once they receive a message from our website, they'll respond back fairly quickly.
Talking to a VIP host prior to booking will make your bottle service experience ten times better as they are there to answer any questions you have and will be able to get you better deals than what's listed on line.
How far in advance do I need to book a table?
We highly recommend reserving your table in advance. Once you and your group have decided that you want a table, it's best to contact a VIP host and start the conversation about booking. Often times the pricing will increase as the event date nears, or even sell out. The last thing you want is finding out that the club is sold out.
When do I pay for my table?
You will pay for your table at the venue. Upon entering, your VIP host will ask you for a credit card and ID which they will then hand off to your cocktail waitress upon seating you at your table.
Now, most clubs will ask you to make a deposit when you make your reservation. Your VIP host will provide you an official payment link on behalf of the club for a deposit, that is required to confirm your reservation and hold your table.
Be careful of other websites out there that ask for money upfront. They may call it a deposit. But it's just an extra fee they add, so they can make money.
Is there a separate line for table reservations?
Yes! Every nightclub and dayclub have special lines marked "table reservations" or "bottle service." It's always best to send a text or call your VIP host when you are on your way and once you arrive to the venue. Sometimes, they will come meet you and allow you to bypass the line for table reservations.
What time do I need to arrive if I have a table reservation?
The honest truth, the earlier you arrive, there will be better table location availability. If you booked an entry level table with a low minimum, we recommend that you arrive no later than 11:30pm. These tables hold the lowest priority, especially on busier nights. With higher minimums, your table is generally pretty secure but arriving early can definitely still secure a better table position.
What is the difference between my subtotal and my total?
Your subtotal is the total amount that you spent before taxes and fees. This will include any bottles of alcohol, individual drinks, waters, Red Bulls, food (only at pool parties), etc. Your total will be your subtotal plus tax, gratuity, and any venue fees.
How much is tax?
Tax in Nevada is 8.75%. You will see this on your final receipt.
How much are venue fees and what are they?
Venue fees can vary from club to club, but expect to pay around 12.75%. A venue fee or live entertainment tax, is just a fee the clubs add on for having the live entertainment such as the DJ or performer.
How much should I tip my waitress?
Most clubs will automatically add 15-20% gratuity to your bill for the cocktail servers. If a club only adds 15% to your bill, it is always nice to leave an extra 5% as 20% gratuity in a nightclub is standard. But that's completely up to you.
What is the best table location inside Vegas clubs?
The best table location are dance floor or upper dance floor tables. These tables can begin around $4,000-$5,000 bottle minimum and range upwards of $10,000-$20,000 based on the venue, DJ or performer and the weekend. The owners tables and stage tables are also considered prime tables, but will come with a higher price tag.
What is the cheapest bottle service location inside Vegas clubs?
Entry level tables can begin at a $1,000 minimum spend for 4-6  people and are located further away from the dance floor or a outside patio table depending on the venue layout.
What is the best table location inside of a Las Vegas pool party?
Bungalows and cabanas are always the way to go. Vegas is hot, and this way you'll be covered. They also come standard with a TV, couch and storage for your personal items. Bungalows are bigger and usually have access to a private pool. You can get a cabana between $3000-$6000 while bungalows can run $10,000+. Again, these are average prices, and every venue is different. So be sure to speak to a VIP host for accurate pricing.
What is the cheapest table location inside of a Las Vegas pool party?
Entry level tables at pool parties are usually couches, lily pads or daybeds and will start around $2000. There are no lounge chairs at a Las Vegas pool party. And please note, not all of these come with shade or an umbrella.
Can girls get free bottle service in Las Vegas?
Yes! There are occasions that girls can receive free bottle service. But there is a catch. Many clubs offer what they call "girl comps" on slower days or during the winter months when Vegas slows down. Just know, if your group is approved for a "girl comp," you will not have that table all night, you may be asked to get at any moment if they are seating a paying customer, you don't get to choose the type of alcohol you are given, and you may be joined by other girl groups. And be sure to tip the cocktail waitress for her hard work mixing and serving your drinks.
Can I split a table with other people?
Splitting your table in Las Vegas is possible. But you will have to figure this out on your own. This is something people decide to do if they want to see a big-name DJ or performance, but don't have the budget to do so. In the end, there are only so many guests allowed at the table, so plan carefully. The best place to look for other guests interested in splitting a table is our Las Vegas message board.
How do I get bottle presentations?
Sparklers, light shows, signs, and waitresses dressed up in costumes is the ultimate attention grabber in a Las Vegas club or pool party. But these shows are not for everyone. Although it may seem like you're spending a lot of money, they save the special bottle presentation for guests who buy expensive or large format bottles. Usually champagne.
You can ask your waitress what it takes to get a bottle presentation. Many venues have special packages listed on the menu you can choose from. But this is also where having a VIP host comes in handy. If you let him know you're celebrating a special occasion such as a birthday, he may go out of his way to let management know to do something special for you.
What is the dress code?
Dress code is very strict in Las Vegas, especially at the clubs and pools. If you're not dressed to impress, security can turn you away. So be sure to follow the rules. But if you have a table reservation, security can be more lenient towards you and your friends, as they know you are here spending money. Make sure to check out our complete guide on Las Vegas dress codes, or view the official guidelines for each venue.
How do I avoid running into issues with my table reservation?
Don't come with more people than you discussed with your host. Come in dress code. And most importantly, If you did not pre-pay for your table, be sure you come with enough funds.
Remember you're out of town, so let your bank know, so you don't run into the issue of your credit card declining.
We recommend using a credit card over a debit card, especially since once you arrive and place your first order, your card is authorized for the total amount. So until those charges clear, you will see an authorization and then your final amount. The authorization will fall off in a few days.
How do I get in touch with a VIP host to make a bottle service reservation?
Many club-goers arrive in Las Vegas without having a VIP host. For those who don't have a "guy," and have questions before reserving a table, we have a listing of VIP host contacts at each club and pool that you can contact directly, taking away the middleman and making it easy for people who don't know anyone in Vegas, to now know someone. They will be the best people to getting the absolute best pricing (even then what's listed on the club's website), table locations, and accommodations.
Is bottle service in Vegas worth it?
Bottle service in our opinion is the best option when going to a club. You get your own private table so you can watch your favorite DJ perform. You have your own space for the entire night. As a guy, it makes it easier to pick up girls, and as a girl, a table helps keep the guys away. Plus, you have the ability to sit down.
Table service is more upscale and makes it easier for everyone to notice you. Your table will have its own very attractive model cocktail server, along with a busser who will keep your area clean and security guard for your in your section that work just for you. With a table, there is no reason for you to have to go to the bar and order drinks.
Bottle service tips:
The more you spend on bottle service the better table location you will receive.
Plan to go over your table minimum. Your alcohol will go fast, and if you meet new people and you have them join you, you will definitely buy more.
If you're worried about going over your table minimum, let your waitress know when you get sat, that you are the only one allow to order anything.
During the week, as your VIP host about bottle specials. This is where having a host and building that relationship comes in handy.
Don't wait to make your bottle service reservation. If you know you're going to get bottle service, book in advance. As your event nears, pricing can go up, and tables will sell out.
Bottle service rules and etiquette:
This is very important, especially if you want to stay on good terms with your waitress, host and build a future relationship with the club.
Be respectful to your waitress and busser. Remember they are the ones serving you all night. It's their job, so don't make it harder.
Don't touch your waitress, even if you think she's cute. That will get you kicked out.
Make sure you tip your busser, as he is the one cleaning up your mess.
It's always best to tip the security guard in your section. Remember, the club is busy, and he will be your best option to keep unwanted people away and get you to and from the bathroom quickly.
Don't walk around or hold your bottle. You're just going to make yourself look dumb.
Don't sit down! You're supposed to be having a good time, so stand up and enjoy yourself.
If you see cute girls walk by, don't be creepy. Politely ask them if they want to join you.
Don't get to drunk and leave without paying your bill.
If your friends invite other dudes, make they pay or buy another bottle. Everyone always has other friends in Vegas. So don't over crowed your table with guys.
If you still have questions about bottle service and making a table reservation, contact a VIP host.