Drai's Nightclub towers 11 stories above the world-famous Las Vegas Strip. It redefines the Las Vegas entertainment experience. The crowning jewel of The Cromwell Hotel & Casino, Drais Las Vegas provides an unrivaled rooftop view encompassing the entire Strip and beyond.
Created by nightlife impresario Victor Drai, this 65,000 square foot venue offers a multi-sensory environment taking entertainment and service to new heights. Drais Nightclub spans over 7,000 square feet and features the most state of the art high definition LEDs in production – including a towering 80-sided LED disco ball. Drais Las Vegas guests can also enjoy the luxurious rooftop patio that includes multiple pools, towering palm trees and a variety of cabanas and bungalows encompassing the various indoor & outdoor seating options to accommodate its 2,500 guest capacity.
The Las Vegas Strip's first and only full-concert nightlife experience, the Drai's LIVE series offers an unparalleled lineup of today's top Pop, R&B and Hip Hop artists, providing the ultimate night out for club-goers and music lovers. The celebrated LIVE series features high energy performances by resident artists such as Fabolous, French Montana, Big Sean, 2 Chainz, Rick Ross and many other hip hop performers.
Before we get into the insider tips, take a minute to watch this video and see what to expect when visiting Drai's Las Vegas. When you're ready to book or have questions, visit our VIP host directory to get in touch with a lead VIP host at Drai's directly!
About Drais Las Vegas
Where is Drai's located?
Drai's Nightclub is located inside the Cromwell hotel on the main level. 3595 S Las Vegas Blvd, Las Vegas, NV 89109
How Do I get to Drai's?
When entering the hotel from the main entrance, head straight back to the right past the cashier/cage and you will see Drais Nightclub on your right side.
When is Drais Nightclub open?
Drai's Nightclub is open Thursday, Friday, Saturday, and Sundays from 10:30pm until 4am. Once the nightclub is closed, you can head down stairs to Drai's After Hours.
What is the set up at the door?
Guest list and table reservation lines at Drai's Nightclub are near the exit, while the general admission entrance is located on the left.
What are the best nights to go to Drai's?
Best nights to visit Drai's Nightclub is Friday and Saturday as they are known to have the best live performances. Check out the Drais Nightclub event calendar to see who's performing.
How much does it cost to get in Drais Las Vegas?
General admission and cover charge starts at $40 for ladies and $60 for gentlemen and can increase based on weekend and performer.
Can you get into Drais for free?
Yes, Drai's Nightclub offers a free guest list for women only. Men will need to purchase tickets to guarantee entry into the club.
Is there a dress code for Drais Nightclub?
Drais Nightclub dress code is very strict. So that there isn't any problem getting into Drais, once at the rope, gentlemen should make sure to avoid anything that can be considered sportswear (track jackets, jerseys, sports shoes, hats, etc). Jeans are allowed at Drai's Nightclub, but make sure holes and tears are minimal. Always be mindful of wearing nicer shoes and remember, upscale fashion-forward attire. No fitted caps, shorts, or printed shirts with offensive or aggressive graphics. Be sure to follow the rules. We also recommend reading over their official dress code rules.
What kind of music does Drai's play?
Drai's is known for hip hop music and some reggaeton from time to time.
How much are drinks at Drai's?
Mixed drinks and cocktails start around $20, beers $10 and shots $15.
How much is bottle service at Drai's Las Vegas?
Bottle service pricing varies based on demand and event for the night. Bottles start at $495. For an accurate quote on a bottle service minimum and table pricing, visit the Drais bottle service page and contact a Drai's VIP host.
What is the best table location at Drai's?
The best table at Drais is the dance floor VIP booths which are typically considered the best areas, but it's not hard to see the action from anywhere in the room.
Drai's table map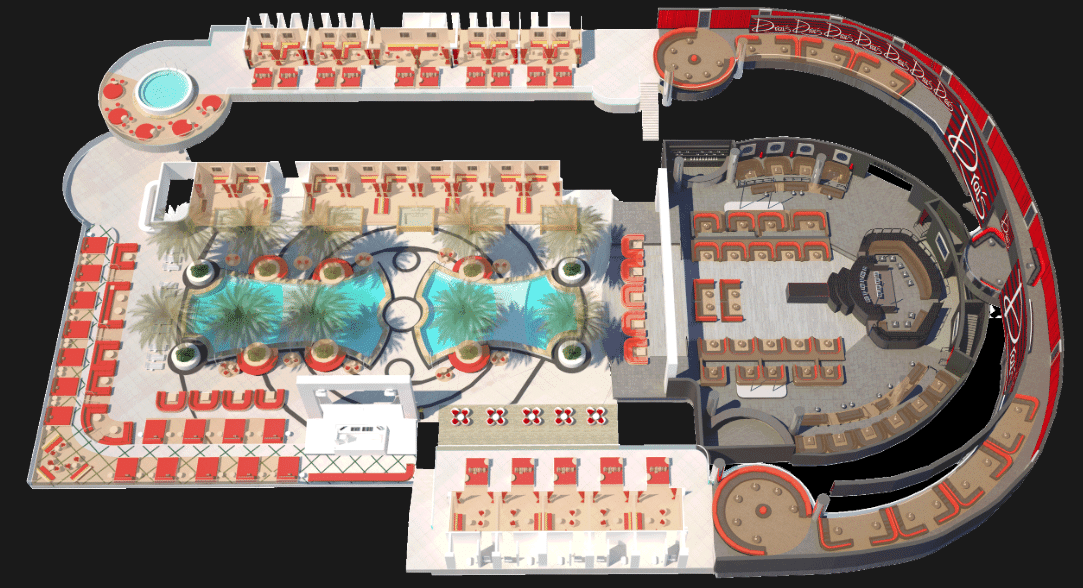 Photos Of Drai's
Contact Drai's Nightclub
We make getting in touch with Drai's Nightclub easy. Just fill out the form below and a VIP host who works at Drai's will get back to you as soon as possible. Once you have submitted the form, you will be given the hosts contact information incase you need to make a same day reservation or immediate response.
Upcoming Drai's Nightclub Events