Experience the mega-club, Hakkasan Las Vegas with world famous electronic artists at the helm of the decks.The flagship nightlife namesake for the world's largest nightlife company, Hakkasan Group, Hakkasan Nightclub at MGM Grand is a sprawling entertainment complex. Hakkasan features well known artists like Tiesto, Steve Aoki, and Kaskade. The rest of the resident DJ roster is no less impressive.
The massive main room at Hakkasan features a 10,000 sq ft club-within-a-club. The Ling Ling Club, where you will find an entirely different sound. If you're looking for something a little more relaxed, make your way into the (slightly) more tranquil Ling Ling Lounge. If you're hungry beforehand, located on the first level next to the main nightclub is the private dining area, Hakkasan, the restaurant which includes ambient sounds scents and lighting creating an intimate and relaxed dining spaces within the main dining area.
Before we get into the insider tips, take a minute to watch this video and see what to expect when visiting Hakkasan.
After seeing what a night at Hakkasan is actually like, i'm sure you're thinking to yourself that you want to go. We've got you covered. Just click below to message a Hakkasan Las Vegas VIP host directly.
By clicking here, you are submitting a request to an actual VIP host at Hakkasan Nightclub
Insider Tips For Hakkasan Nightclub:
HOW TO GET TO THE NIGHTCLUB: Hakkasan Nightclub is located at MGM Grand towards the southwest corner of the property, which faces Las Vegas Blvd. That won't mean much to you if you're inside the sprawling casino, you'll be able to easily follow the signs throughout the hotel.
WHERE IS HAKKASAN LOCATED: 3799 S Las Vegas Blvd, Las Vegas, NV 89109
WHERE TO PARK: Save yourself the lengthy walk through the casino by simply valeting at Hakkasan's valet, which will be to the right of valet at the main MGM Grand entrance.
NAVIGATING THE ROPES: The entrance to Hakkasan Nightclub can best be described as a well-controlled chaos. You shouldn't have any problem figuring out where you need to be, as there are signs pointing you in the right direction. Table entry will be on the left, with general admission lining up to the right. There are signage for both. Get there early and avoid the masses.
BEST NIGHTS TO GO: Thursday through Sunday. Friday and Saturday nights will see more headliners. Hakkasan Thursday party is notoriously good and Sundays are there industry night.
DRESS CODE: To avoid any problems getting into Hakkasan Nightclub, once at the rope, gentlemen should make sure to wear a collared shirt and / or sport coat to Hakkasan. Always be mindful of wearing nicer shoes and avoid anything that can be considered sportswear (track jackets, jerseys, sports shoes, hats, etc). If you are unsure of something, play it safe.
DRINK PRICES: Mixed Drinks Start at $17, Beers $8, Shots $10, and Table Service minimums vary based on special events.
BOTTLE SERVICE PRICING: Table service pricing varies based on demand and event for the night. Bottles start at $550. For an accurate quote on a Hakkasan bottle service minimum and table pricing, visit the Hakkasan bottle service page. To learn more on how bottle service works, read our complete guide.
BEST TABLE LOCATION: In the Main Room at Hakkasan Nightclub one of the best places to sit is at the stage tables. These booths are larger and often less pricey than a table on the dance floor. While you won't have a clear view of the light show, you will be right next to the DJ which is always an exciting spot. Plus, you'll have access to a bathroom reserved exclusively for this area.
GUEST LIST: Sign up for Hakkasan Guest List.
Hakkasan Las Vegas Floor Plan: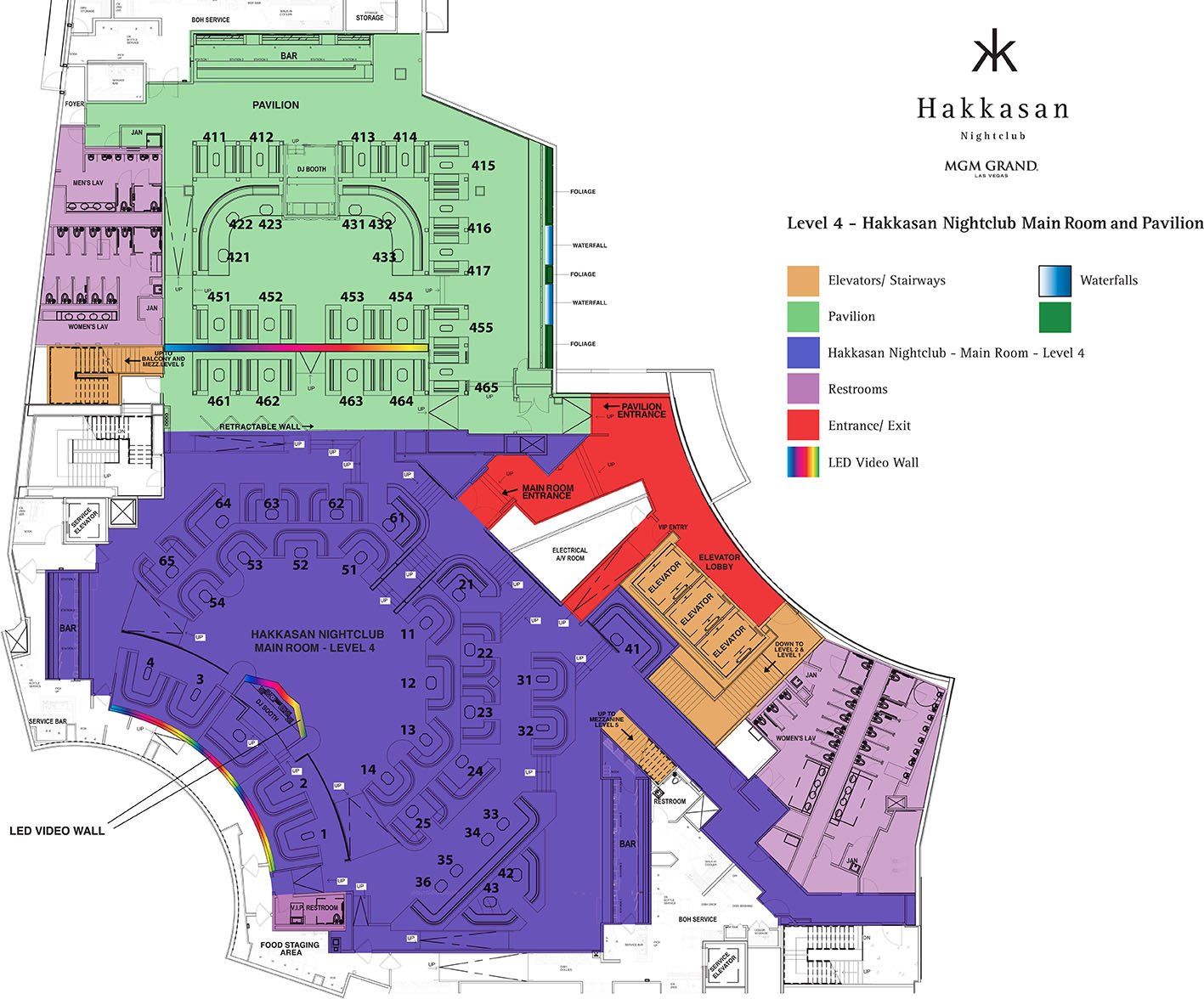 Photos Of Hakkasan Las Vegas: