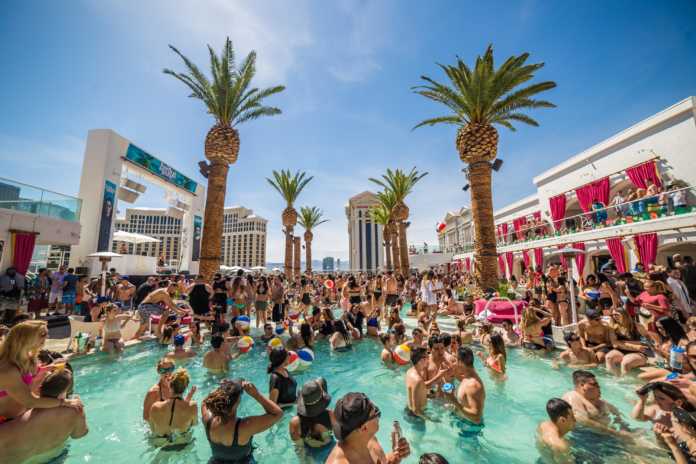 Every March to September, there is no shortage of must-visit Las Vegas pool parties on The Strip. Which, if you haven't been to one before, imagine everything you know to be true about a Las Vegas nightclub, but during the day…and with everyone in considerably less clothing! It is generally the same younger crowd, international headlining DJs, big spenders, hot girls, eager men, the occasional celebrity, and no shortage of free-flowing alcohol – all under the hot desert sun.
Since not everyone is looking for the same type of pool party, we've  broken it all down in as many ways as possible so that you can decide what best fits your taste. If you need any assistance, please contact our free direct pool hosts, post a question in our community discussion boards, e-mail [email protected], or sign up for FREE dayclub guest list.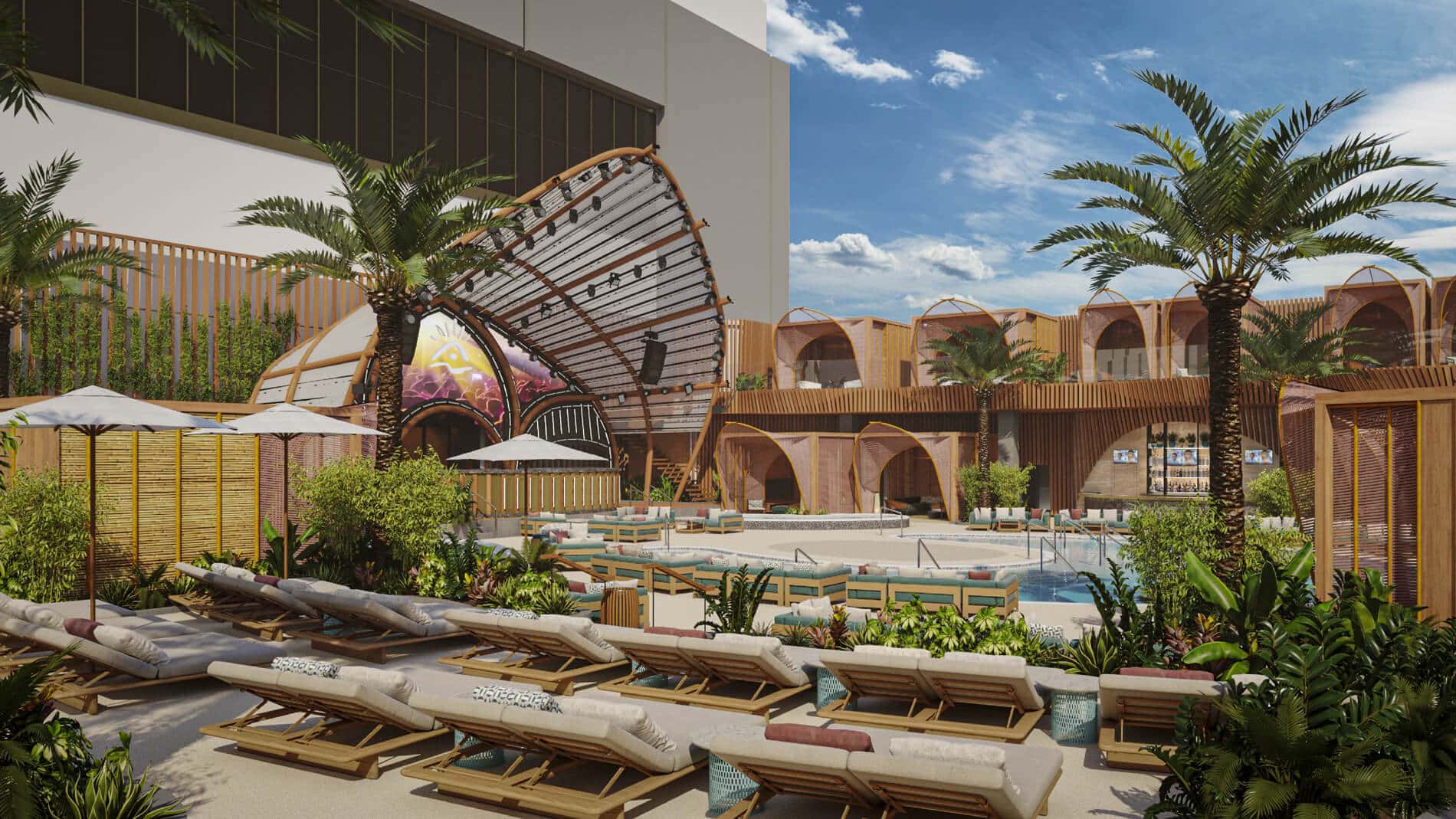 Ayu Dayclub Las Vegas is a Bali inspired oasis consisting of beautiful huts and other grass buildings that was inspired by the beauty and harmonious atmosphere of Southeast Asia's idyllic islands. You will find yourself enjoying the flowing palms and cool breezes circulating as the Vegas sun beats down on you.  Within this 41,000 square foot venue, you'll find plenty of chaise lounges, countless day beds and numerous cabanas on two levels. The waitstaff is beautiful, efficient and friendly. Revere in the Polynesian experience while you enjoy all the modern conveniences. Ayu is both laid back and exciting, You never know who's around the corner: a friend, a lover, a celebrity. Ayu, part of the Zouk Nightlife experience. A friendly, warm spot that has it all: the excitement of a top tier nightclub combined with the laid back feel of a premier dayclub.
If you're looking for an upscale, sophisticated environment to take in some sun and some topless women, Bare is just the place for you. Located at the Mirage, the trek along a jungle-like path is enough to tell you that you're not in Kansas anymore. Here you'll find a 14,000-square-foot hideaway that encourages European-style sunbathing aka topless. Bare also features two luxurious dipping pools, a full service bar, six plasma screens, sumptuous poolside daybeds and chaise lounges along with well-appointed cabanas. This intimate venue offers a more relaxing, chill atmosphere than other day clubs as it lacks the wall-to-wall frenzy that is the vibe at other pools. Bare offers guest DJs from Thursday through Monday with a special industry party on Monday.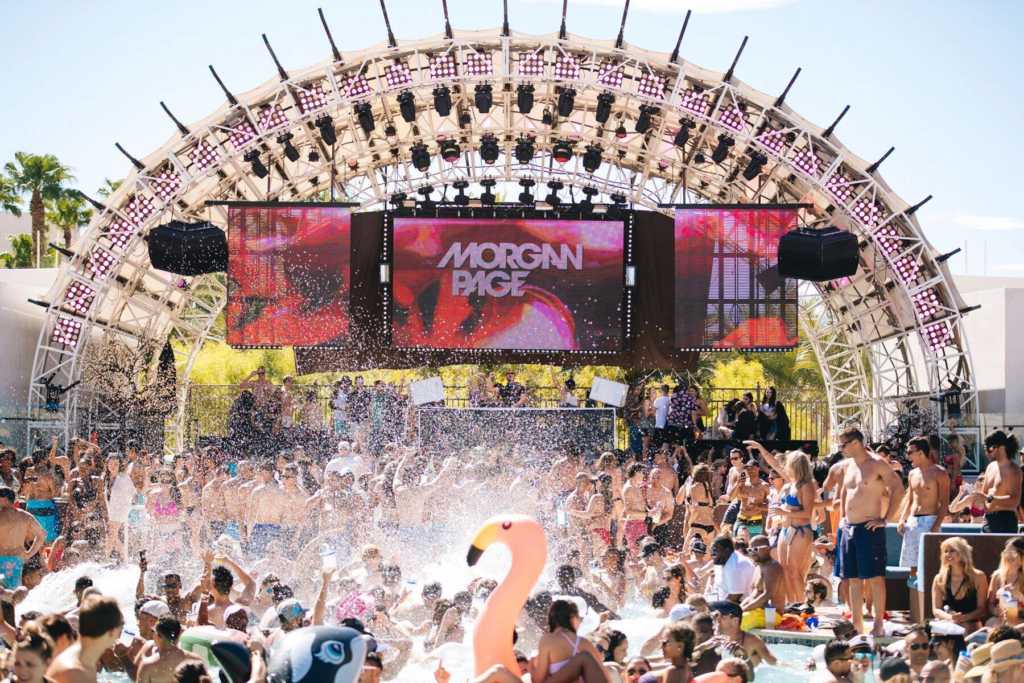 When it comes to choosing a Las Vegas pool party, Daylight Beach Club will help you see the light. Besides the infamous wave pool and the lazy river, the Daylight venue at the Mandalay Bay offers 50,000-square-feet for performances by DJs and other musical acts including E-Rock, Rick Ross and more. To ensure its place among the extravagant, Daylight features 70 daybeds, 25 cabanas, 6 immense LED screens, and a 5,000 square-foot pool. The thirsty can order from a myriad of impeccably prepared frozen cocktails, kick back in the VIP bungalows or dance to hip-hop and top 40.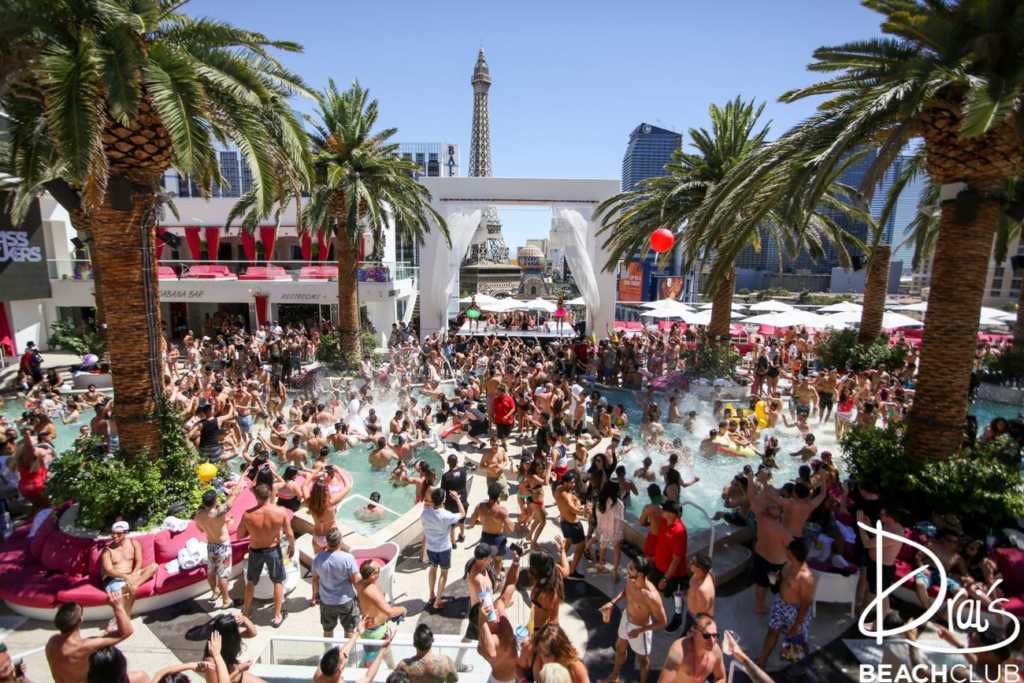 If you worship the sun, you can get even closer to it at Drai's Beachclub; eleven stories closer. This palm-studded, rooftop wet wonderland is open Fridays through Sundays and features the best hip-hop artists in Sin City. It's located at the newly opened boutique hotel, The Cromwell. Drai's Beachclub offers views of almost the entire Strip plus the spectacular Bellagio Fountains. It also boasts some of the best poolside dining with avocado toast and internationally-themed hot dogs. (Just say no to nachos.) On the main deck, you'll find two large pools plus five smaller elevated pools that are shared by the VIP bungalows. For the ultimate indulgence, rent one of fifteen mezzanine-level cabanas with private pools, showers, and restrooms.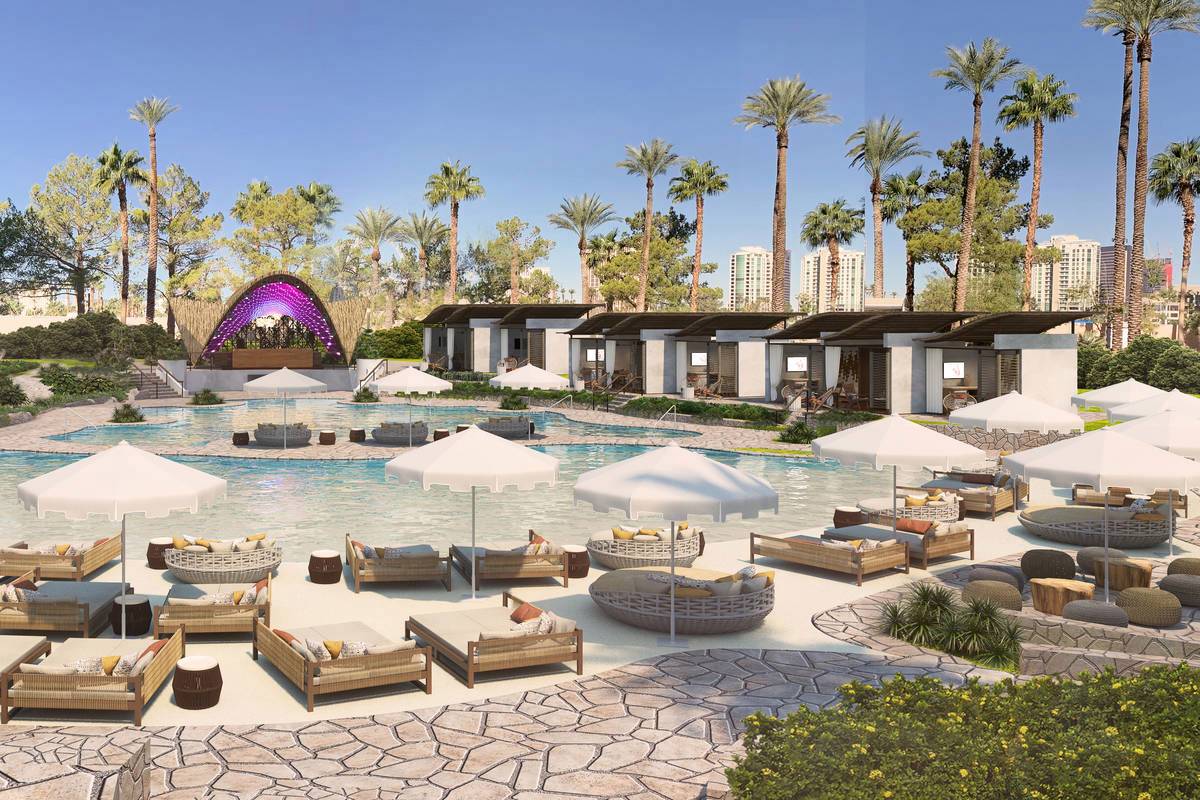 Elia Beach will debut at the Virgin Hotel Las Vegas this June 2021. This newest beach club will overlook the Mediterranean-colored pool, and the musical style of DJs and notable guest performers will incorporate tropical house, world house and deep house, with a mindset of escape, dancing and just good vibes.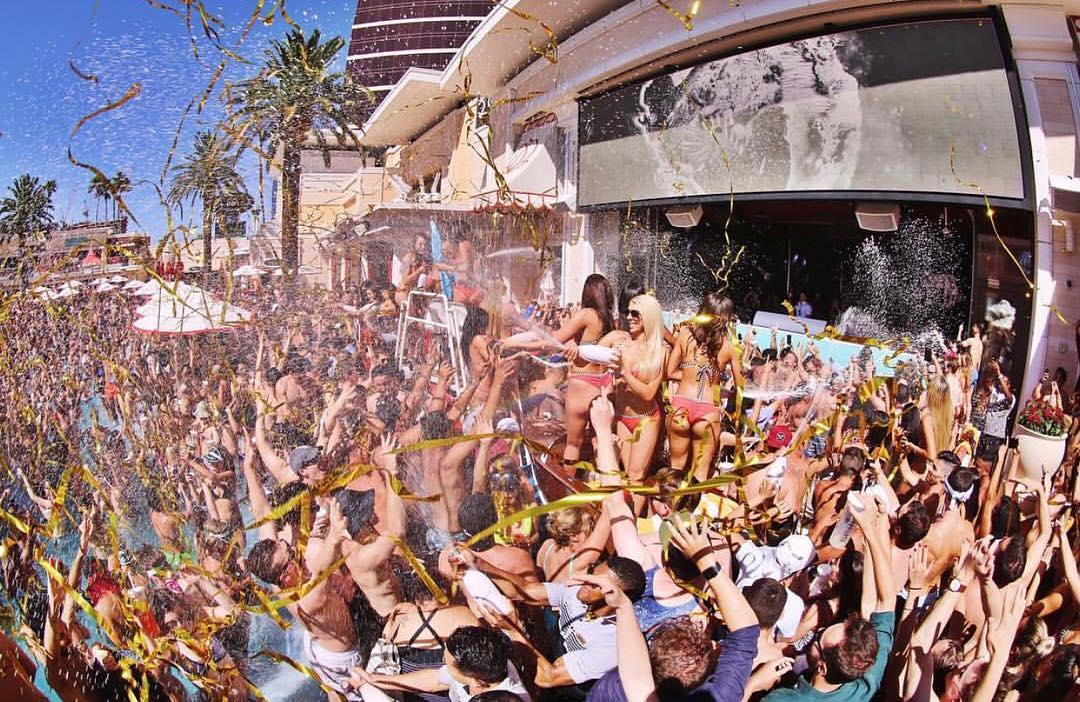 Wynn Resorts does it again. This time outside at its Encore Beach Club located where else, but at the Encore hotel. Never one to skimp on luxury, EBC doesn't disappoint. This 60,000-square-foot, luxurious venue offers multiple bars to tempt your tastebuds and two floors of cabanas and bungalows for 2022. The DJ roster is, of course, stellar and includes luminaries such as the Chainsmokers, David Guetta, and Kygo. Additionally, EBC has signed MMA champ Conor McGregor to host events at the Wynn properties. On Thursday through Sunday evenings, EBC at Night opens it's doors and boasts not only the pool but what was Surrender nightclub for rocking indoor/outdoor nightswim parties.
Located at the Aria, Liquid is an adults' only pool area tucked behind the Aria resort's three other pools in a world unto itself. To give you an idea of how adult this venue is, the bar features an extensive champagne list ranging from $15 for a house glass to $17,500 for a 1.5 liter bottle of Veuve Clicquot Yellow Label. At just 16,000-square-feet, Liquid is smaller and far more intimate than other Las Vegas pool parties. Guests can settle themselves into sumptuous luxury in one of Liquid's eight massive private cabanas, each of which comes complete with a 40″ fat screen TV, mini fridge and private pool.
If you're looking for something a little closer to what action there is, you can relax on one of the chaise lounges or day beds that line one of the two pools. Sunbathers can retreat from the rays and order off the delectable menu. Favorites include coconut shrimp, Mahi Mahi tacos, and mojitos. On the main deck, the party is fueled by DJs and fruit-infused cocktails. If you're looking to rage, this isn't the place for you, but if what you want is a sophisticated and serene ambience, Liquid could be just your cup of tea.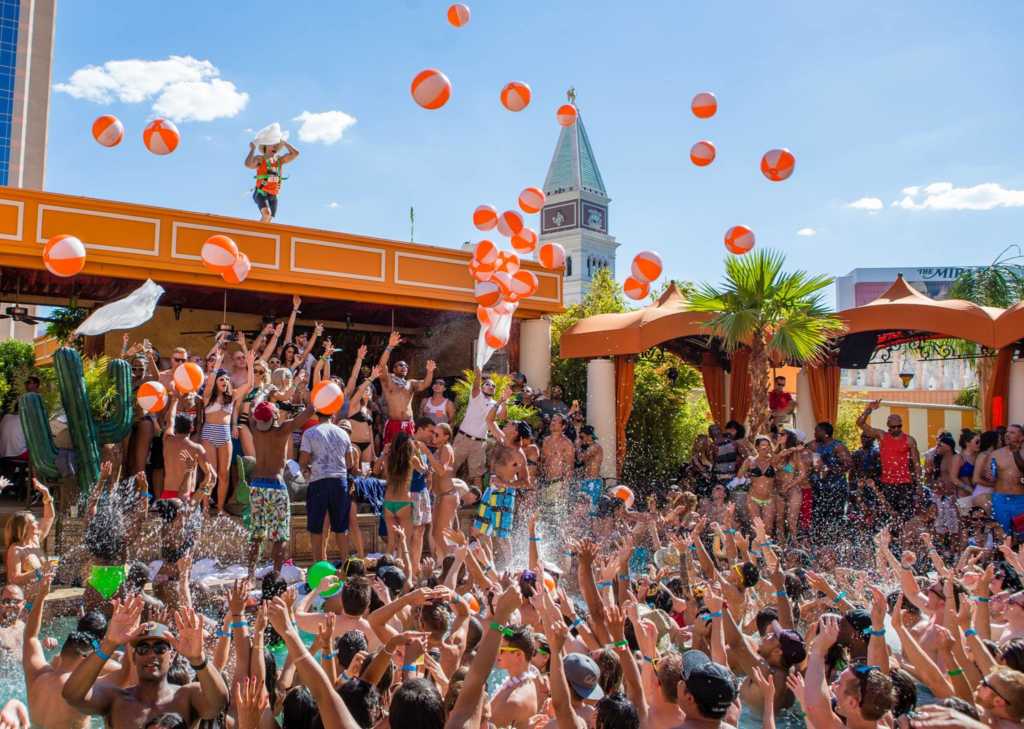 Like it's namesake nightclub, TAO Beach is a Eastern-inspired tribute to sun, sand, water, and decadence located at the Venetian. During the day, luxury-focused party-goers can lounge poolside in one of twelve cabanas that feature such amenities as air-conditioning, high def plasma screen TVs with gaming consoles, WiFi and customized mini bars. Other services available include sunglass cleaning and poolside massages. Day beds dot the landscape throughout this 18,000-square-foot oasis which also boasts a 30-foot bar where guests can order TAO-tinis and TAO-jitos carefully crafted with fresh exotic ingredients.
Re-open every Thursday, Friday and Saturday in summer 2022, this sun-drenched venue also offers myriad VIP tables for bottle service. As the day turns into night, revelers will find themselves in an open-air nightspot boasting two 14-foot long fire columns and high energy music from resident and international guest DJs playing a mix of top 40, hip-hop and open format music.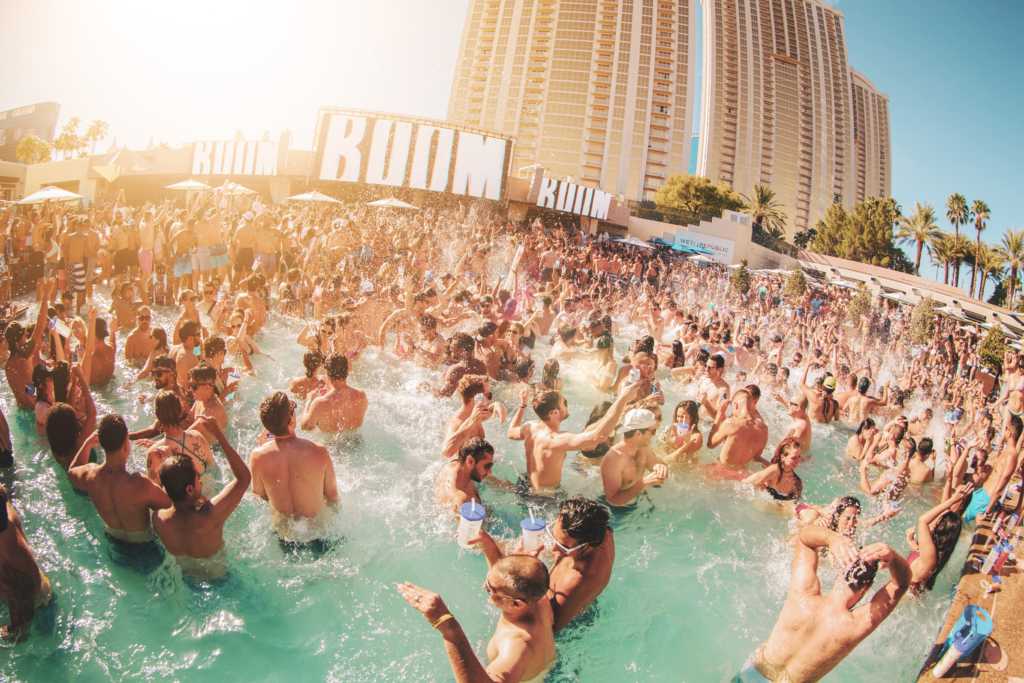 A quick check of the Las Vegas pool parties schedule and you can't help but note that a "Champagne Season" is the theme at Wet Republic in the MGM Grand for 2019. Expect total debauchery with champagne showers, a giant video wall and A-list DJs including Steve Aoki, Kaskade and Martin Garrix at this megapool. Dip into one of two large saltwater pools to cool off and order a scintillating blueberry martini from a 95-foot-long marble-topped bar. Of course, if you prefer to just hang and take in the scene, there are 10 cabanas and 12 VIP bungalows in which to hold court. Naturally, bottle service is available from a roster of model-like, bikini-clad waitresses.
Best Las Vegas pool parties by day of the week:
Sunday: Wet Republic, Encore Beach Club, Marquee Day Club and Ayu Dayclub
Monday: No pools open/
Tuesday: Not a great day for any pool party.
Wednesday: Not a great day for any pool party.
Friday and Saturday: All pool parties are solid options on Fridays and Saturdays, so you should narrow them down using our guides based on what type of party best fits what you are looking for in terms of being the busiest, a megaclub, an intimate party, topless, or more relaxed.
Best Las Vegas pool parties by type:
Megapools: Encore Beach Club, Daylight, Wet Republic, Marquee Dayclub and Ayu are all very large-scale, busy, and high-energy pool parties.
Topless: Bare Pool, Moorea Beach.
Party Pools: By their nature, and their name, most all Las Vegas pool parties are party pools.
Relaxing: Your hotel pool. Pay attention to the schedules of all other pools as they are slower on certain days of the week;
For Older: As always, you are only as old as you feel, and it isn't uncommon to see people of all ages partying at all Las Vegas pools. For this reason, if you feel that you will be uncomfortable surrounded by a much younger crowd, then you may consider sticking to the hotel pools.
Hotel Pools:
As we've mentioned, all Las Vegas resorts have a pool of some sort, so just because it isn't mentioned here, doesn't mean you shouldn't grab your towel and spend the afternoon soaking it up. Keep in mind that some hotel pools are reserved only for hotel guests, while others allow for day passes (or, possibly sneaking in). That said, the below hotel pools are the most popular amongst visitors and locals alike:
Golden Nugget: Located in Downtown Las Vegas, the Golden Nugget has one of the coolest things of any Las Vegas pool: an acrylic shark tank that you can slide through! We've all had a great time or two at the Golden Nugget pool, and this is a great option for those looking for an alternative to the pool party. Go, hang out, and enjoy yourself. Just don't be too judgmental on the crowd, as they aren't exactly gracing the covers of any magazines in these parts.
Flamingo's GO Pool: Another great option for those looking for a stress-free option, Flamingo's GO pool has plenty of bars, free deck chairs, and is typically pretty busy.
MGM Grand: MGM Grand's Hotel Pool is a tropical oasis that features something pretty awesome. Two words, Lazy River!
Which hotels have pool parties?
Frequently asked questions:
What is the difference between a hotel pool and a pool party?
All Las Vegas resorts have hotel pools, which are generally open to hotel guests of all ages, and don't tend to have much in the way of music or coordinated entertainment. By contrast, Las Vegas pool parties are almost always managed by the same nightlife teams that run the Las Vegas nightclubs. This meaning you will see much more of a concentration of younger people, celebrities, headlining DJs, and an entertainment experience more in line with what you would find in the nightclub after the sun sets.
What's the big difference? Think older hotel guests lounging poolside Vs. plenty of hot girls in bikinis. 
Can I get in for free if i'm a hotel guest?
Sometimes. This depends on the pool and if any special events are going on. Refer to our individual guides for more information, and always make a point to speak with your hotel concierge as they can sometimes offer you unlisted accommodations.
What are the age and dress code requirements?
All Las Vegas pool parties require guests to be able to prove that they are at least  21 years of age. Dress codes can vary depending on the pool and the time of the season, but the general idea is that you want to dress like you are going to a pool. Doormen typically frown upon sports apparel (jerseys, gym shorts, etc), cargo shorts, and wife beaters. Wear a swimsuit!
Are there available guest lists for Las Vegas pool parties?
Yes! Guest lists are usually free for groups of girls, groups with equal amount of men to women and sometimes guys.  Still, it never hurts to ask. Visit our free Las Vegas guest list page to sign up and view the guest list rules. Remember, if you are a group of guys, they are definitely going to say no.  
How does bottle service work at a pool party?
Most all pool parties, and now many nightclubs, offer purchase minimums rather than the bottle minimums you are used to seeing in the clubs. This means that rather than saying "you can have this area for 3 bottles," it is instead meaning "you can have this area for the day as long as you spend $1,500.00 in total." Which gives you the flexibility to purchase food, pitchers, bottles, shots, mixed drinks, and beers. Make sure to visit our free direct host listings to get in touch with a host.
Not interested in a pool party? Check out the Las Vegas nightclubs here.