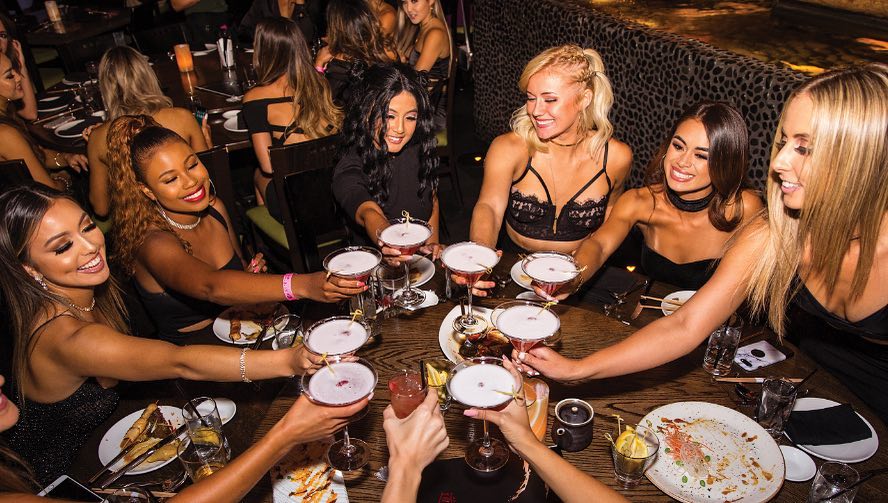 Going out and partying on an empty stomach is a recipe for disaster, especially in a city like Las Vegas. You plan to go hard out here, but having to leave the club because there's nothing to soak up those heavy pours is a party foul. One of the best parts about the strip is it is literally FILLED with plenty of vibe dining restaurants and quick-stop eateries, so you have your pick of what to bite before you binge.
If you're trying to plan an evening around the club you're headed to, this list of the best restaurants in Las Vegas can help make the agenda a one stop shop in terms of hotel destinations. Along with every popular club comes one or two (or 10) restaurants with a DJ or high energy atmosphere that can start your night off right without requiring multiple Uber rides up and down The Strip.
Where to eat at MGM Grand before Hakkasan
Hakkasan
This one is almost a no-brainer, and makes your job even easier when it comes to planning. If you're heading to Hakkasan Nightclub, you have to stop into the restaurant of the same name beforehand. The menu and dishes behind this top-tier eatery are almost curated to suit a party lifestyle, with options like "All That & Dim Sum," which lets you enjoy a lighter meal and accompanying DJ set starting at 9pm on Thursday nights. After you've lined your stomach, take advantage of the expedited entry offered with the reservation. They also have tasting menu options, specialized cocktails, and an atmosphere that will have you ready to dance the night away once you take your last bite.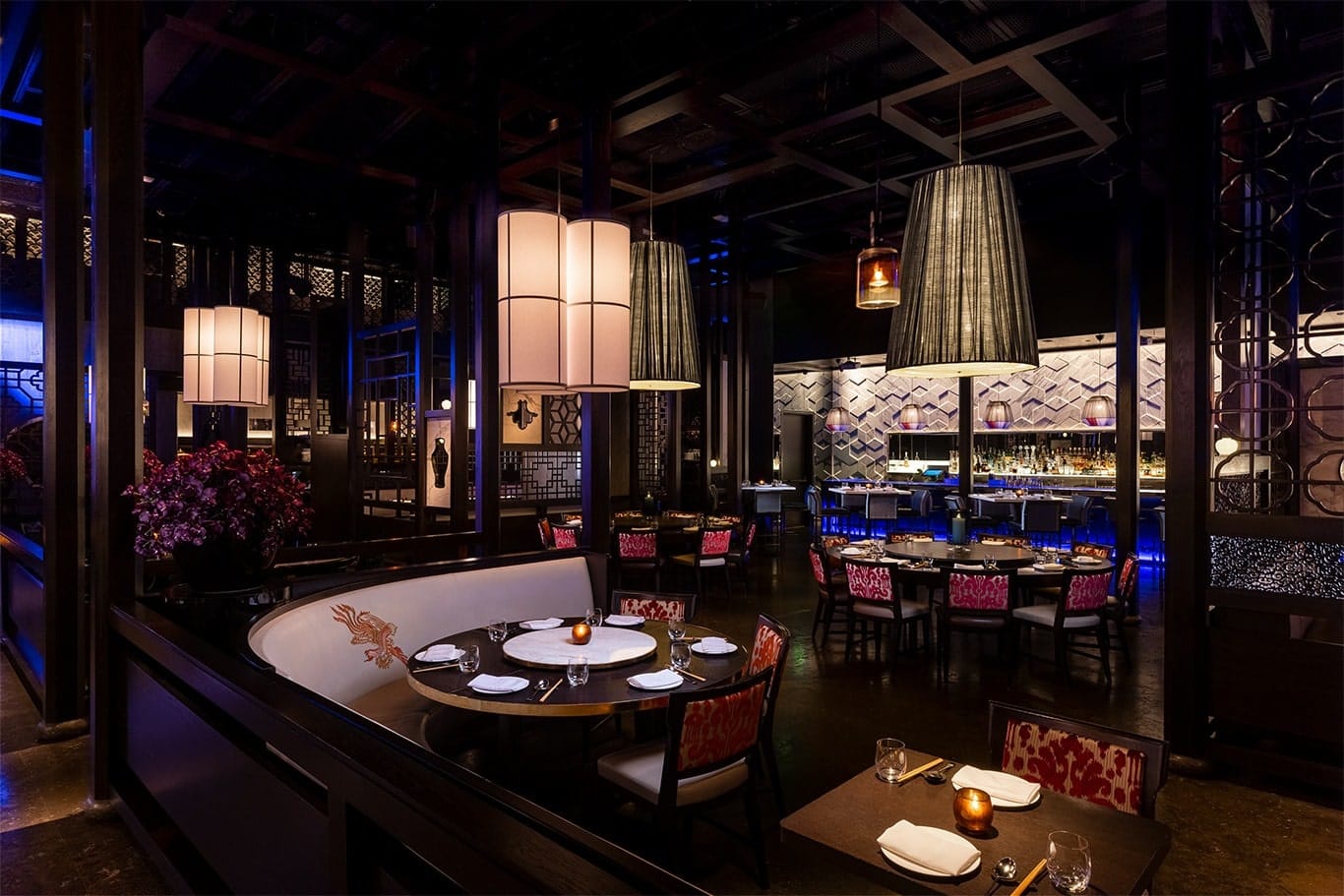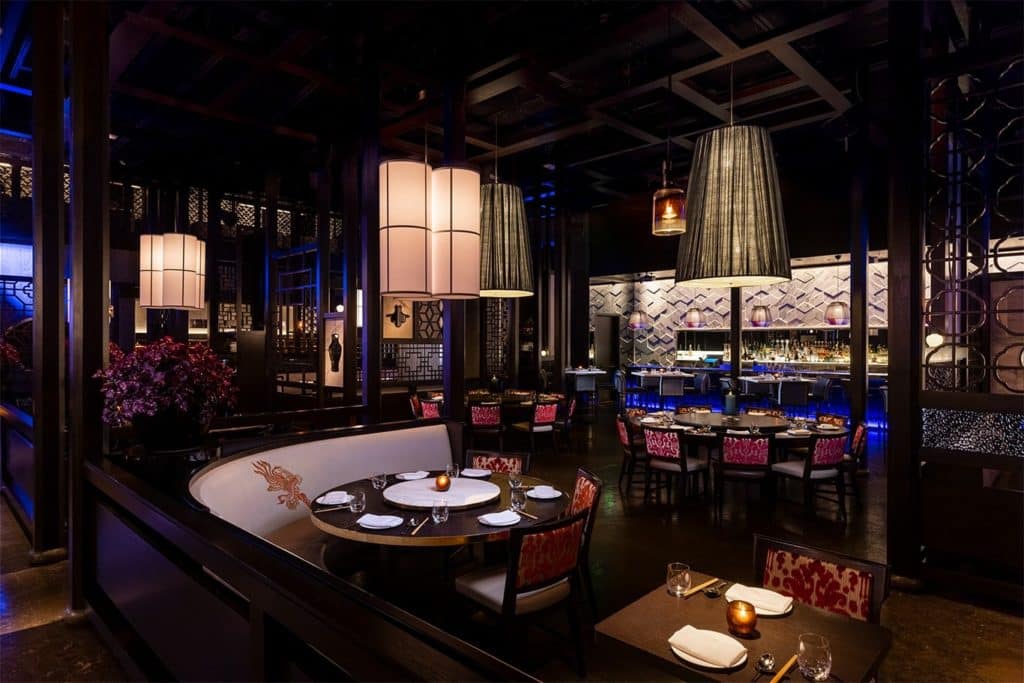 Where to eat at Aria before Jewel
The Aria knows how to do luxury, and their exquisite restaurant selections bring patrons in by the hundreds. Many of their venues are known for their aesthetics, which speak to the influencer in everyone and make for great photo ops. While many places on the strip can provide a good backdrop, not all of them offer that and mouthwatering cuisine, but the Aria is a jack of all trades.
Catch
Before heading to Jewel Nightclub, why not make a reservation at Catch. This Asian-infused menu boasts everything from sushi to steaks, and usually hosts celebrities who come from all over to dine on the coveted options. You'll likely catch a glimpse of someone famous, but you'll be too distracted by the food to care.
Carbone
Make sure you pre-plan ahead for this one. Carbone is one of the most popular restaurants in Las Vegas, and you will need a reservation to get in. The Italian-American, New York-inspired cuisine is a favorite upon tourists and locals. Popular dishes include Lobster Fra Diavolo, Chicken Scarpariello, Veal Parmesan, Octopus Pizzaiolo and everybody's favorite, spicy rigatoni.

Toca Madera
If Mexican food is more your style, the brand new Toca Madera locally sources all of their ingredients and provides more than just food. Their venue is a living, breathing showcase of cheffing talent, and they really set the mood with a live DJ, cocktails, and, of course, eats.

Where to eat at Cosmopolitan before Marquee
Marquee Nightclub has so many different rooms, its shocking there isn't a restaurant hidden inside. Alas, this club is made for dancing and drinking, not snacking, but the Cosmopolitan Hotel is known for its restaurants, and you wouldn't want to miss out on them.
Beauty & Essex
Before hitting the club, stop in at Beauty and Essex, where you can order shareable plates and eclectic cocktails sure to set your taste buds alight. The best part about this spot might not even be the food, but the experience upon entering. Wander through a lavish pawnshop on your way to your table, then take in the immaculate setting of one of the two dining rooms where jaw-dropping dishes await.
STK
If you're craving a good old fashioned (but also modern) steak, STK is the place for you. Choose your size, sauce, and toppings from options like NY or Dry Bone In Aged Strip, Blue Butter or Chimichurri, Alaskan King Crab, and Peppercorn crust. This high energy dining experience is the place to be before heading downstairs to Marquee.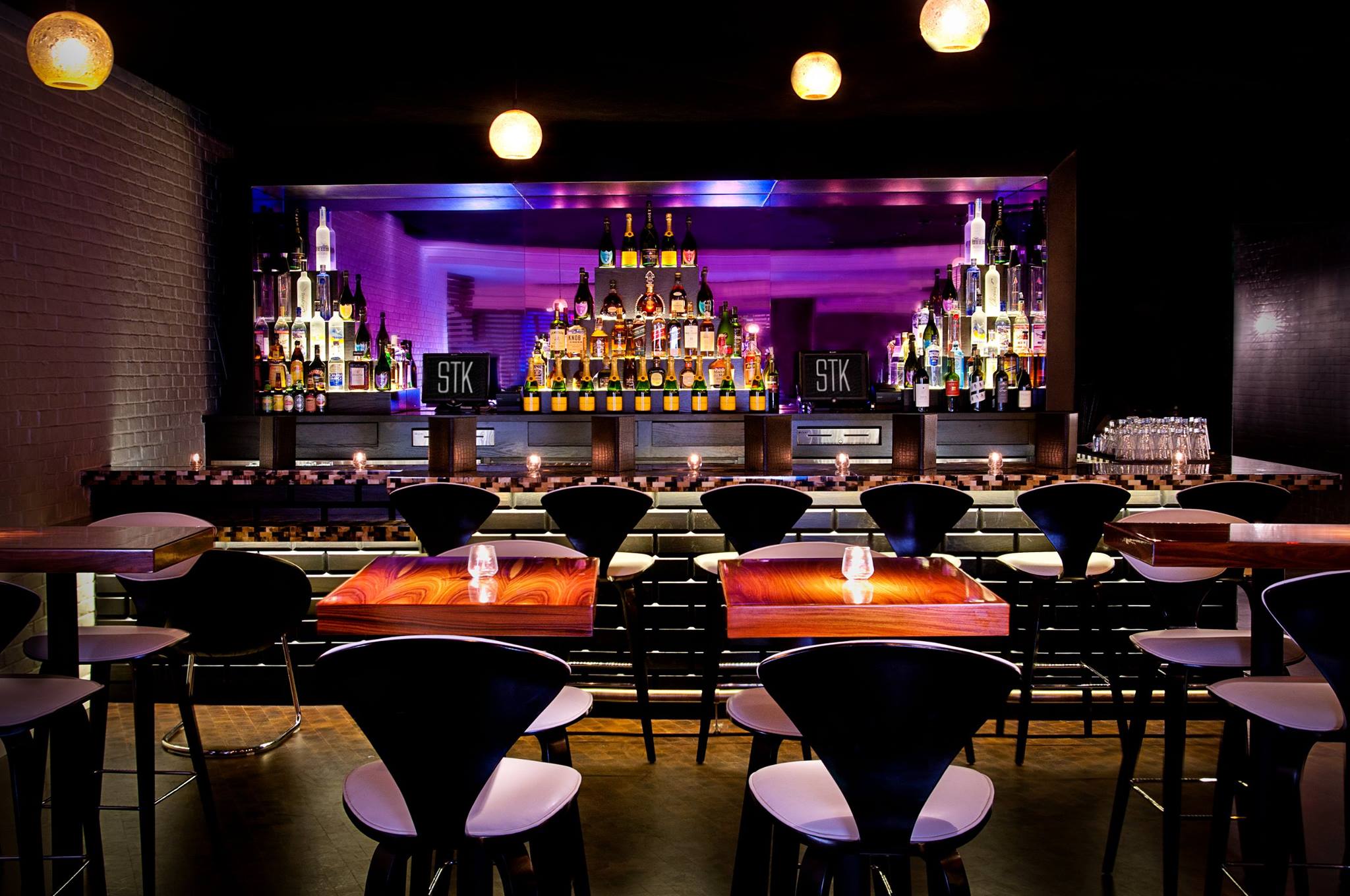 Zuma
Want something a little more exotic? Zuma has you covered, with Japanese cuisine that features a modern twist. The atmosphere is both fun and authentic, and you can order everything from sushi to sharing plates and hand-crafted cocktails that compliment the food perfectly.

Where to eat at Caesars Palace before Omnia
Omnia Nightclub is nothing short of amazing, and you might be so excited to get inside that dinner becomes an afterthought. Before snagging those stamps and wristbands though, make some time to check out Nobu or Mr. Chow for some pre-party bites.
Nobu
Nobu is a household name, that is if your household is worth millions and you're a celebrity who visits there on the reg. Even if you aren't famous, you can still indulge in Nobu's epic menu and see how the other half really eats. Asian and Japanese imported dishes await you – as does a fabulous ambiance.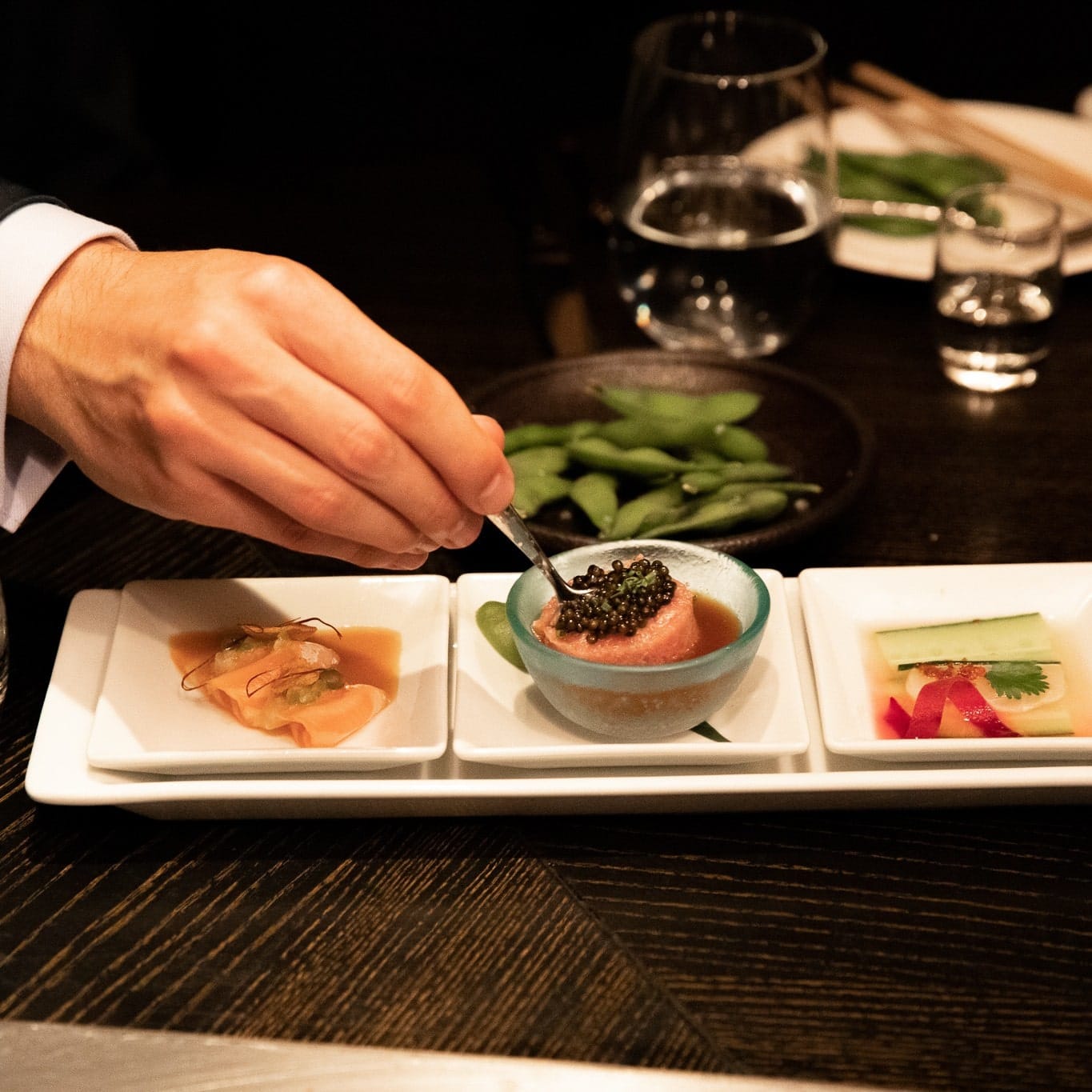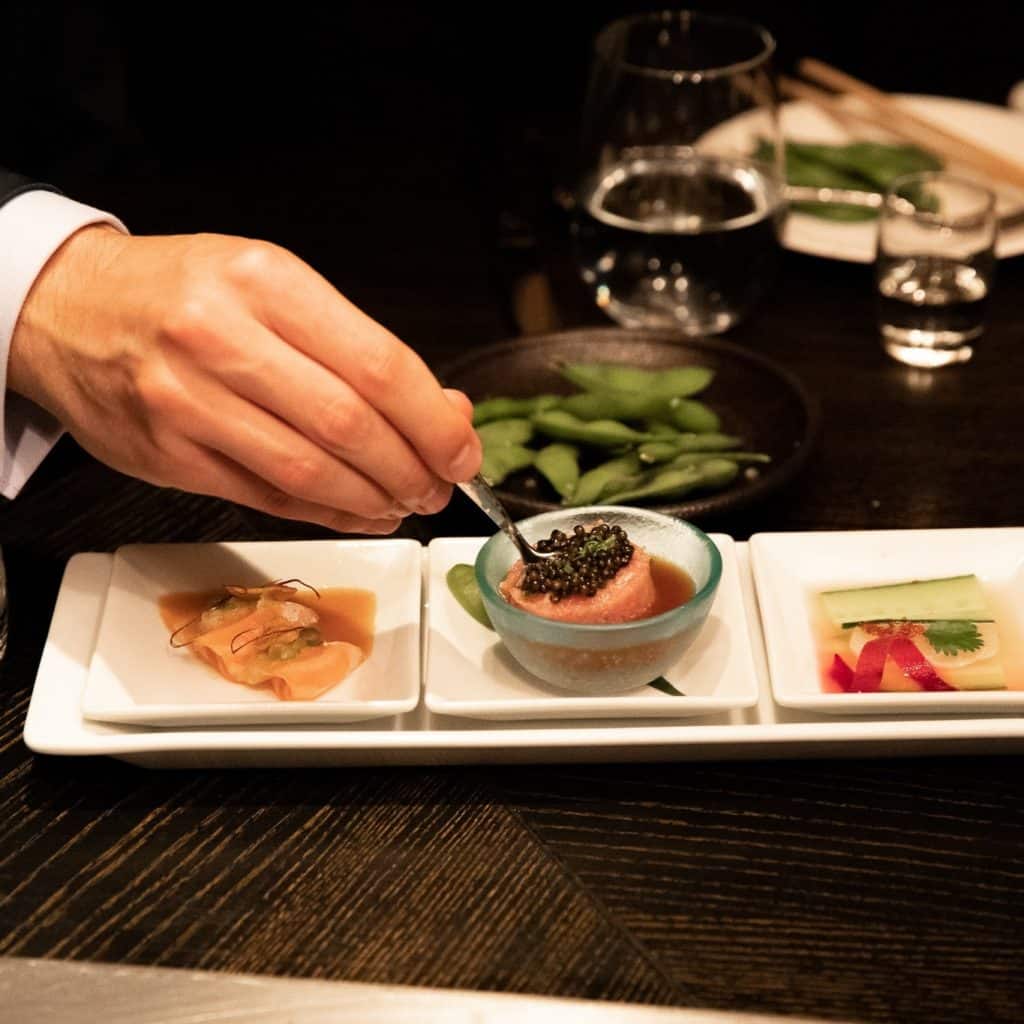 Mr. Chow
Mr. Chow features kinetic interior designs, a Beijing Duck entree that is the centerpiece of their menu, and a champagne trolley. Does one need anything else?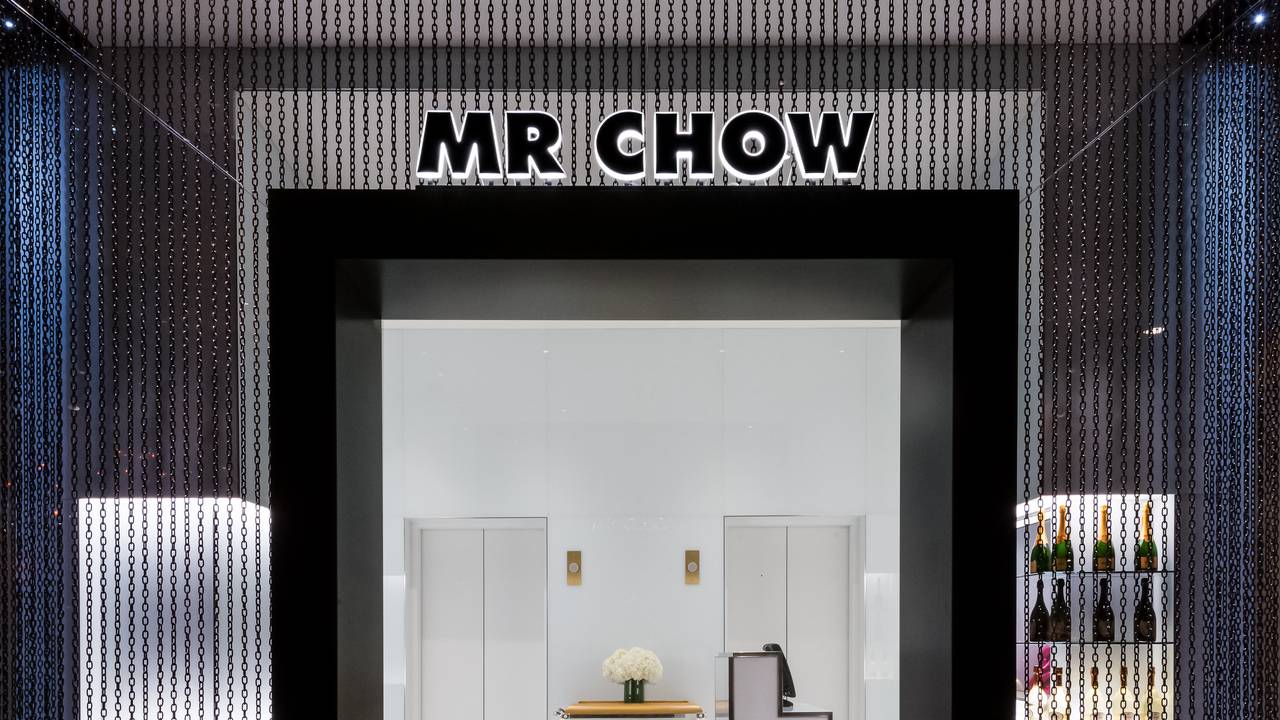 Amalfi
Amalfi is another great spot that is inspired by the Mediterranean and Bobby's Flay's experiences on the Amalfi Coast. Take a little trip to Italy before losing yourself to Omnia's epic artist of the evening.

Where to eat at Cromwell before Drai's
Giada
Drai's Nightclub views and performances are so enticing, you might want to skip dinner altogether and get in line, but Giada in the Cromwell will make you second guest that Cliff Bar as your entree. Think your favorite Italian dishes but with a Californian flourish that makes everything taste fresher, bolder, and just plain better. The views from the restaurant are just as good as Drai's, and you'll leave feeling full but ready to work off the calories on the dance floor. Don't forget to order the lemon spaghetti – once you try it you'll never go back to marinara.

Where to eat at Venetian/Palazzo before Tao
If you're gearing up for a night at the infamous Tao Nightclub, you're going to want to save some time for food beforehand. The Venetian and Palazzo hotels are known for their restaurants, and choosing between all the options can be a bigger decision than what you're wearing to the club.
Mott 32
Mott32 brings a mixture of Cantonese, Beijing, and Szechuan dishes together for their impeccable menu, including innovative cooking styles and traditional recipes in their menu to ensure a truly elevated experience.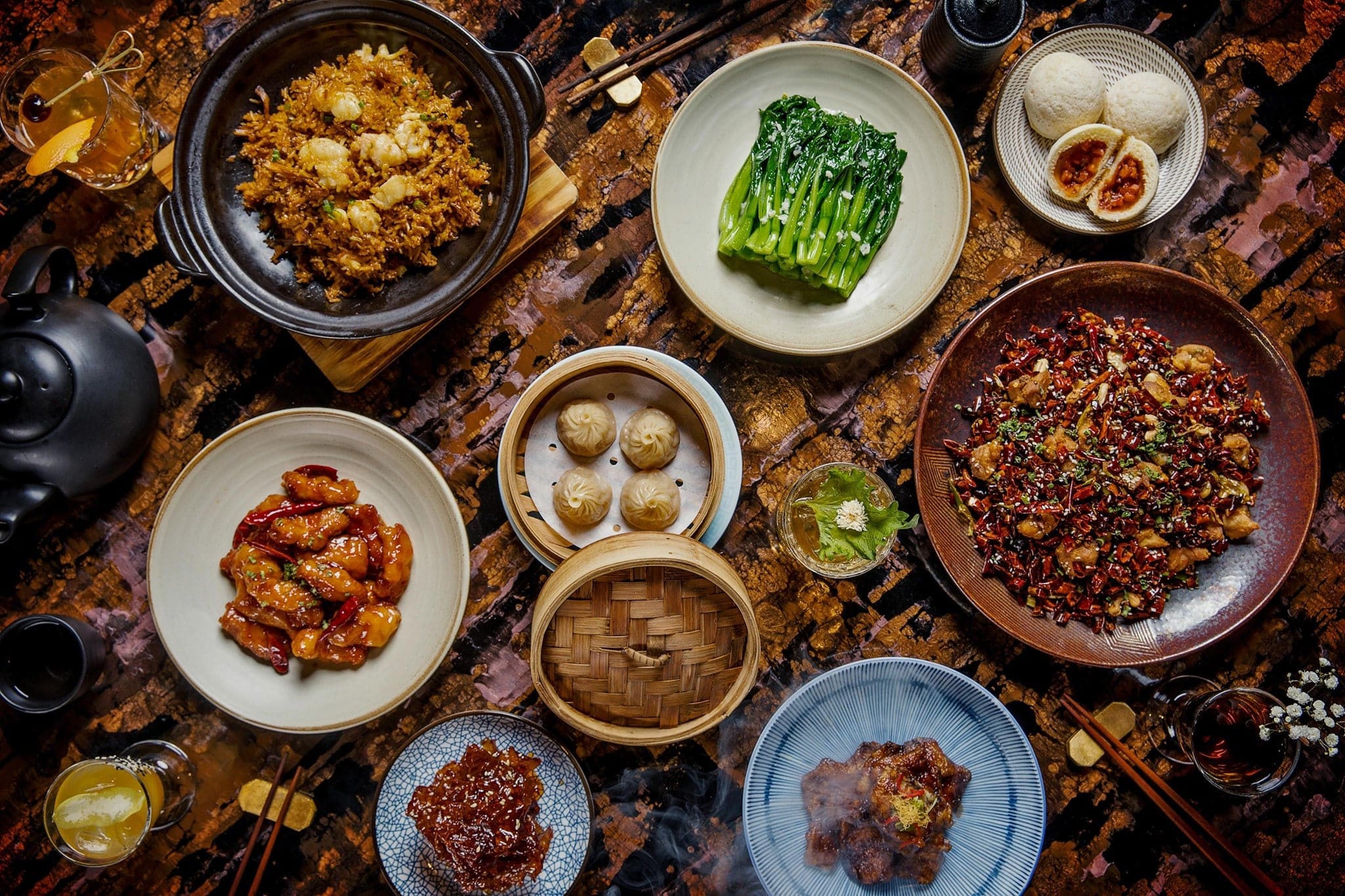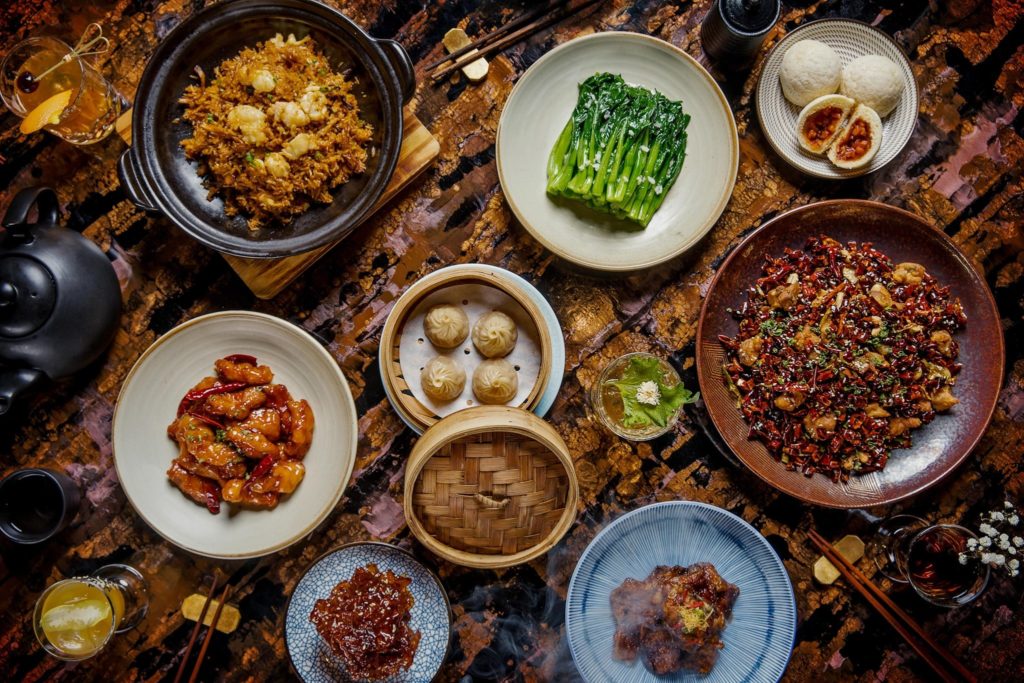 Wakuda
Wakuda takes its roots back to Japan and their notable and unique tastes, giving guests the chance to indulge in this incredible culture. Bringing old and new ideas together, you're sure to find something to satisfy your cravings and transport you to the winding alleyways of Tokyo.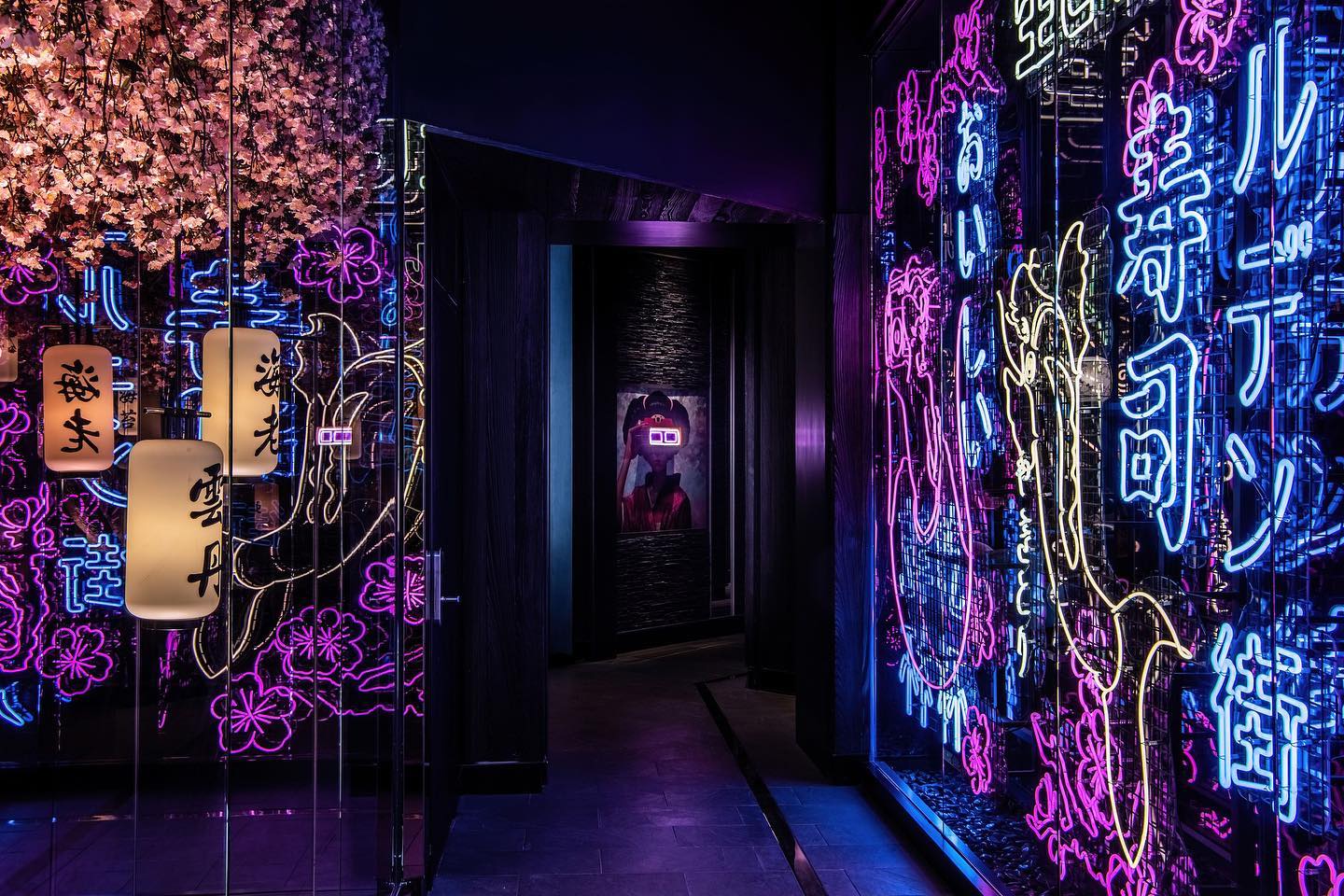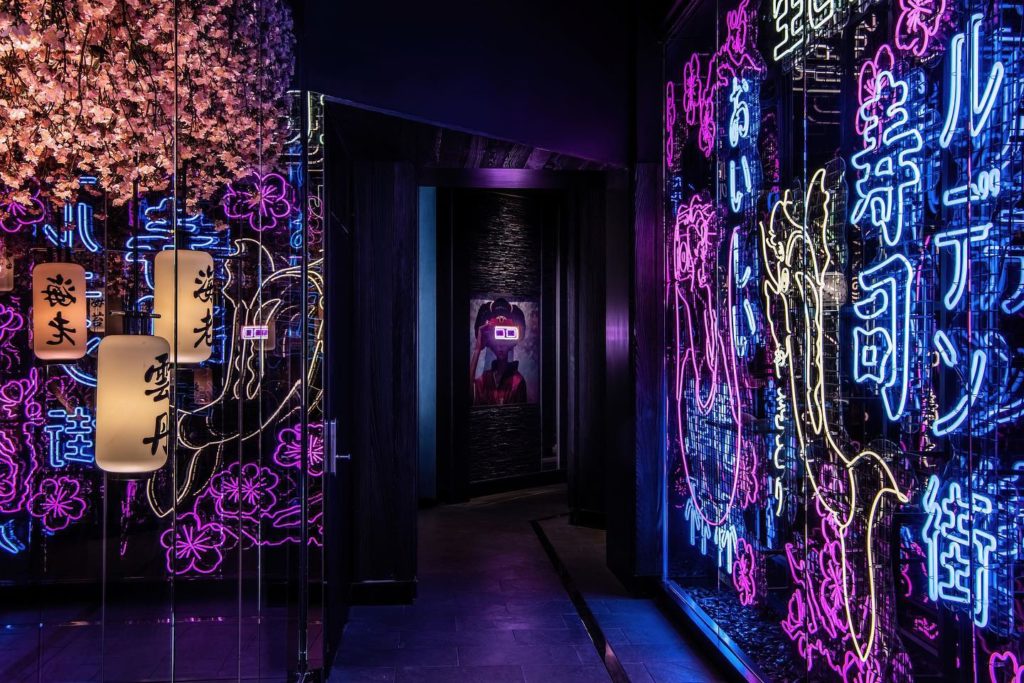 Tao Las Vegas
TAO restaurant hardly needs an introduction, but much like Hakkasan it offers a gateway encounter to ease you into the club scene. Self-proclaimed as a Pan Asian experience, you'll glimpse a glittering Koi pond and ancient stones lining the space, while a benevolent Bhudda watches over the evening's proceedings. The food is delicious, including sushi options and a giant fortune cookie to finish.

Where to eat at Encore/Wynn before XS
XS Nightclub and Encore Beach Club At Night… The Wynn has no shortage of hotspots for you to party your night (or entire visit) away. This hotel is known for their fine dining experiences and top-tier entertainment, so it's no surprise there are several spots you can choose from to sit down before letting loose.
Casa Playa
Casa Playa sits adjacent to Encore Beach, meaning you can keep an eye on the line while you sip tequila and absorb the Coastal Mexican vibes this venue is known for. The menu is set up to allow patrons to sample a little of everything together, making it easier to pick what you want and taste it all without getting too full.
Delilah
Delilah is a modern-day supper club, inspired by the earliest showrooms of Las Vegas in the 1950s. On the menu you can find everything from caviar service, to 10oz wagyu to chicken tenders and pigs in a blanket. This is a place to dine and socialize, with live music and special performances, DJs.
SW Steakhouse
SW Steakhouse has earned a reputation in Las Vegas, and for good reason. Wagyu and aged steaks are only part of what makes this spot so coveted. The Lake of Dreams sits alongside the nuanced venue, adding a magical ambiance that will leave you feeling both tranquil and posh. Their wine menu is extensive, though, so you'll still be in party mode when the check comes.

Where to eat at Resorts World before Zouk
Fuhu
Zouk Nightclub has been making the rounds as a topic of conversation since Resorts World opened, but another name that should pop up with the club is Fuhu. The interior is a mixture of Chinese-inspired designs and both retro and modern touches, but you can also sit in the bustling outdoor area which offers a unique escape. The food is a blend of contemporary Asian-inspired cuisine, and their mixology initiative is astounding. All of your senses will be engaged, and by the time the last course is served you'll be vibrating at a different frequency that is on par with Zouk's mesmerizing climate.