Dance to an impressive roster of resident artists like Diplo and DJ Snake, around the same pool you party at during the day. Encore Beach Club At Night and Nightswim (Encore Beach Club Nightswim), previously known as Surrender Nightclub is now the only night time pool party in Las Vegas. Once entering the venue, guests will discover the luxurious outdoor environment. Large cabanas and daybeds surround a massive size pool. There is a gaming area that is directly across the pool from the DJ booth. Guests will find two full bars and plenty of space to socialize throughout the night if you don't want to end up in the pool.
Before we get into the insider tips, take a minute to watch this video and see what to expect when visiting EBC At Night.
About Encore Beach Club At Night And Nightswim:
Where is EBC At Night located?
EBC at night is located at the Encore, 3131 S Las Vegas Blvd, Las Vegas, NV 89109.
General admission customers should follow direction of the many posted signs, while table customers should follow the direction of the host they have reserved service through.
How do I get to EBC At Night?
Encore Beach Club At Night (previously known as Surrender is the same venue as Encore Beach Club, but instead of entering outside you enter in the casino casino. If you are lost, simply follow the signs and you should run right into it.
Average wait times are 25 minutes – 1 hour. Best to arrive by 10pm. Hotel guests of Wynn or Encore may purchase line passes from hotel concierge.
How much is cover charge at EBC At Night?
Cover charge begins at $25 for women and $45 for men. Expect to pay more on holiday weekends and special events such as Art Of The Wild.
What are Encore Beach Club At Night hours?
EBC at Night is open on Wednesdays, Friday and Saturdays from 10pm – 4am.
What are the best nights to go to EBC At Night?
You will find the best looking crowd and often times, a headlining DJ on Friday and Saturdays. Check the event calendar for all upcoming events.
What is the Encore Beach Club At Night dress code?
So that there isn't any problem getting into the club once at the rope, gentlemen should make sure to wear a collared shirt and / or sport coat. Always be mindful of wearing nicer shoes and avoid anything that can be considered sportswear (track jackets, jerseys, sports shoes, hats, etc). Remember, if you are unsure if something will work or not, play it safe. For the nightswim party, gentlemen can wear swimwear and / or nightclub attire. We also recommend reviewing their official dress code rules.
How much are drinks at EBC At Night?
Mixed Drinks start at $20+, while beers are $13, and shots will run you about $20 plus.
What kind of music does EBC At Night play?
You will find nothing but EDM and some trap-house.
Does EBC At Night have a guest list?
Yes, you can sign up for the free EBC At Night guest list here. The guest list includes free entrance for girls and reduced cover for guys until midnight.
How much is bottle service at EBC At Night?
Table service pricing varies based on demand and event for the night. Bottles start at $695. For an accurate quote on a bottle service minimum and table pricing, visit the Encore Beach Club At Night bottle service page.
To learn more on how EBC at Night bottle service works, read our complete guide.
What is the best table location at EBC At Night?
While dance floor tables are typically considered prime real estate at Encore Beach Club at Night, but if you happen to have a big group and want to be away from the craziness, you can sit around the pool in a beautiful cabana or bungalow.
Photos of Encore Beach Club At Night: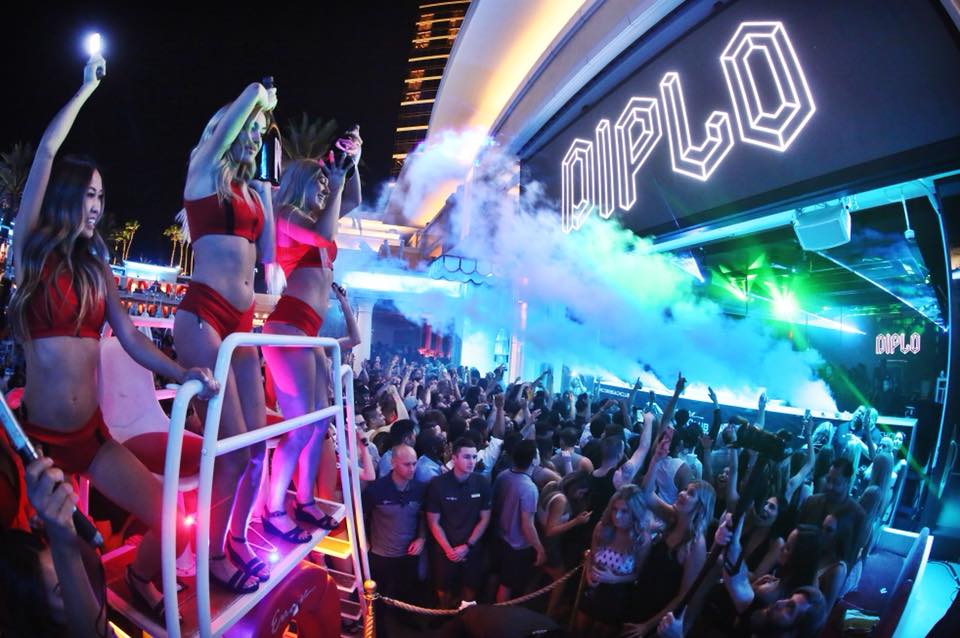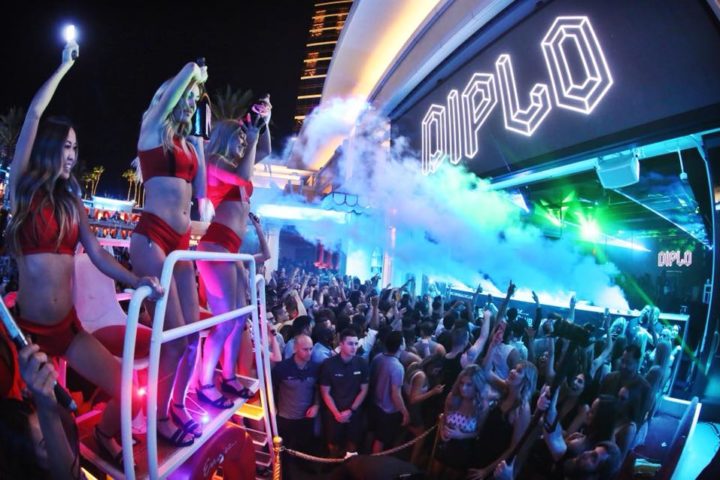 Contact Encore Beach Club At Night
We make getting in touch with EBC At Night easy. Fill out the form below and a EBC At Night VIP host will get back to you as soon as possible. Once you have submitted the form, you will be given the hosts contact information incase you need to make a same day reservation or immediate response.
Encore Beach Club At Night Review