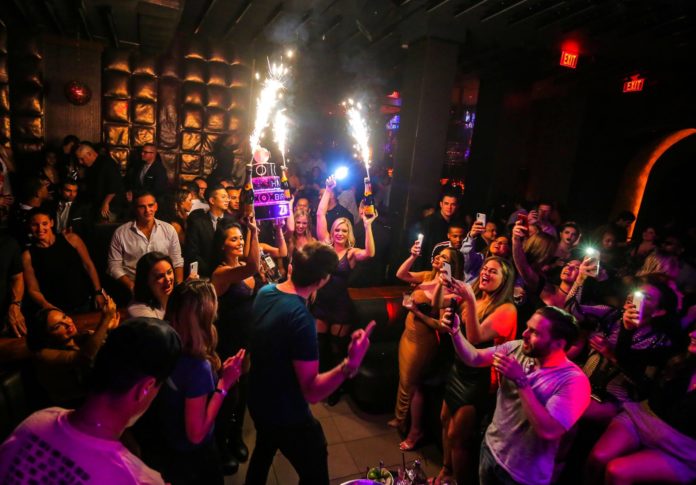 Have you ever wished you could splurge on bottle service, but it just wasn't in the budget? Las Vegas is a city filled with VIP experiences and opportunities to splash cash, but sometimes the price tags don't meet your budget. Indulging at the club is a must, which is why Tao Hospitality Group has brought back the Table Share. If you've never heard of this money-saving trick, listen up, because this offer gives you the chance to party like an even bigger Rockstar without blowing the bank.
Table Share is the brainchild of Tao Group, and is currently available at TAO, Hakkasan, Jewel and Marquee Nightclub. As the world becomes more and more open to the idea of a culture and economy that shares, the management company has decided to bring back their solution to expensive bottle and table prices.
Guests at these clubs can now split their section/drinks/spends with others, creating a group scenario out of relative strangers who will become friends over the course of the night. To partake in this option, anyone attending the club can buy a Table Share Experience ticket to the club, "as access to a shared area in the venue with open seating with other shared table experience guests. The shared table comes with a bottle presentation – tequila, vodka, and champagne will be available and replenished depending on the size of the party, waiting staff and security will be assisting your table…", according to the Tao Group Website.
You can also check out our Las Vegas message board, which has a section called "Looking to split bottle service or meet other site members during your visit?". This section of our forum is to find other visitors and meet other groups or parties who plan to attend the same club and could be interested in splitting a table. While this scheme is ideal for smaller groups who want to catch the VIP vibe, it also offers solo travelers the chance to make friends and connections while in Sin City. Think of it like Tinder, but instead of the awkward back and forth or stress about putting out, you can skip ahead to the booze-infused excitement of the club.
Whether you're just a social butterfly or balling on a budget, this option is ideal for anyone visiting Vegas. The best part is you don't even have to think of too much conversation, because the music is so loud you won't be able to hear anyways.
Table Share FAQ
How much does Table Share cost?
Tao Group's Table Share experience costs $50 per female and $100 per male.
Also note, when sharing a table outside of Tao Group's experience, costs can be higher based on the location, amount of people, event and night of the week. So always make sure to get those details with the person(s) you're going to split the table with.
What is included with my Table Share experience?
The shared table comes with bottles of tequila, vodka, and champagne. Your table will also get a bottle presentation, and bottles will be replenished based on the amount of guests.
What clubs offer Table Share?
Tao, Marquee, Hakkasan and Jewel Nightclub are currently the only clubs offering this service. Again, you may be able to find other groups looking to split tables at other clubs using our online message board.
Where can I purchase a shared table?
Contact a VIP host at Marquee, Jewel, Hakkasan or Tao for more information.