Every Las Vegas Dayclub has a unique vibe about it. The overall "something" it's known for which sets it apart from the others. Encore Beach Club (or "EBC" as it is often known as) is all about luxury. Which shouldn't come as any surprise since it's located within the Wynn / Encore resort complex – one of the most over-the-top resorts on the Las Vegas Strip!
While Encore Beach Club is more than welcoming to everyone, it's not uncommon to see an abnormally high number of extremely attractive pool goers strolling around the party and dancing to EBC's impressive lineup of internationally known EDM artists. 
As to be expected, lines to get into Encore Beach Club can get a little long. (Tip: arrive early when possible) Their pricing reflects that high demand. Also important, Encore Beach Club's door has a very strict dress code policy and there is a specific list of items that security won't allow (both are listed below, keep reading).
Before we get into the insider tips, take a minute to watch this video and see what to expect when visiting Encore Beach Club. When you're ready to book or have questions, visit our VIP host directory to get in touch with a lead VIP host at EBC!
About Encore Beach Club
Where is Encore Beach Club located?
It is located at 3131 S Las Vegas Blvd, on the Strip Side of the Encore Resort (also accessible from Wynn). If within Wynn, follow the signage to Encore and then to Encore Beach Club. Tip: If you're arriving by your own car, just park on the second floor of Wynn's Main Parking Garage and take the bridge directly to EBC's entrance. 
When does Encore Beach Club open?
The pool opens every March and will close in September unless the weather is nice, it may get extended through October.
When is Encore Beach Club open?
Encore Beach Club is open from 11am to 6pm Thursday through Sunday. Average wait times are 45 minutes – 2 hours on Fridays, Saturdays, and Sundays.
How much is cover charge at Encore Beach Club?
Cover charge at Encore Beach Club starts at $30 for girls and $60 for guys. Holiday weekends and special guest performers have higher pricing. You can also pay $150 to expedite the line. (It's definitely worth it on a Saturday or a day The Chainsmokers are performing).
What kind of music does Encore Beach Club play?
Expect to hear EDM and house music. The Chainsmokers, Kygo and David Guetta are some of the top tier talent they have scheduled this season. Check out event calendar to see who's performing.
What are Encore Beach Club Drink prices?
Mixed Drinks start at $20+, while beers are $13, and shots will run you about $20 plus.
Does Encore Beach Club have a guest list?
At this time EBC does not offer guest list. The only way in is general admission, pre sale tickets or bottle service.
How much is bottle service at Encore Beach Club?
Cabana and daybed pricing varies depending on demand and what event EBC has going on. For an accurate quote on a bottle service minimum and table pricing, visit the Encore Beach Club bottle service page.
What is the best cabana location?
Lower bungalows are the best and most expensive in the venue. Next, the lower cabanas on the first level are also a great option.  For a cheaper option, consider a day bed or couch.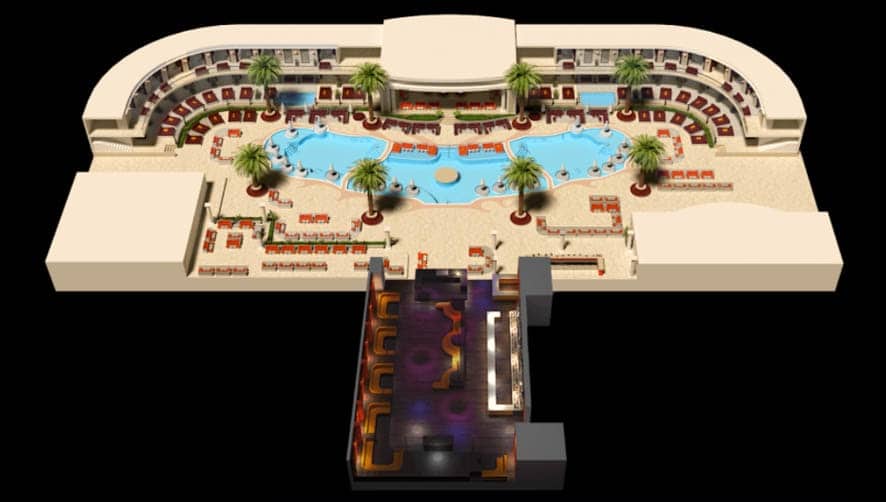 Encore Beach Club Food and Bottle Service Menu
What is the Encore Beach Club Dress Code?
Encore Beach Club's dress code is best thought of as: dress stylishly like you're going to a pool and actually getting in the water (even if you don't plan to). The pool is always filled with beautiful people. Make sure to bring out that new bikini or pair of swimming trunks you've been waiting to wear.
That being said, there are some fashion items that are not allowed in the door:
Athletic Gear

Jeans

Pants

Cargo Shorts

Torn or Cut Off Clothing

Speedos (Sorry dudes!)

See Through Bathing Suits

Baggy Clothing

Chains

Offensive Prints On Clothing
And to avoid surprises when you get to the door, please plan in advance not to have any of these items with you:
Weapons

Controlled Substances

Eye Drops

Gum

Outside Food / Drinks / Liquids

Vitamins / Supplements

Over The Counter Medicines

DSLR Cameras, GoPros, and Standalone Cameras (*Yes, you're allowed to take pictures with your phone)

Selfie Sticks
*Regarding prescription drugs: EpiPens, Inhalers, and other absolutely necessary life saving prescriptions are usually allowed in any Las Vegas pool area, with management's explicit approval on a case-by-case basis. If there is something that is legitimately vital that you have access to while you're at the pool, we are happy to assist in connecting you with the appropriate person in advance to speak to.
Photos of Encore Beach Club
Contact Encore Beach Club
We make getting in touch with EBC easy. Just fill out the form below and a VIP host who works at Encore Beach Club will get back to you as soon as possible. Once you have submitted the form, you will be given the hosts contact information incase you need to make a same day reservation or immediate response.
Upcoming Encore Beach Club Events
Encore Beach Club Reviews