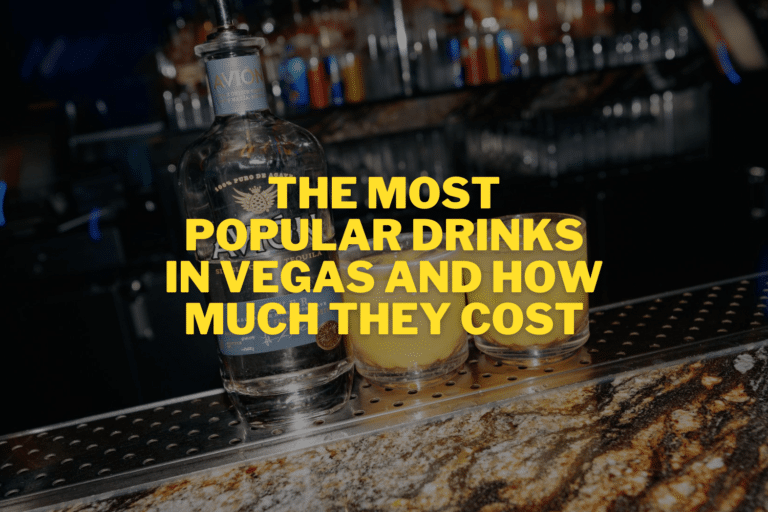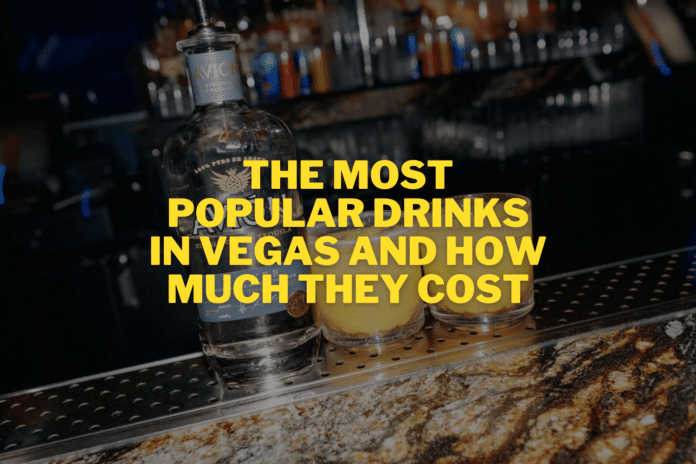 The basics of Vegas Nightclub drink prices.
Drinks are not just the "currency" of any nightclub situation, they are the means for creating most of the Vegas stories that you and your friends will talk about for years to come. With that in mind, there are a few things everyone should know about free drinks in Vegas, bars, and alcoholic beverages in Las Vegas.. Laying the thousands of hours I've spent in Las Vegas nightclubs aside, we have consulted several nightclub bartenders and cocktail waitresses for the most accurate information possible about what most people order, what nightclub drink prices in Vegas clubs are, and the best way to get your drinks faster than the next guy. 
First, let's run through some of the basics about drinking in Las Vegas.
 

The drinking age in Las Vegas is 21 and up.

Las Vegas does NOT have any of the ridiculous alcohol laws that most cities in the United States are forced to deal with, so you won't ever hear the words "LAST CALL" at any nightclub or bar. It's Vegas. You can drink 24 hours a day here.
It is perfectly legal to walk around The Strip or Downtown Las Vegas with an alcoholic beverage in your hand. You will not get arrested, ticketed, fined, or even a second look for doing so. Being drunk in public is a different story.
The same rule applies in nightclubs, most all of them even provide plastic to go cups at the exit.
You can NOT have an alcoholic drink, aka "open container," in your personal vehicle and in most public transportation. There are a handful of exceptions with some tour busses, taxi cabs, and limousines. When in doubt, ask the driver.
If you're not the type of person who wants to stand at the bar all night ordering drinks, and prefers sitting at a table, you'll want to check out how much bottle service costs.
Vegas Drink Prices.
Know in advance that Vegas drinks are a bit more expensive in nightclubs, ranging between $10 and $20 depending on what you order and where you ordered it. Standing at the bar with a surprised look on your face and bitching to everyone within ten feet of you about how many cases of beer you could buy for that price really won't do you much good. If you would like to get more of an idea of what a night out at Vegas nightclubs will cost you, use the Las Vegas nightclub calculator.
The Average Price Of Vegas Drinks:
Domestic Beer: $7 – $10
Import Beer: $8 – $10
Mixed Drinks: $12 – $15
Mixed Shots: $10
Cognacs: $12 – $15
Red Bull Drinks: $18 – $20
Exotic Mixed Drinks: $20 – $30 (Long Islands, etc).
Bottled Water: $8 – $10
Cans of Red Bull: $12
Get the bartenders attention.
When it comes to where to order your drinks from, we usually recommend finding one of the sidebars of the club as they are almost always the easiest to get to and the fastest to get your drinks from. But wherever you order your drinks, find one bartender to order from throughout the night and tip them well.
Start simple. A round of shots is always a solid way to get the night going. They are quick, easy, and most people won't fuss too much at the thought of taking them. We enlisted the help of my good friend and noted bartender, Dillon Reese, to discuss with several other bartenders around Las Vegas what the most commonly ordered shots and drinks were. Not surprisingly, pretty much everyone agreed that most people order one of eight different kinds of shots, and one of twelve kinds of mixed drinks.
Most Popular Drinks To Order At A Bar In Las Vegas.
The Most Common Shots Ordered:
1) Washington Apple
2) Tequila (Patron and Don Julio)
3) Jagermeister / Jager Bomb
4) Lemon Drop
5) So-Co and Lime
6) Kamikaze
7) Wet Pussy
8 ) Red Headed Slut
Recommended Shots:
1) B-52 (Kahlua, Irish Cream, Grand Marnier)
2) Scooby Snack (Midori, Pineapple Rum, Pineapple, Creme De Banana)
3) Pineapple Upside Down Cake
The Best Drinks In Vegas:
1) Vodka Cranberry
2) Vodka Red Bull (Energy)
3) Jack and Coke (Whiskey)
4) Long Island / Long Beach
5) Screwdriver (Vodka Orange Juice)
6) Cosmopolitan (Vodka Martini)
7) Vodka Tonic
8 ) Rum and Coke
9) Apple Martini
10) White Russian
11) Malibu Pineapple (Pineapple Flavored Rum)
12) Sex on the Beach
Highly Recommended Drinks:
1) Incredible Hulk (Hennessy / Hypnotic)
2) Adios Motherfucker (Long Island w/ Blue Curacao and Sprite)
That pretty much covers the basics of bar etiquette and the simple things everyone should know about Las Vegas Nightclub Bars. At the end of the day just make sure to enjoy yourself and be safe about it. If you find yourself with a throbbing headache the next day, make sure to read through the LasVegasNightclubs.com Guide to Surviving the Killer Hangover!
Can I Get Free Drinks In Vegas?
Yes, it is possible to get free drinks in Vegas. But you'll need to be a female. Sorry guys. When you sign up for our free guest lists at Tao, Marquee, Zouk and Light, you will be given either drink tickets or open bar. Open bar will usually only be for the first hour the club is open. So if you want those free drinks in Vegas, make sure to arrive early and on time.