With regular performances by Metroboomin, Tyga and Laidback Luke and a steady stream of today's notable mainstream artists  Light Nightclub main stage sees the perfect blend of EDM, Hip Hop, and today's latest Open Format DJs. Better yet, it's a relatively stress-free nightlife experience, especially given that it's a Vegas megaclub.
Overwhelmingly, our readers enjoy the unrestricted access to the dancefloor, stadium style table layout, expansive bar access (getting you to your drinks quicker), and state-of-the-art sound and lighting system that encapsulates your senses – no matter where you are in the club.
Now that you've gotten an idea of what The Light Vegas has to offer, take a minute and watch this video to actually visualize what you're about to experience!
After seeing what a night Light is actually like, i'm sure you're thinking to yourself that you want to go. We've got you covered. Just click below to message a Light VIP host directly.
By clicking here, you are submitting a request to an actual VIP host at Light Nightclub
Insider Tips For Light Nightclub:
THE SETUP AT THE DOOR: The door is about as straightforward as you can ask for. Table reservations will check in with the hosts directly in front of the main entrance, whereas guest list, ticketing and general admission customers will find their respective lines simply marked on the right.
NAVIGATING THE ROPES: Average wait times are about 30 minutes to an hour on weekends and special events. Contact your host for recommended arrival times and any additional questions.
HOW TO GET TO THE NIGHTCLUB: You can park in Mandalay Bay's self-parking garage, or arrive by taxicab (limo, Uber, or Lyft) at Delano's Hotel Entrance. If you're navigating through Mandalay Bay's main entrance, simply follow the signs through the casino.
BEST NIGHTS TO GO: Wednesday (Industry Night), Friday and Saturday.
DRESS CODE: Please refer to our complete dress code guide.
DRINK PRICES: Mixed Drinks Start at $14, Beers $8, Shots $10.
BOTTLE SERVICE PRICING: Table service pricing varies based on demand and event for the night. Bottles start at $425. B2G1 specials are available on Wednesdays. For an accurate quote on a bottle service minimum and table pricing, visit the Light bottle service page. To learn more on how bottle service works, read our complete guide.
GUEST LIST: Sign up for Guest list. Men & women free until 1AM.
Light Nightclub Floor Plan: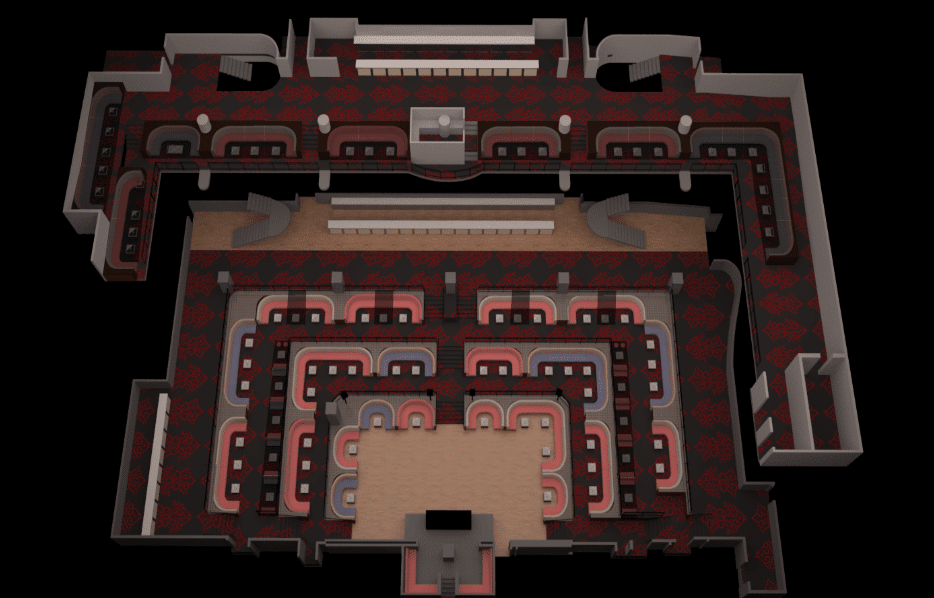 Photos Of Light Nightclub: