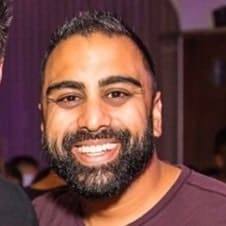 Anup Patel
Lead VIP Host at EBC at Night
This EBC at Night VIP Host will be in contact shortly to answer your questions, give pricing and available table options.
If you are interested in making a reservation for bottle service at EBC At Night at the Encore in Las Vegas or simply want to be added to the guest list, you will need a EBC At Night VIP host.
What Does A EBC At Night VIP Host Do?
The listed Lead VIP Host, works directly at EBC At Night (not for us). He will be the best person to getting the absolute best pricing, table locations, accommodations and be there to answer any questions you may have about bottle service.
Do I Need A EBC At Night Host?
Having a VIP host at EBC At Night is extremely helpful. Consider him your direct concierge to the club. He will be able to assist with any issues, make sure your whole group gets in, and accommodate with any special requests that could not be done without a host.
How Do I Contact EBC At Night?
Simply fill out the form above and send your request. Once submitted, you will receive a confirmation email that includes your hosts direct phone number and email, so you can contact him directly if you need immediate assistance. Since this host is the approved XS VIP host, he will respond to you upon receiving you request.
Do I Need A VIP Host For The Guest List?
No host is needed to add yourself to the guest list. Simply click the button for guest list, sign up, and your name will be added directly to the free guest list for the specific day you signed up for.