Book Your Speed Vegas Driving Experience
We highly recommend at least one adventure activity while you're visiting Las Vegas, and what better way to meet your adrenaline needs than racing around a track at blistering speeds in an exotic car?
With packages starting at $99 (drifting experience) and $249 (driving experience), Speed Vegas is a great way to spend a morning (or afternoon) beating your best friend's track time!
Start your Speed Vegas Driving Experience now inquiring for more information below:
---
Speed Vegas Packages:
---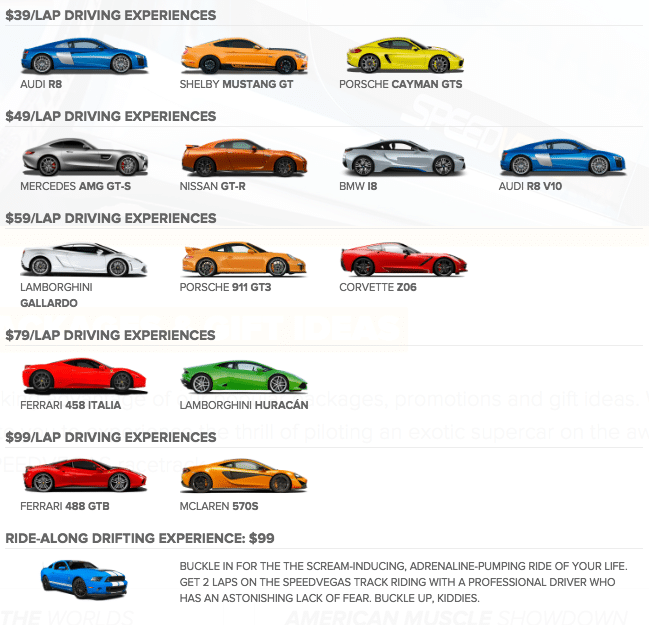 ---
What To Expect At Speed Vegas:
---
You will be picked up by a complimentary shuttle on the Las Vegas Strip (or you can meet there) and taken to the Speed Vegas track (located just south of Las Vegas). Upon arrival, you will check in at the registration desk, which looks a little bit like a high-end lunch counter where all of the items on the menu are $150,000+ exotic cars.
You'll be given an RFID wristband and then take a short training class where a professional driver will give you the lay of the track and guide you on what to do (if you're like me, you'll forget 90% of what they tell you, and that's totally fine). 
Afterwards, you'll be fitted for your helmet, taken to your car, and off you go. 
As long as you listen to your instructor, you'll be able to maximize your potential in the car of your choice. One of the biggest things to get over is "taking it easy," as all of these cars are capable of way more than most of us can throw at them. 
---
Frequently Asked Questions:
---
Do I need to make a reservation?
Speed Vegas accepts "walk up customers," but availability is always based on reservations and first come first drive. We highly recommend making reservations in advance, especially for groups of 3 or more. You can make a reservation easily by filling out the above form or e-mailing [email protected]. 
What prior experience do I need?
You will go through a short training class and have an instructor with you throughout your driving experience who will tell you when to brake, accelerate, and who will help guide you throughout your laps. As long as you can drive a normal car and listen to instructions, you'll be fine!
Are there any age restrictions?
Drivers at Speed Vegas must be at least 18 years old, and must have valid driving license in the country of their residence. Passengers of any age may ride along, as long as they weigh more than 60 lbs (27kg) and are older than 6.
Is transportation provided?
Speed Vegas includes free pickup and drop-off at most major hotels on the Las Vegas strip. Complimentary shuttles run approximately every 30 minutes. Simply stop by the host desk after your experience to arrange details.
Do I need to know how to drive manual?
No. All of the cars in this experience have an "automatic mode" where the clutch and gear selection is handled by a computer. You can also choose the F1-style paddles to operate gear changes. Some also use "sequential manual gearboxes," or triptronic shifters. This new E-Gear technology is found in many new high performance cars (including some FormulaOne cars), and is a manual gearbox where the clutch and gear selection is handled by a computer when you pull the gear change paddle.
(Side Note: Manual transmissions are better than sex and you definitely should learn to drive one at some point in your life. – JC #savethemanual)
Is a security deposit required?
No security deposit is required for the Speed Vegas experience.
What about insurance?
Insurance is included in your Speed Vegas experience at no additional charge.
Can I bring a guest?
Speed Vegas has a second story lounge area and observation deck where guests are able to (sit and jealously) watch you race around the track. But guest passengers are not allowed in the cars (and, most of the time, there are only two seats anyway!).