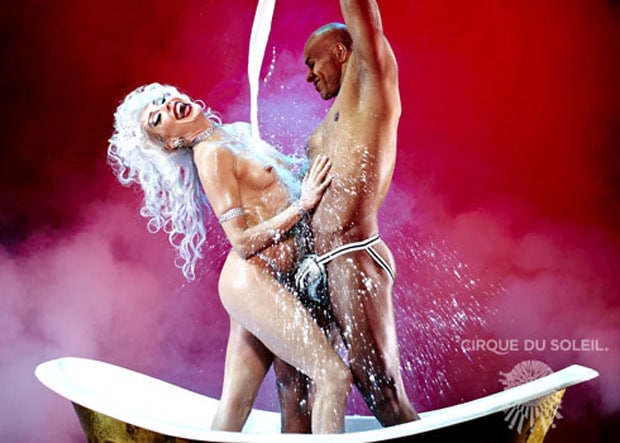 Zumanity, the sensual side of Cirque Du Soleil is a provocative cabaret-style production with a Cirque du Soleil® twist. On the cutting edge of contemporary Las Vegas entertainment, the adult-themed 90-minute production blends playful innuendo with daring eroticism in the intimate Zumanity Theatre at New York-New York Hotel & Casino. With Zumanity Cirque du Soleil takes a bold new direction, exploring the full spectrum of human sexuality and intimacy to create a mosaic of love in all forms and from all perspectives.
SHOW SCHEDULE: 
• ZUMANITY performs Friday through Tuesday at 7:30 pm and 10 pm.
• There are no performances on Wednesdays or Thursdays.
TICKET PRICES:
$69, $79, $105 and Duo Sofas for two at $125 per person, sold exclusively in pairs
Tickets are available 120 days in advance of the performance date.
TO RESERVE TICKETS:
• Call 866-606-7111 or 702-740-6815.
• Go to www.zumanity.com or www.nynyhotelcasino.com.
• Visit the ZUMANITY ticket office at New York-New York or any of the MGM Resorts International box offices.
• ZUMANITY was created for adults, 18 and over.
ZUMANITY EXPLAINED:
Emceed by Zumanity's "Mistress of Sensuality" Edie (famed drag diva Christopher Kenney) and distinguished by an unconventional culture of artists and candid
exposition of eroticism, the production renders a tale of emotional freedom, natural beauty and acceptance of differences.
Zumanity is inspired by infinite individuality and variety—a concept embodied by its artists, who come in all shapes, sizes, ages, ethnicities and genders. Featuring an international cast of 45 performers, the artists of Zumanity are more identifiable as individual characters than in any previous Cirque du Soleil production.
Zumanity's seductive theme is highlighted by such traditional circus arts as contortion, acrobatics, aerial stunts and hand-balancing. Sensuality also comes alive on stage through a multicultural variety of dance genres including flamenco, African dance, tango, modern dance, waltz and striptease. The beauty of the action on stage is enhanced by Cirque du Soleil's signature visual stimuli including extravagant costumes, gorgeous makeup and exquisite lighting and special effects. The show unfolds to a beguiling score performed by nine musicians and two singers.
THE ACTS IN ZUMANITY:
2 Men: Lovers Jellison and Gabriel dance a tumultuous tango. Through their fierce choreography, a passionate story of love and anger unfolds. Again and again they attract and repel in intense conflict until the magnetic energy between them becomes more than they can bear.
Artists: Jellison and Gabriel Corbin
Extravaganza: A fanfare of horns and drums announces the conclusion of the show. One by one, the cast members make their fashionable entrance, parading down the catwalk in costumes every bit as vibrant, bold, and diverse as their spectrum of talents and personalities. It's an incandescent finale to the colourful cast of performers who have guided the audience on their journey into the world of Zumanity.
Artists: Company
Hand-2-Hand: In an aggressive but intimate hand-balancing duet, Katerina and Valeriy entwine in a powerful act with breathtaking acrobatic-inspired manoeuvres. Their flawless movements thrust the two kindred spirits into a provocative tale of lust.
Artists: Valeriy Simonenko, Katerina Bazarova
Hand Balancing: Dima is alone, going in circles around his pole. He has just about given up on love when he meets a lovely contortionist who seems to fit into his world. She brings him back to earth in this beautiful act.
Artist: Dima Shine
Midnight Bath: You can't keep love locked up in a bedroom…so Vanessa and Ed give their imaginations free rein and let fantasy take them to unexpected places. Using milk as their medium, they caress each other's flesh in a luscious sexual experiment.
Artists: Vanessa Convery and Ed Bohlen
Orgy: The cast emerges from every orifice of the theatre, drawing the audience into their hedonistic play. In duos and trios, and some flying solo, they assume a smorgasbord of sexual positions on a lazily revolving stage, where they touch, stroke, moan and embrace until the tension builds to an orgasmic conclusion.
Artists: Company
Roue Cyr: Jonas is brought to the stage on his knees.  A slave to love and forced to perform for his Mistress, he spins and turns inside his wheel while she cracks her whip. He is eager to please, even donning a blindfold for some of his tricks. One can only hope the pleasure is worth the pain he receives…
Artists: Jonas Woolverton
Straps: Louise, alone on stage in fragile silence, is bound by her straps. In an exercise of self-inflicted pleasure and pain, she uses the leather to tease and torture herself, and slips seamlessly from one auto-erotic aerial figure to the next, trapped in her bonds all the while. To the sounds of heavy breathing, gentle moans of ecstasy and the friction of her straps, Louise's self-pleasuring bondage flight draws to a climactic finale.
Artist: Louise Yorath
Waterbowl: Abandoning their innocence, two sweet and pure contortionists wash away their inhibitions and taste love for the first time. Fluidly they glide through the water, striking an amazing array of sensual poses and exploring their physical, sexual and creative limits all at once.
Artists: Ulziibayar Chimed, Bolormaa Zorigtkhuyag, Estefania Laurino and Gyulnara Karaeva