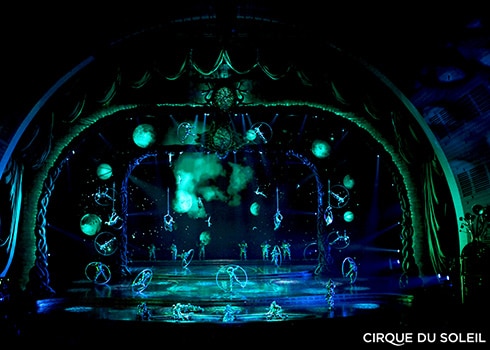 Zarkana by Cirque du Soleil is a spirited voyage through an abandoned theater where an extraordinary circus comes back to life. Populated by a motley collection of off-the-wall characters and incomparable acrobats, Zarkana is a visual vortex set in a twisted acrobatic fantasy universe where, little by little, chaos and craziness give way to a true celebration. Zarkana is a quintessential Cirque du Soleil spectacular featuring an international cast of 70 world class acrobats, aerialists, jugglers, high wire and trapeze artists set on a grand stage at ARIA Resort & Casino.
SHOW SCHEDULE: 
Zarkana performs twice nightly at
7:00 pm and 9:30 pm Friday – Tuesday.
There are no performances on Wednesday and Thursday.
TICKET PRICES:
$69 – $180 per person
TO RESERVE TICKETS:
Online at www.aria.com/cirque/zarkana
Via phone at 855.927.5262
In person at the Zarkana Ticket Office