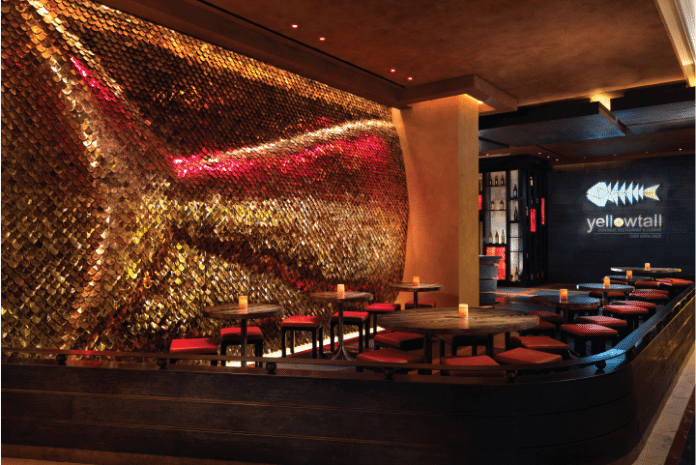 You're in Vegas. And you're hungry. You could eat anywhere—grab a big ass steak or even fast food. But come on, the Las Vegas Strip has some of the hottest trendy restaurant scenes in the world, with the celebrities and model-quality clientele to prove it. Are you going to waste calories at the Food Court? I think not.Take our advice and book a table at one of these hot spots. Not only are they filled with cool design, amazing people watching and DJs playing great warm-up tunes… but they've got great food too!
by E.C. Gladstone for LasVegasNightclubs.com.
STK – The Cosmopolitan 
Want to know where the hot girls are dining? Take a stroll into STK, on the Cosmopolitan's all-awesome third floor dining level, and you'll be surrounded by them, and in so many large groups you'll wonder if they don't take reservations for groups less than six (they do, and you'd better make them). Inside, the mod bi-level cavern (sister to STKs in NYC, LA and Miami) is as swinging as it gets, and you'll be tempted to hop tables or just get up and dance in the aisles.
But the scene would be limp if Chef Stephen Hopcraft (a Top Chef and Michael Mina vet) didn't deliver delicious dishes. Steaks are obviously the thing to get here (anything bone-in), but the "lil BGRs" wagyu sliders might be the best you'll ever have, and if you want to branch out a little, shrimp rice krispies and short rib agnolotti are both memorable, too. Plus, they might inspire the next table to strike up a conversation…
Mizumi – Wynn
Any restaurant that's almost entirely bright red, is dominated by a DJ booth and massive waterfall, and sits right on top of a hot club is definitely our kind of place. Better still, Mizumi is more than just looks. Just opened (remodeled from a much more sedate version), it  serves a creative sampling of Japanese sushi, robotayaki grilled bites and Benihana-style teppanyaki table meals. Like all Wynn restos, there are solid vegetarian choices here, but we're more inclined to steer you toward the toro tasting plate, king quail robo, king crab taro shell tacos, and 72-hour braised Wagyu short rib. Cocktails and sake shots by mixologist Patricia Richards are also amazing.
Wanna really blow someone away? Reserve the special Pagoda table on an islet across the lake from the rest of the restaurant. BOOM.
TAO – The Venetian 
Moody, mysterious but energetic, TAO still packs the tables for its fashionable Asian fusion. Signature miso sea bass skewers, rich and velvety smooth, are practically required, but consider breaking out of the mold with some interactive dining like the Kobe sirloin shabu shabu. Lots of sushi rolls, dumplings, tempura and other sharables here. Huge round tables with lazy susans handle large groups well here.
La Cave – Wynn
Intimidated by fine wine? La Cave has you covered. Park yourself either in the dark wine bar or indoor/outdoor patio lounge, and choose from ten different themed wine flights, to test your palate and sample differences between countries, winemakers, or varieties. Add their addictive mushroom grits, bacon-wrapped dates, or bacon and quail egg flatbread to the mix, and you have the makings of a fantastic evening or late night gathering. Classy but cool.
Sushi Samba – Palazzo
Sister to restaurants in NYC, Miami, Chicago and London, SushiSamba will be familiar to many visitors, though the Vegas version may have the coolest interior of all (even the bathrooms!), like dining inside an art installation. With a menu combining Japanese, Peruvian and Brazilian inspirations, there's something interesting for virtually everyone here, and we could eat the tiraditos, robata and samba rolls (tuna and foie gras, anyone?) all night. Don't miss the Peruvian corn, purple potatoes and quinoa dishes. Cool sake cocktails too.
FIX – Bellagio
A relative granddaddy in the world of clubby cuisine, FIX soldiers on, and we're happy for it. Of all these places, sheer energy is what defines this spot more than anything. There's just no better choice for amping up to a crazy Vegas night. Those Bobby Baldwin Burgers still reign as some of the best sliders in town, though splurging for the nightly Kobe selection could be an indulgent alternative, and we can't deny there have been nights we've woken up jonesing for the crispy rock shrimp and "Very adult" mac n cheese.
Definitely a good call for a group dinner or pre-Bank or Hyde bite.
LAVO – Palazzo
Another astounding interior, LAVO pays vague tribute to Ancient Rome with a collision of Mediterranean cultural elements artfully combined. Relax in the communal lounge, take a more formal white-tablecloth booth inside, or adjourn to the patio overlooking the Strip and TI's amusing pirate show across the street. With some of the most formal service of all those listed here, LAVO offers a combination of classic Italian and steakhouse fare, ranging from brick oven pizzas to Maine lobster. The A5 Kobe meatball with fresh ricotta is a huge, hearty cheesy share plate, and their savory signature Chicken Domenic is equally memorable and ample. They also offer a solid $55 prix fixe menu deal.
Stack – Mirage
There's nothing quite like Stack's carved wood cavern walls, though it feels a lot more casual than others on this list, which isn't such a bad thing. Cravings for their "adult" tater tots pop up more frequently than we'd care to admit, their burgers are some of the best around, and there's a soft spot for the hot rock starter, too. Simple, straightforward, cool.