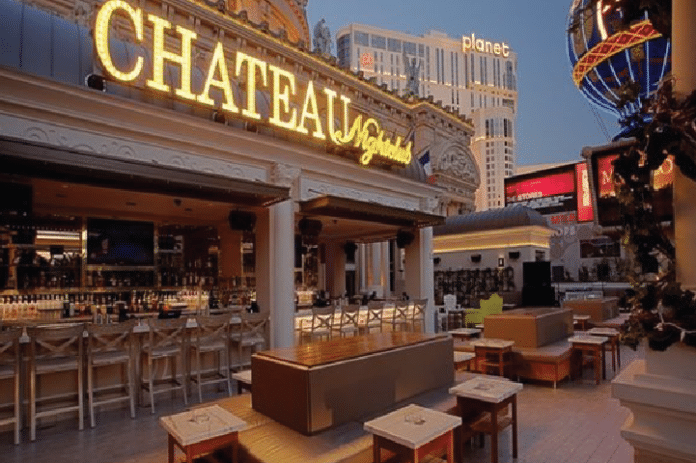 Nightclubs and Dayclubs are obviously your first choices for finding the hot parties in Las Vegas. But sometimes you want something just a little more chill, a little more easy, even a little more silly. That must be why the "party patios" have become so popular here. More typical of beach towns, they offer a kind of fantasy college bar vibe that practically forces you to have a good time, whether you're rolling in for a hangover brunch, afternoon mindlessness or late night alternative. And unlike the clubs (for the most part) you can eat here, too…
By E.C. Gladstone for LasVegasNightclubs.com
Carlos 'N' Charlies – Flamingo
This new brother of the Mexican resort chain just looks like a culturally numb TGI Fridays when you first walk in, but don't sit down until you get to the back patio. Overlooking the Flamingo resort's "best kept secret" tropical wildlife habitat, it gives the sensation that you're nowhere near the Vegas Strip, but on some lush island. Really. And while flair bartenders are nothing new, the crazy guys here (mostly from Columbia) are so committed you can't help smiling, as the servers will either get you up dancing or make you watch them 'boot scoot' and so on. Dumb? Yeah, and fantastically so. They offer "big mama" size drinks (try the tropical Sunset In Las Vegas) and 100 oz beer towers. Food is completely predictable Tex-Mex, but the quality is good and portions are big–thick quesadillas, proper Buffalo wings and tender BBQ ribs are all good choices.
Chateau Beer Garden – Paris Las Vegas
You might have just been here last night, but Chateau, the club with maybe the best Strip-side view, also opens the patio during the day for a more mellow hang with plenty of breathing room, misters, and some very cute servers. They offer a range of bubbles ($18 to $650 Cristal), cocktails in reasonably priced pitchers, and a bigger selection of beer and wine than you're going to see at any of the other spots on this list. Food, from Sugar Factory downstairs, includes flatbreads with freshly made dips and pizzas with a huge variety of toppings. Great choice to just chill with friends, or make new ones.
Margaritaville – Flamingo
The mother of all "party patios," Margaritaville's two levels are ground zero for freaky people watching on the Strip (although if you'd rather hang out in the cavernous tropical hut interior, no one's judging). The biggest outpost of Jimmy Buffett's insanely successful chain—which now has its own mini-casino attached too—sports one advantage over almost all the others here: early hours. So, if you've partied until the sun's up, you could definitely end things here (or start again) with one of their seven Bloody Mary varieties and some cornflake crusted French toast. Or, later on, try to decide whether you want to eat Cajun, Jamaican, Hawaiian or Mexican—MV has a bit of it all. And of course, the Cheeseburger in Paradise.
Senor Frogs – Treasure Island
Moving in to two floors of prime patio space in TI, the new Señor Frog's is as juvenile as a drinking establishment could be–in fact, it's more like summer camp almost, than a restaurant and bar. Karaoke, chugging contests, staff dances, even a roaming magician, pretty much insist that you're going to loosen up and have a laugh here (even sarcastically). Like at their brother chain Carlos 'N' Charlie's, the MexAmerican food here is decent quality but nothing too adventuresome. The combo fajitas, way too much food for one person, are a great deal, and the signature/house mixed drinks ("Frogasm," "Mother Frogger"), all loaded with various alcohols and sugar, come in large, larger and gargantuan sizes. The two-level Strip-side patios have loads of space, easily accommodating a big group at short notice, and they stay open almost as late as the clubs, with DJs spinning Top 40.
Cabo Wabo – Planet Hollywood
Rocker Sammy Hagar's bid on the patio parade, Cabo Wabo (the original, of course, is in Cabo San Lucas, Mexico) doesn't try as hard as others to stand out, it's just a comfortable terraced deck over the Strip to enjoy what has become one of the world's most popular tequilas (it's true!). Of course, that all changes when Sammy comes to town every so often and stops in to jam, but that only matters if you're a fan. Their big house Waboritas lean on the sweet side, making them go down easy on a blistering day, the food has plenty of seasoning to keep you paying attention.
Fat Bar – Across from City Center
Now here's an oddity—a burger joint with a bar! It's actually the only Fatburger Fat Bar anywhere, and get this, it's open 24/7! You never have to leave, which depending on how you look at it, is either amazing or scary. It's also the only one of these that literally sits right on the Vegas Strip sidewalk. That might sound low class, but Fat Bar pretty much delivers an equivalent chill place to drink at a lower price. You'd also have to pay at least twice as much to top the made-to-order burgers, onion rings and shakes (they have breakfast too, but we haven't tried it). Bonus points for putting premium Skyy Vodka in their slushie drinks (you don't want to know what the other guys put in theirs); Ask for a "Superman," which is half red strawberry and half blue sky, or whatever flavor they say it is. And they even have a DJ on Friday/Saturday nights, who is no doubt putting this gig on the top of his/her résumé.
Rhumbar – Mirage
This might not belong here exactly, since Rhumbar is "classier" experience than most of the above. But it is a patio-centered bar (with an amazing rum selection) that offers cigars, hookahs and DJs as a low-key club alternative with a Miami vibe. For a group of girls or guys, it's definitely a good warm-up spot, and if your sig. other says he/she wants to do something a little more mellow or grown-uppy for a change, bring 'em here.
PBR – Planet Hollywood
If riding a mechanical bull is on your must-do list for Vegas, this is definitely the patio you want to hit. Lots of room for big groups here, too. The menu is pretty out-there, but we'd stick to the standards here.