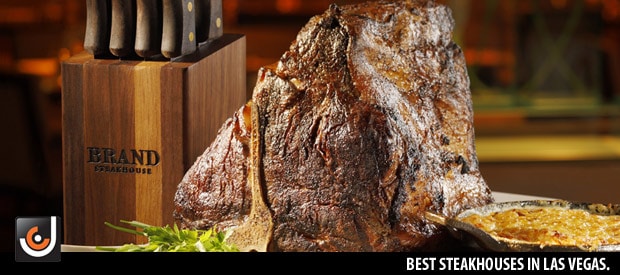 Steakhouses? This guy here has been reviewing them for years, and, to be honest, could probably bore you to tears discussing the differences between meat aging, wine lists, side dishes, ambiance. And Vegas, maybe more than any city in the world, is a wonderland of steak joints. They are everywhere, and every casino has a decent, often great one. But some of them are, let's face it, kinda snoozy. Oldguyish. Corny. And I'm not sending you there, no matter how good the meat is. Instead, let's do something different–here's a list of the steakhouses with a little bit of sizzle.
by EC Gladstone for LasVegasNightclubs.com.
Gordon Ramsay Steak – Paris
First thing people always ask me is "Where's the hot restaurant to go right now?" Right now, it's Gordon "Hell's Kitchen" Ramsay's first-ever steakhouse, in Paris Las Vegas. The room is totally Mod, the service is over-the-top detail oriented, the meat is dry-aged in a Himalayan salt chamber (whaa?), and the menu is full of British twists you won't fine elsewhere, like Scotch eggs on the Caesar salad, Ramsay's twist on Beef Wellington, Colcannon and sticky toffee pudding for "afters." Cool iPad wine and cocktail menus. I am positive my dinner date is never going to forget this one, or who took her here.
N9ne – Palms
This cornerstone of the Palms has been killing it for so long, it's almost becoming overlooked, but not by celebs and athletes, which you're still almost guaranteed to spot on any given night. Chef Barry Dakake's team set the standard for a modern steakhouse with just enough details, but mostly straight-ahead quality. Good cocktails, good wine list, comfort and service. It isn't cheap, but you won't go away feeling like you didn't have a rock-solid experience. Good for a guys party.
Old Homestead – Caesars Palace
Spun off the historic place in NYC's Meat Packing district (but much cooler), OH is a showy, pricey room—holy cow, look at those seafood towers—but it's got the goods. Even sides like the amazing housemade tater tots show their dedication to quality. Great for a need-to-impress group dinner. And extra points for one of the coolest–and most knowledgeable–wine sommeliers on the Strip, Anu Hindt. Ask her to pour you something amazing.
Tender – Luxor
Without a celebrity chef or national brand, Tender flies a bit under the radar. But if you're an experienced steakhouse eater, this is one you should definitely try. Sourcing all-natural meats from all over the US (and New Zealand), Tender offers four different Filets, four different Ribeyes (including bison), a full hanging tender cut, wild game tasting plate and a whole lot more. They also have a decent cheese selection, and trio tastings of soups and "exotic grains" for curious palates. Get the idea? Bring your big city "seen it all" friends here.
Strip House – Planet Hollywood
Nestled next to Holly Madison's Peepshow theatre, this cousin of New York's Strip House is all about sultry ambiance: vintage erotica fills the ample lounge, while golden era Hollywood portraits and flocked wallpaper adorn the walls over the dining room's red leather booths. Most of the menu is straightforward here (splurge on the Porterhouse for two) but don't miss the garlic bread with gorgonzola fondue to start, black truffle creamed spinach, and goose fat potatoes. And consider saving room for the 24-layer chocolate cake. No, that wasn't a typo.
Carnevino – The Palazzo
Love food more than money? Cool, because you're going to have an amazing experience here at Mario Batali's only steakhouse, but you might pay just a little more for it. Batali's crew not only super-age their beef, they actually select the cows and raise them. Now that's a "one of a kind" meal. The carne cruda starter in this rustic Italian-inspired room may be the best we've ever had (in fact, you could be happy with just a meal of the appetizers) and they also offer a lot of veal options and pastas. Incredible selection of meat sauces, too. Joe Bastianich's wine selections are, as always, excellent.
STK – The Cosmopolitan
As we wrote in our Sexiest Restaurant Scenes, STK is the number one place for pre-club dinner at the moment. If you're a group of girls, you're going here. And if you're a group of guys… did I mention the groups of girls? With lounge-like booths and bumping beats, the way to go here is split one of their big steaks and get a few of the creative sides and starters, like shrimp rice krispies, "lil' BRGRs," jalapeno hamachi and mushroom pot pie. Not sure about it as a date choice…unless of course you don't really want to talk to your date.
Center Cut – Flamingo 
The idea of a cool new steak joint in the Flamingo might sound like a stretch, but Center Cut has transformed this formerly funky oval dining room into a classic enclave of elegance. Steaks are sourced as passionately here as anywhere, Scottish salmon is a thing of buttery beauty, and the trio of bacon starter is a show-stopper (although some other items are still working out kinks). Girls, guys, groups and singles will feel equally comfortable. Drag in the disbelievers and you'll look like The Dude.
Brand – Monte Carlo
Another spot that doesn't get much attention, Light Group's Brand Steakhouse offers a good time in a surprisingly atmospheric and comfortable room, despite being open to the casino floor. Not too many surprises, but they put a little spin on a lot of things. Anton's Tomahawk Rib-Eye would be our way to go here, but if you're going to order a filet mignon, order it bone-in. Bone-in, ladies. That shouldn't be too hard to remember.
The Range – Harrah's
What's cool about The Range, mostly, is that it isn't cool at all. With a kooky little jazz lounge and a raised area for big parties, this Strip-view tribute to the Old West looks corny on the surface. But underneath, Hawaiian chef John Witte throws creative twists into the value-priced menu (get his ahi poke lumpia if they're on special) and his sommelier has equally unexpected suggestions. Great five-onion soup, and do not pass up their classic Volcano Crunch dessert. Too cool.
Oscar's – The Plaza
If you're really set on the idea of finding a classic Vegas steakhouse—vibe being the top priority—then it's Downtown you go, my friends, to the spot that the film Casino made famous, before it was even this nice! "Happiest Mayor In The World" Oscar Goodman co-created this spot in the famous Plaza dome in the spirit of vintage Vegas, when his "Mob" clients called the shots. Service is friendly-formal, drinks are strong and sassy, and whether you're with guys or girlfriends, you'll leave with a smile.