KAOS Nightclub is the newest nightclub in Las Vegas. Opened April 2019, this massive 100,000 square foot nightclub and dayclub will be the largest venue in Vegas. KAOS Nightclub will also feature exclusive artist residencies from G-EAZY, Above and Beyond, Marshmello, Slushii, Jauz, J Balvin, Kaskade, Skrillex and Cardi B.
The 29,000 square foot nightclub designed by Rockwell Group will feature a 360-degree DJ booth, mind blowing state-of-the-art technology to enhance each and every performance. Guests will be led to the theater-like club that got its inspiration from a modern playhouse, with art and architecture working hand-in-hand to create a mind blowing experience.
The first announced round of KAOS Vegas exclusive residencies include G-EAZY, Above and Beyond, Kaskade, Skrillex and Cardi B. Tickets for select upcoming dayclub and nightclub performances can be purchased here.
Now that you've gotten an idea of what KAOS Vegas has to offer, take a minute and watch this video to get an idea of what is about to go down!
After getting an idea of what a night at KAOS Vegas is like, i'm sure you're thinking to yourself that you want to go. We've got you covered! Just click below to message a KAOS VIP host directly.
By clicking here, you are submitting a request to an actual VIP host at KAOS Nightclub
Insider Tips for KAOS Nightclub
Where is KAOS Nightclub located? 
It is located at the Palms Casino Resort at 4321 W Flamingo Rd. Upon entering, KAOS is located next to Scotch 80 Prime on the north side of the hotel.
How do I get to KAOS Nightclub?
Transportation by UBER, a cab or on foot if you really wanted to. Walking distance is only about 6 blocks heading west on flamingo off of Las Vegas Blvd.
What is the Setup at the door?
There are 3 entrances at KAOS, but on some nights only 2 are used based on how busy the venue is. The Plaza entrance is (outside) in front of the hotel and is used for general admission, prepaid tickets and guest list. Table reservation guests always enter inside the hotel next to Scotch 80 Prime one of the high end restaurants at the Palms. The 3rd entrance (only used occasionally) is located by the Lucky Penny Restaurant; based on how busy the night is looking this entrance can also take on general admission, prepaid tickets and also guest list.
What are the best days to visit KAOS Nightclub?
Saturday night is almost always the strongest night in Las Vegas for any venue, however Friday night has been off to a good start and table pricing is pretty flexible for those that want to experience VIP bottle service.
What time does KAOS Nightclub open?
KAOS opens 10:30 p.m.
What type of music does KAOS Nightclub play?
KAOS Las Vegas has a diverse talent line-up with various different artists. Music genres include EDM, Latin and Top 40 hip-hop.
How much are drinks at that bar at KAOS Nightclub?
Spirits are priced at $17 and up. Beers are priced at $13.
KAOS Nightclub Dress Code
What is the dress code at KAOS Las Vegas?
So that there isn't any problem getting into KAOS once at the rope, gentlemen should make sure to wear a collared shirt. Always be mindful of wearing nicer shoes and avoid anything that can be considered sportswear (track jackets, jerseys, sports shoes, hats, etc). Remember, Upscale fashion-forward attire. Fashion forward t-shirts and jeans are acceptable. If you are unsure and want to play it safe, gentlemen are always safe wearing collared shirts. No fitted caps, shorts, or printed shirts with offensive or aggressive graphics. KAOS Vegas dress code is very strict, so be sure to follow the rules.
Ladies should have some type of heel. Sandals and flats are not acceptable.
SOAK Sunday (Nightswim) Swim Attire OR Club Attire only. Cargo shorts or athletic wear (jerseys or basketball shorts) are not permitted.
General Admission at KAOS Vegas
What does general admission cost at KAOS Nightclub?
General Admission starts at $20 for ladies and $30 for men, but varies based on talent act and holiday weekends.
How much is cover charge at KAOS Nightclub?
General Admission and cover charge are the same thing.
How long is the wait?
Wait times vary based on talent act, day and season (busy season vs winter months). KAOS Vegas asks guests to please be patient. Some days may have a 15 minute and some days (i.e. during Cardi B performances) may have over an hour wait. Our last Cardi B event had over 8,500 people in attendance. The security screening and ID check process takes time, especially during a heavy population day/night.
KAOS Nightclub Tickets
Do I need to purchase tickets for KAOS Nightclub?
Tickets are not mandatory and anyone can pay at the door, however a cover charge at the venue may be higher than the online price so be aware.
Is there a KAOS promo code?
There are no promo codes at this time.
What is included with the purchase of a ticket?
A purchase of a ticket online or in person only includes entry.
KAOS Nightclub Guest List
Can I get on the KAOS guest list?
Yes, for most parties (not all) we do offer some type of guest list. Click here to get on the guest list.
What's included when I am on the guest list?
Stipulations vary from day to day. For more details speak with your promoter for guidelines pertaining to that specific day or weekend.
KAOS Nightclub Bottle Service
How much is KAOS bottle service?
Bottle pricing, taxes and fees. Like majority of venues we have a few different menus so you'll have to speak with your host on how much bottles will start at on the day/night you decided to purchase bottle service. Typically you can expect bottles to start at approximately $595. The breakdown of your bill will look something like this: 15% server gratuity, 8.25% sales tax and a 10% venue fee. There's a processing fee that's attached as well when doing a CC Authorization on a table ahead of time.
Again, for an accurate quote on a bottle service minimum and table pricing, visit the Kaos bottle service page. To learn more on how bottle service works, read our complete guide.
What is included with bottle service?
Expedited entry or cover charge is included with bottle service, along with your choice of liquor, mixers, a busser and cocktail waitress.
What is the best table location at KAOS Nightclub?
Table location is a preference so you'll have to come experience the venue and see what suits you and your party the best. But in our opinion, the best table locations are the center dance floor and upper dance floor tables. Dance floor is always the best.
By clicking here, you are submitting a request to an actual VIP host at KAOS Nightclub
KAOS Nightclub Floor Plan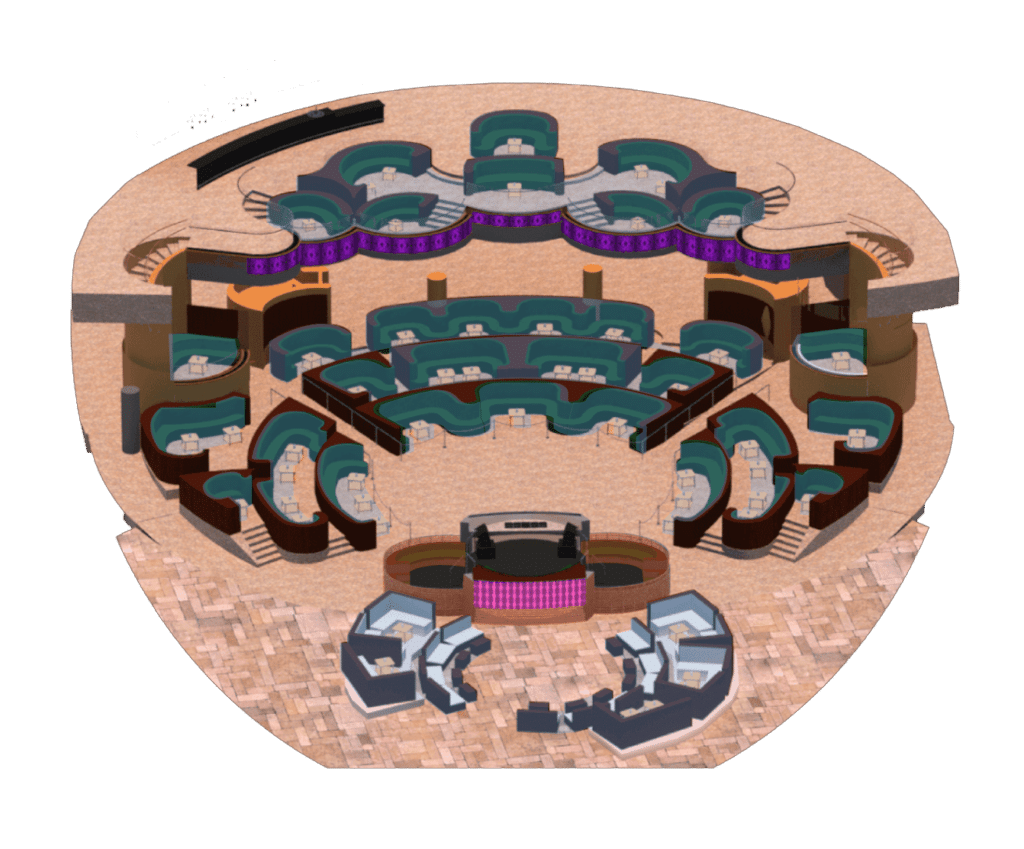 KAOS Nightclub Photos