Located at the Palms Hotel and Casino in the old Ghostbar space, Apex Social Club will still be have the best view in Las Vegas. Apex Las Vegas is centered around the 180-degree view while turning the 8,000-square-foot space into an open air boutique nightclub.
Upon arrival to the 55th floor, guests will be greeted with a trendy look and can expect to hear favorite local and national DJ's spinning. You can also expect to see one of a kind art work, creating an upscale vibe. Besides the good view at Apex Las Vegas, guests will be able to experience specialty cocktails or table-side bottle service.
Apex Social Club had its Grand Opening over Memorial Day Weekend 2018. The line up included NAS, Quest Love and Travis Barker. To view all upcoming events, view the Apex Social Club event calendar. 
Now, before we get into the insider tips, take a minute to watch this video and see what to expect when visiting Apex Las Vegas.
About Apex Social Club
Where is Apex Social Club located?
Apex is located at the 55th floor of the Palms Casino and Resort. 4321 W Flamingo Rd, Las Vegas, NV 89103
How do I get to Apex Social Club?
When you enter through the front door at the main entrance, go to the left, past the front desk and you will see the entrance to the venue.
How much is cover charge?
Cover charge is based on night and amount of people inside the venue. For an accurate amount, always ask a VIP host.
When is Apex Social Club open?
Apex is open on Thursday to Sunday from 10pm until 4am.
What is the set up at the door?
There are two lines at Apex, the far side, closet to Scotch 80 Prime, is for general admission and guest lis. Bottle service reservation can walk up to the front and ask for their host.
Average wait times are 5-10 minutes. It's always best to arrive by 10PM Friday and Saturday (earlier in Summer season), 10:30PM Thursday and Sunday. 
What are the best nights to go?
You will find a busier and better crowd on Friday and Saturday nights. Check out the event calendar for all upcoming events.
What is the dress code?
So that there isn't any problem getting in, once at the rope, gentlemen should make sure to wear a collared shirt. Always be mindful of wearing nicer shoes and avoid anything that can be considered sportswear (track jackets, jerseys, sports shoes, hats, etc). Remember, Upscale fashion-forward attire. No fitted caps, shorts, or printed shirts with offensive or aggressive graphics.
How much are drinks?
Mixed drinks are between $15 – $20. Beers $10, Shots $10.
Does Apex Social Club have a guest list?
Guest list Coming Soon. For more Las Vegas nightclub guest list, click here.
How much is bottle service?
Table service pricing varies based on demand and event for the night. Bottles start at $425. For an accurate quote on a bottle service minimum and table pricing, visit the Apex Social Club bottle service page. To learn more on how bottle service works, read our complete guide.
What is the best table location?
The best tables are the dance floor booths which are located right before you walk outside on the balcony. Another good table location are the booths on the balcony. Depending how they have the DJ/performance stage set up, the balcony tables could be the main tables that night. Always consult with your Apex Las Vegas VIP Host.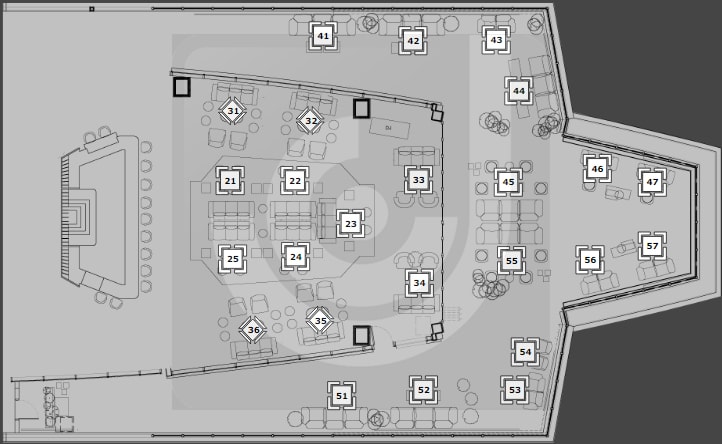 Photos Of Apex Las Vegas
Contact Apex Social Club
We make getting in touch with Apex Social Club easy. Just fill out the form below and a VIP host who works at Apex Social Club will get back to you as soon as possible. Once you have submitted the form, you will be given the hosts contact information incase you need to make a same day reservation or immediate response.