Bringing a New York nightlife experience out west, 1 Oak Las Vegas brings a unique combination of art, fashion, and celebrity status to the nightclub world. Located in The Mirage Hotel & Casino. 1 Oak Las Vegas has given Las Vegas Nightclubs a New York spin with its Avant-garde artwork and design. Within its 16,000-square-feet are three separate rooms that each contain their own full bar and DJ booth.
Since opening its doors on New Year's Eve 2010 with a star-studded celebration hosted by the incomparable Fergie and featuring a now famous 3-hour DJ set by YEEZYWORLDPEACE, better known to most as Kanye West, 1 Oak Nightclub has been leading the party for nightclubs in Las Vegas with infamous guest celebrities like Lord Scott Disick.
Now that you've gotten an idea of what 1Oak Vegas has to offer, take a minute and watch this video to actually visualize what you're about to experience!
After seeing what a night at 1 Oak is actually like, i'm sure you're thinking to yourself that you want to go now. We've got you covered. Just click below to message a 1 Oak VIP host directly.
Insider Tips For 1 Oak Las Vegas:
THE SETUP AT THE DOOR: General admission customers should follow direction of the many posted signs, while table customers should follow the direction of the host they have reserved service through.
NAVIGATING THE ROPES: If you are visiting 1 Oak Las Vegas as a general admission or guest list customer, simply look out for the appropriate lines that are labeled by the right signage. You will also find the doormen to be relatively approachable for table service check ins and guest list questions.
HOW TO GET TO THE NIGHTCLUB: 1 Oak Nightclub is very conveniently located right next to Mirage's North Valet and Self Parking Garage.
BEST NIGHTS TO GO: 1 Oak Nightclub is open Wednesday, Friday and Saturday. Wednesdays will bring you the most locals and nightlife industry events, whereas Friday and Saturday are filled with celebrity appearances and performances.
DRESS CODE: So that there isn't any problem getting into the club once at the rope, gentlemen should make sure to wear a collared shirt and / or sport coat to 1 Oak Nightclub. Always be mindful of wearing nicer shoes and avoid anything that can be considered sportswear (track jackets, jerseys, sports shoes, hats, etc). Remember, if you are unsure if something will work or not, play it safe.
DRINK PRICES: Mixed Drinks Start at $15, Beers $8, Shots $8.
BOTTLE SERVICE PRICING: Table service pricing varies based on demand and event for the night. Bottles start at $495. For an accurate quote on a bottle service minimum and table pricing, visit the 1Oak Nightclub bottle service page. To learn more on how bottle service works, read our complete guide.
BEST TABLE LOCATION: As with most nightclubs, your better table locations are those located closer to the dance floor. However, the great thing about the layout of 1 Oak Nightclub main room is that most all tables give a great view of the dance floor, with many offering the best of both worlds: a dance floor location without being directly in all of the chaos.
GUEST LIST: Sign up for free guest list.
1 Oak Nightclub Map: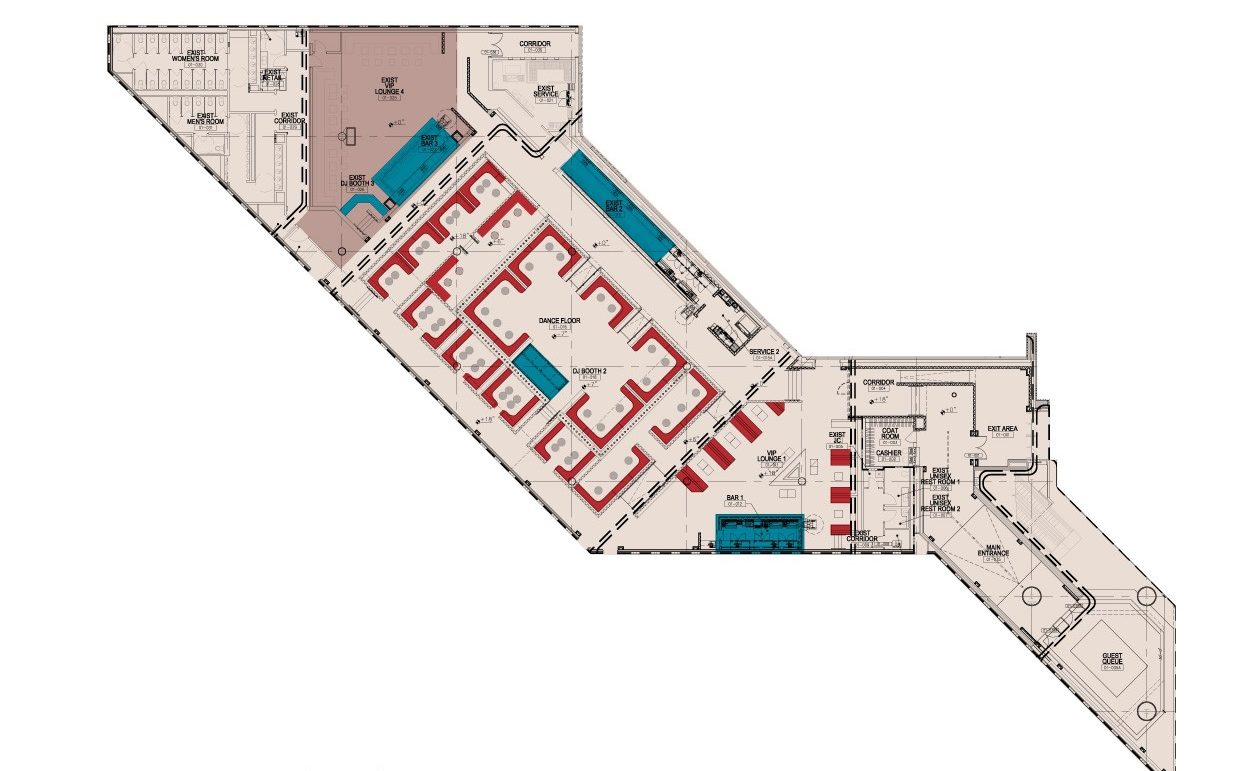 Photos Of 1 Oak Nightclub: