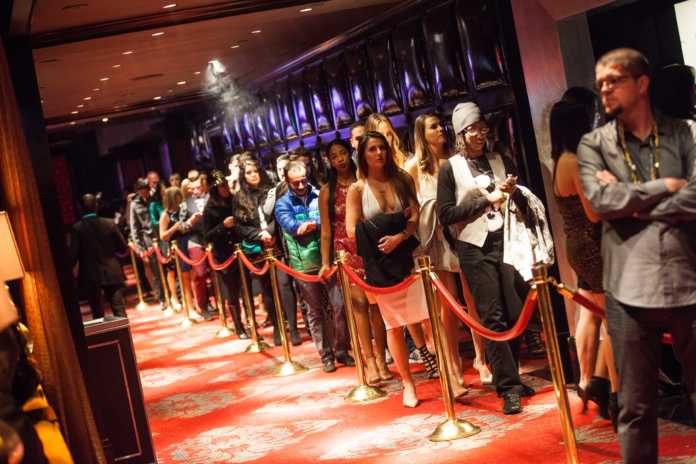 The Four Ways You Get Inside A Vegas Nightclub:
Getting into a Vegas nightclub may seem like an intimidating task. It's actually a pretty straightforward process. You essentially have four different paths to choose from: General Admission, Purchase Tickets In Advance, Table Reservations, or Guest List. Read our Las Vegas nightclubs planning guide to find out more.
LasVegasNightclubs.com works directly with every major nightclub in Las Vegas. Here are four ways that you can get into the club of your choice. It's a complimentary service that we are well known for, and you'll find these access points linked on every club profile, on our host listings, event calendar (returning soon), and linked throughout our website.
#1 General Admission:
Cover charges rang from $20 to $100 depending on the club and the event. General admission lines exist at every single Las Vegas nightclub, and are literally as simple as you walking up and getting in line. Most everyone who lines up at a Las Vegas nightclub will definitely get in, provided you're age 21 or older, in proper dress code, are not too drunk, and don't go out of your way to piss off the door guy.
Arrive early (close to opening time) to make sure you avoid long lines.
#2 Purchase Tickets In Advance:
Most nightclubs offer ticketing to their events. They offer a variety of additional perks depending on the club and the event you're attending. Advanced purchase of tickets can be a good idea during special events and holidays if the nightclub is providing you expedited line access or if you're just trying to play it safe.
We've got direct ticketing links on each club profile, in our events calendar and through each of the nightlife banners promoting specific events that you'll see rotating through LasVegasNightclubs.com. You'll be able to select your event and purchase them online for between $20 – $100, depending on the club and event.
Reserving a table is one of the simplest ways to get into a Las Vegas nightclub. It will give you hosted entry through the quickest available rope at any venue. Table minimums depend on the number of people within your group and the nightclub you're attending. One bottle per 3 or 4 people, with bottles starting at around $475 (plus tax and gratuity).
You can easily use our Free Direct Host Contact system to send a message to a host who actually works at the club you're interested in, simply by filling out the forms on each of the club profiles or visiting our Guide to Las Vegas Bottle Service.
Not all Las Vegas nightclubs like to promote that they have guest lists, most of them do. The ladies in the group will get in free and possible a couple free drinks. Gentlemen will pay a reduced cover charge or gain free entry with even ratio guys to girls. Use our FREE Guest List sign up or read our guide about how Las Vegas Guest Lists work.