About European Music Fest
European Music Fest is more than a music festival. It is a community network of dreamers and goers. It is an unique celebration of the true European Culture, Music & Food European Music Fest teleport all the festival goers into a special European world of music, joy, arts and food.
It will be a breathtaking experience.
Attendees will be enchanted by gigantic replicas of famous European Land Marks such as the Eiffel Tour, Temple of Zeus, Leaning Tower Of Pisa, Dracula`s Castle and many others, which will teleport the festival goers into the beautiful Europe.
Event Schedule
European Music Fest will host some top talent such as La Buche, Francesco Napoli, Alexandra Stan and many more. Here is the full line up for the event.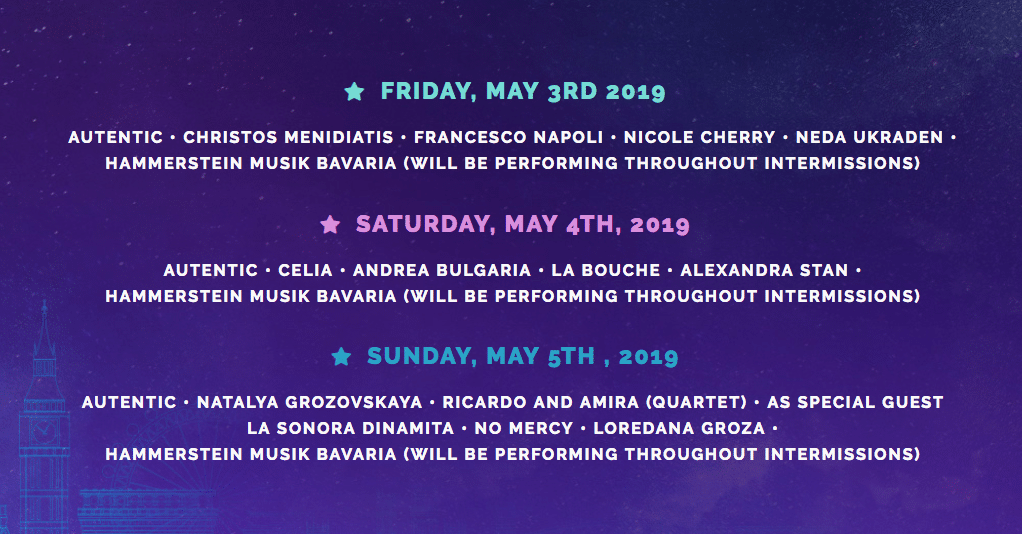 There will also be European Music Fest kickoff party on Thursday, May 2 at Tao Nightclub. There will be complimentary admission with your EMF purchased ticket.
Event Information
Dates:
May 3, 4 & 5
Location:
Downtown Summerlin (The Lawn)
1980 Festival Plaza Drive,
Las Vegas, NV 89135
Hours:
Friday May 3, 2019 – 4:00 pm -12:00 am
Saturday May 4, 2019 – 4:00 pm – 12 :00 am
Sunday May 5, 2019 – 12:00 pm to 9:00 pm