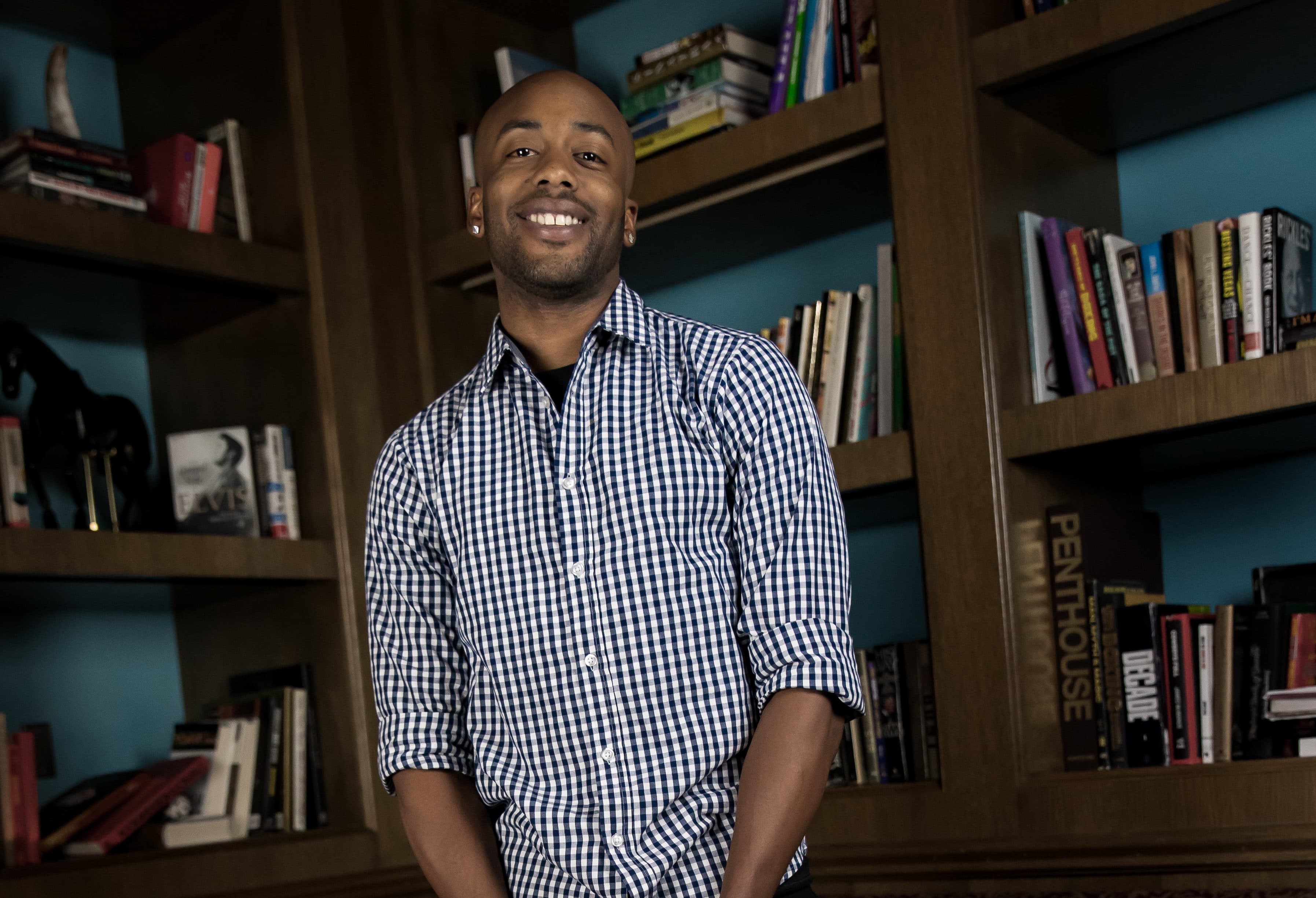 Venue of Employment: Tao Nightclub, Tao Beach, Lavo
Job Title: VIP Host
Instagram Handle: @p.miller_tao_vegas
If not originally from Las Vegas, where did you move here from?
Originally from Las Vegas, born and raised. 
How did you start working in the nightlife or hospitality industry? Give a brief work history / background.
I started in nightlife as a porter with Tao Nightclub in 2015. After about 7 months I became a busser. Then I recently became a host this year. 
Now that you are working in the industry, what is different about your lifestyle?
The biggest difference for me charging my phone more frequently and taking power naps instead of sleeping lol.
What does a typical day at work look like for you and what is your "normal" schedule? 
A typical day at work for me is Tao Beach at 11am – 5pm then Nightclub from 9-3. I normally stay on property in between shifts and reach out to people or take a quick nap in the 80's haha.
How long does it take you to get ready for work?
It typically takes me 45 minutes to an hour to get ready. 
How many nights a week do you go out (to a club)?
Other than the nights the Tao Nightclub is open, I go out about 2-3 times a week. 
Who is your favorite DJ/performer in the Las Vegas market right now?
 Right now I really like DJ Paradice who's been at Tao lately, DJ Franzen of course, and MK who was an opener for Tao when I first started. They really play the dope music that gets (& keeps) the people going! 
What is your drink (alcoholic) of choice?
 At this stage in my life, Tequila has became a preference of mine. More of a fun drink to me. 
What is your secret cure to a hangover?
My secret hangover cure is "Chlorella" and lots of water before going to bed and when I wake up. #GameChanger
What was the longest timeframe you have stayed awake? When and why?
Probably 2 & 1/2 days. Over 48 hours for sure. 
What do you enjoy most about working in the nightlife or hospitality industry in Las Vegas?
When I first started at Tao Group in 2015 because I had a new born son and worked 3 jobs at the time. 
What do you enjoy most about working in the nightlife or hospitality industry in Las Vegas?
what I enjoy most is how I've been embraced as apart of the family and met a lot of really cool people that have impacted my personal life and professional life for the better. 
What is your least favorite part about working in the nightlife or hospitality industry in Las Vegas?
My least favorite part off the top of my head is the family meal sometimes lol. Sometimes ehh, and sometimes it's all gone ha. Another part is that sometimes we encounter inhospitable employees and/or situations every once in a while. 
If you were not working in nightlife or hospitality, what would you be doing?
I would be a personal assistant to my mentor(still hospitality), managing and developing my friends' music careers , or playing basketball for a college or playing professionally.
Do you have a mentor in the industry? If so, who? If not, who would you like to be mentored by?
The whole Host team in its entirety at Tao has really been super helpful in guiding me, mentoring me, answering questions and helping set me up to be successful. I was a bit shocked the way they really believe in me and wish success for us. I love all these guys and appreciate them a lot for taking me under their wings…Davin Hill in the bar department has been a great mentor and friend to since Day 1! Also Lamar Falley, Ian Lujan ,Jason Connors, Marcus, the vet bussers, security veterans, I also have another mentor Mr. Billion who I look up to and learn a lot from. Also a lot more individuals I greatly appreciate. 
Craziest or most memorable experience working in the nightlife or hospitality industry in Las Vegas?
After I started as a busser I knew I wanted to be a host one day so I went out a lot on my own. So one night I went to SLS by myself and some how started helping secure a section I was just standing by because people needed help. Bobby Miller, a host in the city saw me and invited me to hang out with them then shifted security personnel there, and before I knew it. I was in really cool section with him and his buddies. Bottles going around! shots going up! Like my whole night just completely shifted to another level. We went to 3-4 different spots and every spot we had a ball! I met some really cool people who I still know now. Being brand new to the life I was amazed at how the night turned out and how much fun I had. He showed me what it's all about! I'll never forget that.