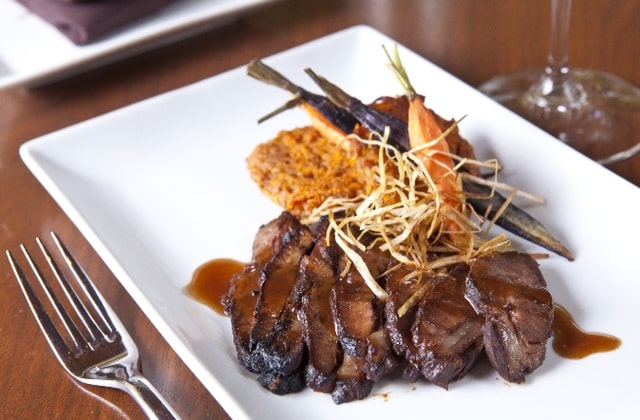 The holidays in Las Vegas don't always mean a home-cooked meal at Grandma's house (heck, Grandma might be on vacation here with you!). That's a good thing, because if Vegas does anything right, it's holiday dinners. Both tourists and kitchen-averse locals will find special Christmas, Hannukah and New Year's dinners and brunches at resorts up and down the Strip, Downtown and elsewhere in the Valley.
Here are a few of the best:
A Ladle of Dreidel
In town during Hannukah? Hit CRUSH Eat Drink Love for their special Horseradish Crusted Beef Brisket served with Sweet Potato Latkes and Baby Carrots (only $19, could you plotz?), available through Dec. 24.
Christmas Eve, Italian Style
Italians traditionally celebrate Christmas Eve as the "Feast of Seven Fishes." A few spots on the Strip are offering their takes; we'd pick Mario Batali's B&B Ristorante for the best version, including Fluke Crudo, traditional Baccala Crochetta, B&B's signature Octopus, Taylor Bay Scallops, American Red Snapper and more (available through Dec. 27).
For a less sea-centric taste of the old country, try Scarpetta at the Cosmopolitan of Las Vegas, where the five-course, $85 prix fixe menu features ribeye or fennel-spiced black cod,  truffled cauliflower soup and butternut squash ravioli. It's available both Christmas Eve and Day.
Christmas Day: Gold or Goose?
Looking for an only-in-Vegas splurge? Portofino, the buzzy new Italian restaurant at The Mirage, is serving a $100 "Diamond and Gold" lasagna, the sheets of pasta layered with porcini mushrooms, Iberico ham, Prosciutto di Parma, 24-month-aged Parmigiano-Reggiano, bufala mozzarella and Kobe Bolognese, covered with a foie gras-infused Alfredo sauce. The name comes from the "white diamond" truffles (shaved tableside) and a shower of edible 23-karat gold flakes.
Photo courtesy of MGM Resorts
Got the parentals in tow, or just want to do something nice that won't break the bank? Consider the $75 four-course menu at Emeril's Fish House in MGM Grand—including parsnip and leek soup and barbecued salmon—or if you're feeling a bit Steampunk Dickensian, hit Tom Colicchio's Heritage Steak at The Mirage for their Spiced Christmas Goose with braised endive and chestnuts ($49 a la carte).
New Year's Eve Bling and Bargains
You can take your pick of meals on the last night of the year. At the Wynn we really like Mizumi's five-course $225 prix fixe featuring Maine lobster and caviar soba, a scallop tiradito, robata rockfish, Japanese wagyu strip loin or Kurabota pork loin and a hazelnut clayfoutis. This being Wynn, there are elegant vegetarian options, too.
If you're looking for a deal, B&B Burger and Beer at the Venetian might have the best—hang on their Stripside patio with a $55 all-you-can-drink deal (11 p.m. to 1 a.m.) and their $9 "drive-thru" burger, and you are definitely coming into the New Year in the black. Want to elevate the menu, but keep the Strip view? Check out Sushi Roku at the Forum Shops, where $145 will get you a six-course omakase including edamame Vichyssoise with truffle, baked lobster and uni, and of course, sashimi and sushi courses. Or if you want to be sure you're where the party is, reserve a table at STK in the Cosmopolitan, where $195 gets you tuna tartare, Australian Wagyu strip steak or butternut squash risotto, lychee panna cotta and a glass of Moet Imperial Champagne.
New Year's Day: Post-Party Brunches
Ready to face the new year? Two of the best brunches on the Strip are at the Wynn Resort: The Country Club will offer their classic New Orleans-inspired jazz brunch (eggs Versailles, shrimp and grits, creole gumbo and French toast bread pudding) for $75 from 10:30 a.m. to 2:30 p.m.  And though it's available from Christmas Eve onward, we'd say today's the day for the special dim sum brunch ($68 with sushi, noodles and more) at Wing Lei, 11 a.m. to 2:45 p.m.
Up earlier? Head to Morels Steakhouse in the Palazzo, where brunch featuring banana and mascarpone-stuffed French toast, free range crab egg omelets and sweet and savory crepes will be served from 8 a.m. to 4 p.m.
Photo courtesy of E.C.Gladstone
Off-Strip Feasts
One of Las Vegas' best new restaurants, Downtown's Carson Kitchen, is offering perhaps one of the best New Year's Eve deals:  five courses for $99, including devil's eggs, persimmon and pear salad, steelhead trout, cocoa-espresso strip steak and more—plus a flute of Champagne.
On the opposite side of town in The District at Henderson, the New Year's Eve menu at the new Whist (from the team behind Commonwealth) features filet and Alaskan king crab, Arctic char and free range chicken (four courses for $60).
Photo courtesy of E.C.Gladstone
Just Desserts
Saving the calories for sweets? Gotcha. Check out BLVD Creamery at the Monte Carlo for their Nutcracker ice cream, chock full of chestnuts, pine nuts and figs. Or hit BLT Burger at the Mirage for an eggnog shake with candy cane dust and an optional shot of Maker's Mark bourbon. Unless you have your eyes on that Brody Jenner Couture Pop at Sugar Factory. Hey, we're not judging.
Cover Photo: Horseradish Crusted Brisket courtesy Crush