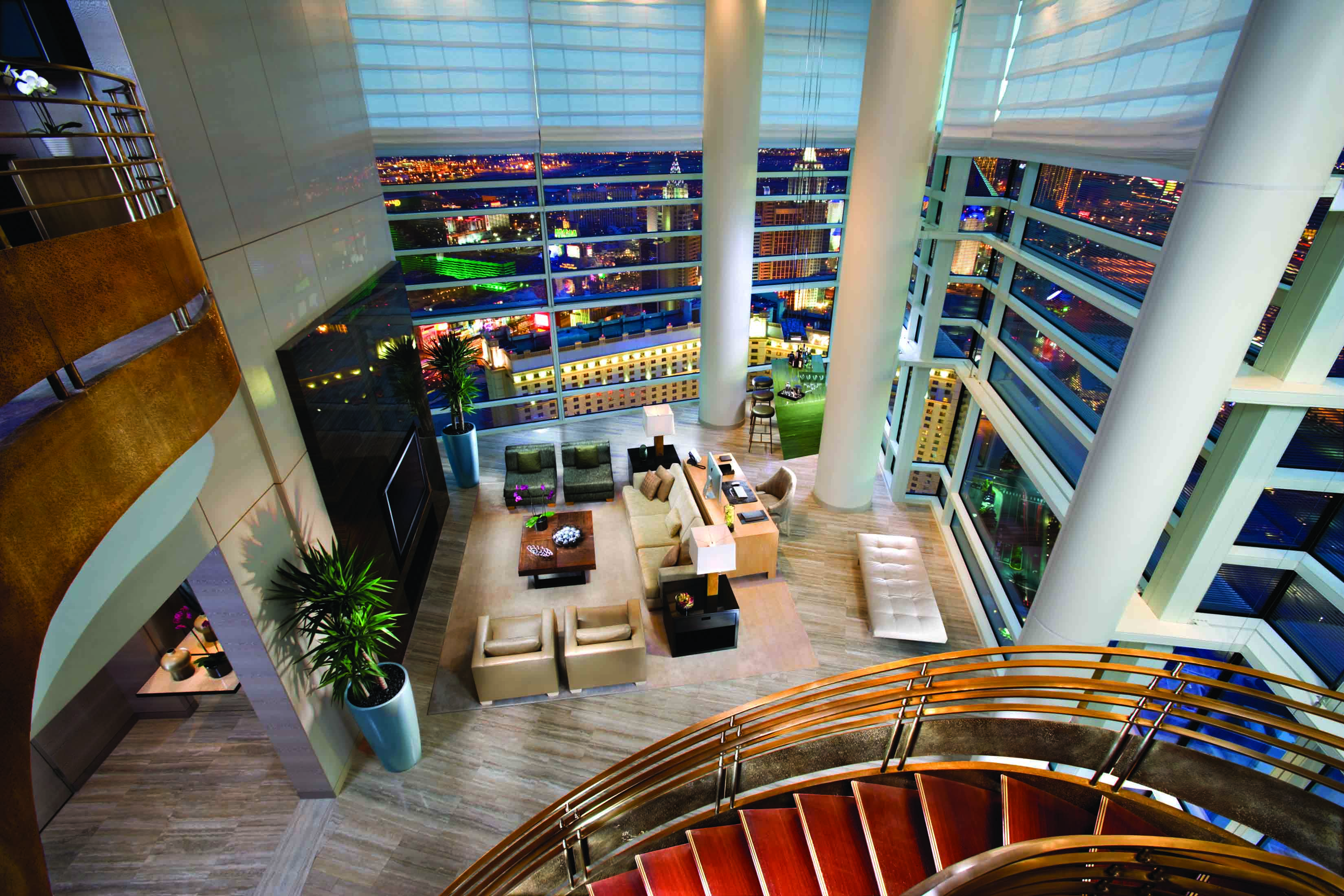 Inside Las Vegas' Most Opulent High-Roller Suites
Las Vegas has more than 150,000 hotel rooms, most of which any chump with a week's paycheck can settle into for a night or two. But for a select number of visitors to Sin City, not just any old room will do. Whether for big-dollar-dropping whales, young socialites and celebrities on weekend getaways or grooms- and brides-to-be looking for the ultimate goodbye to the single life, the city offers some jaw-droppingly luxurious accommodations. Take a peek inside these exclusive pads, some of them hidden in plain sight.
Sky Villas, Westgate Las Vegas
Westgate Las Vegas—the off-Strip hotel and casino formerly known as the International Hotel and the Las Vegas Hilton—probably isn't the first place that comes to mind when you think "high roller." But the storied resort, once the home of the King of Rock 'n' Roll, actually offers a collection of luxe suites, including three massive Sky Villas that dominate the 30th floor. Accessed via a private elevator with its own security detail, the Verona (15,400 square feet), Tuscany (13,200 square feet) and Conrad (12,400 square feet) each have their own identity and floor plan, yet all come with 24-hour butler service, a private pool and courtyard, unobstructed views of the Las Vegas Valley, and more in-room hot tubs than your typical swinger's club.
Scenes from Liberace movie Behind the Candelabra were shot inside the Verona, and the Tuscan occupies the space of a suite that housed Elvis Presley during his headlining stint in the late 1960s and early 1970s. Hand-painted murals adorn the suites' walls and ceilings, with statues, Roman columns and ornate chandeliers around every corner. Although the Sky Villas were originally built for high-end Asian gamblers in the mid-1990s, they can now be reserved to the tune of about $15,000 a night —although Dominic Parisi, Westgate's director of room service and hospitality, claims that whales still get first dibs.



The Mansion, MGM Grand
When it comes to accommodations on the Las Vegas Strip, the Mansion at MGM Grand redefines the term "exclusive." In fact, it's so hush-hush that MGM management is reluctant to share photos of the place. Hidden within the resort's sprawling property behind an unmarked, security-guarded entrance, the private, 290,000-square-foot Tuscan retreat is modeled after an 18th-century villa near Florence, Italy. Available to only the most vaunted guests (rumor has it the likes of Madonna and Elton John have stayed here), the Mansion's 29 exquisite villas don't rely on gimmicks like bowling alleys and basketball courts, instead offering its exalted guests a level of service, privacy and luxury they can't find anywhere else. The largest of the villas is more than 12,000 square feet, with four bedrooms, a baby grand piano, formal dining room, indoor pool and jacuzzi, and of course, requisite butler service.

Nobu Villa, Nobu Hotel Caesars Palace
The whole of Nobu Hotel Caesars Palace strikes an undeniably swank note, thanks to design by the Rockwell Group, whose portfolio also includes TAO in New York City, the sets of Tony Award-winning musical Kinky Boots, and the Fairmont Le Château Frontenac in Quebec City, Quebec. Asian simplicity and Western comfort come together in the 10,300-square-foot Nobu Villa, a rooftop oasis outfitted in a Japanese-inspired style that Rockwell Group partner Shawn Sullivan calls "minimal luxury."
The best feature of this nightclub-sized villa might be its 4,700-square-foot outdoor terrace, which overlooks the Las Vegas Strip, and offers a full bar, barbecue pit, fire-and-water feature, and even a secluded Zen garden replete with Italian-made whirlpool and private access from the master bedroom. The rest of the Villa includes a sauna, custom pool table, cuisine prepared by Nobu chefs, and complimentary airport limousine service. All for just $15,000 a night. Hey, if it was good enough for Justin Bieber to rest his head after his 21st birthday party at Omnia nightclub, it's good enough for you, right?




Sky Villas, ARIA
If high-tech, modern luxury is your thing, then the Sky Villas at ARIA might be for you. The most baller of these sky-high suites are the three-bedroom, two-story villas looming over the center of the Strip. Each 7,000-square-foot party palace offers 36-foot, floor-to-ceiling windows, a formal dining room, 24-hour butler service, a full kitchen, and access to the 58th-floor Sky Villas Lounge. Depending on which villa is available when you decide you have $7,500 a night to burn, you might also find a pool table, private massage room, sauna and steam room, or even a private barber salon. Because when you're living at this level, the stylists come to you.



The Palazzo Suite, Rio All-Suites Hotel & Casino
Another hidden off-Strip gem, the Palazzo Suites are nestled away from the red-and-blue neon of the Rio's main hotel towers, offering an exclusive, European-style resort experience with its own private entrance, pool and cabanas. The grandest of this collection, an elegant, six-bedroom estate ("suite" doesn't seem a strong enough word for a residence that covers a third of an acre), features a whirlpool tub for each bedroom, a built-in bar, fireplace, more TVs than your average sports bar, a sprawling terrace, and of course, 24-hour butler service and round-trip airport limo service. Rates start at about $8,800 a night, so if you're planning to host a blowout here, start saving.


Chairman Suite, The Venetian
Perched atop the Venetian Las Vegas, the almost 10,000-square-foot, four-bedroom Chairman Suite is not your typical high-dollar residence. Much like the Mansion at MGM Grand, it's reserved exclusively for invited guests, featuring the finest art and furnishings from around the world, including Murano chandeliers and Anichini linens from Italy, hand-woven Tibetan tapestries and rugs, wood floors inlaid with brass chrysanthemums, onyx sinks and imported finishes in marble, zebrawood, sandstone, rosewood, silk and rice paper.
So, yeah, it's big, and it's pretty, but what about the fun stuff? The Chairman Suite has that covered, too. There's a Steinway & Sons grand player piano, more than 25 flat-screen TVs, an in-suite massage parlor, a video game and media room equipped with a karaoke machine, in-room Mac computers, and, of course, a view of the Las Vegas Strip from 36 stories up. Now all you have to do is drop a small country's annual GDP at the Venetian's casino, and you're in.