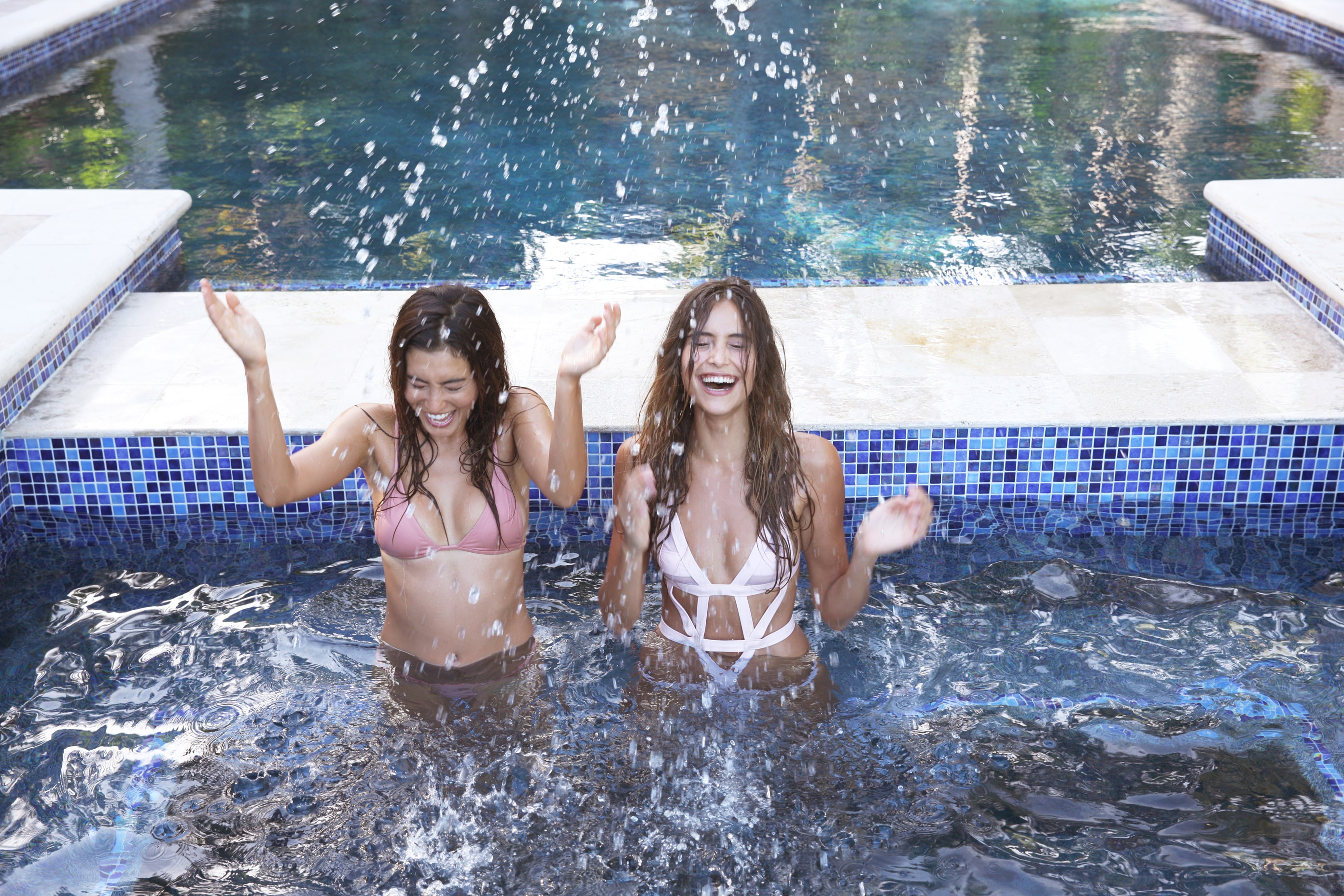 Nothing says summertime in Las Vegas like an over-the-top pool party. You have world class DJs like David Guetta, obscene displays of champagne showers, and the sexiest people from around the world partying half-naked in the Vegas sun. Whether you're spending the day inside an exclusive bungalow or sipping your fruity cocktail poolside, dressing to impress is a must! Day clubs have strict dress codes just like the nightclubs, and what you wear to the pool is just as important as the dress and heels you put on to hit the dance floor at night.. So, ladies, it's time to rip the tags off that barely-there bikini and slip on those four-inch wedges that have been hiding in your closet all winter. I am here to tell you the Dos and Don'ts of Vegas pool fashion.
SHOES
Don't: Wear stilettos. Save those to rock with a mini dress. You are going to a pool party; wear something you will be comfortable in and that suits the outdoor vibe.
Do: Wear a wedge or a sandal—anything else just looks out of place. You do not have to wear wedges; I am all for choosing a strappy sandal for a more casual look. But slipping on your favorite nude wedge canperk up that booty and make your legs look a mile long..
SWIMSUIT
Don't: Wear that threadbare swimsuit from five years ago that you just dug out of your closet.
Do: Invest in a stylish new bikini or two! You spend money on dresses to wear out at night, and you should do the same for the day club. Now is the time to buy that teeny kiny you've been lusting over. You're in Vegas! Show off your sexy! One pieces are also very fashionable this year. Backless, fun prints, or covered in cutouts—no matter what your style is, you can find it in a one-piece suit this summer. A few of my favorite brands this summer are ACACIA, Frankie's, and Indah. Each have fun prints, colors and use comfortable fabric.
Don't: Wear something you aren't comfortable in.
Do: Wear a suit that makes you feel confident and attractive. I'm all for wearing a teeny tiny bottom, especially when you're on vacation, but if you aren't going to feel relaxed in it, then wear something with more coverage. Nothing is sexier than confidence.
COVER-UPS
Don't: Show up in just your swimwear. Most pool parties require you to enter through a casino and they won't allow you to walk around in a bikini. Follow the dress code.
Do: Wear a flowy, loose maxi dress or cover-up, something easy to throw on over your bikini and take off once you get inside the venue. Remember that Vegas gets to be scorching hot—don't be uncomfortable in tight clothing. Airy and light are the key words to remember.
ACCESSORIES
Don't: Overload yourself with big earrings and layering body chains. If you decide to get in the pool you will be extremely uncomfortable, and if you're walking around drowning in heavy body chains, you just look silly.
Do: Wear simple earrings and dainty jewelry. If you go for a body chain, simplicity is key. You may not be lounging around reading a book all day, but you are still at a pool, so save your statement pieces for that black bodycon dress you're wearing Saturday night.