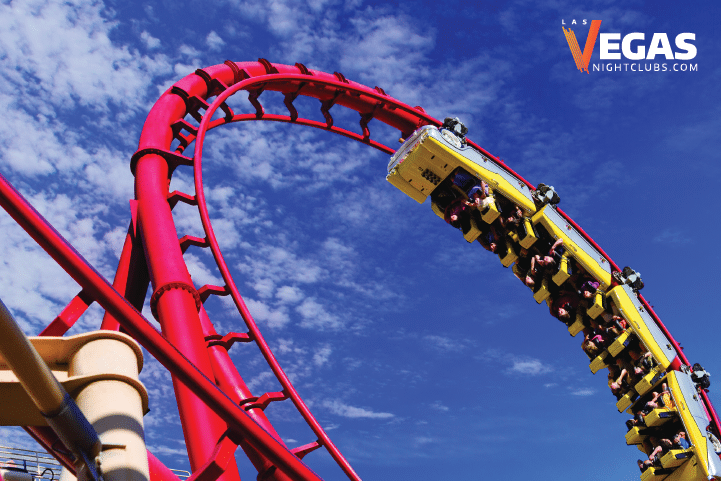 If you are looking for a quick and inexpensive thrill right on the Las Vegas Strip, make your way over to NY NY and take a few rides on their 203 ft. roller coaster. This 67 mph speedster has drops as deep as 144 ft., and is known for the "heartline twist," which simulates a jet fighter's barrel roll.
Not only is it a fun roller coaster, it's pretty cheap to ride. A single ride costs only $14, and an all day pass can be yours for $30. Nevada locals can ride twice for the price of one, and hotel guests receive varying discounts depending on the hotel's current offers.
Bonus? The entrance to the roller coaster is in the middle of the hotel's massive arcade, which probably has the world's largest collection of claw machines. Seriously, they've got claw machines for pretty much anything you can imagine. Another favorite of ours is the four player Pac Man tournament.
How much it costs to ride:
Individual Tickets are $14.00, Scream Pass is $25.00 (Includes all day ride pass, $2.00 off 5×7 photo.), and 'Family Fun Flight for Four' is $60.00 (Includes Four individual ride tickets & two 5×7 close up photos.) Locals Receive a Free Re-Ride! – Must purchase one regular priced admission. Valid NV I.D. required.
Riders Restrictions:
Must be 54″ to ride. Hours of operation are subject to weather conditions and other circumstances which may suspend service. Other restrictions are listed at the ride entrance such as notices about medical conditions, heart problems, pregnancy, etc. (Basically, you should know if you should be riding a roller coaster or not).
Video from the front seat: