Located at Paris Hotel & Casino, Chateau Nightclub spans more than 45,000 square feet and sprawled across two stories. Featuring three separate nightlife experiences including a high-energy nightclub. Chateau Nightclub brings forth an unparalleled outdoor nightlife experience. Located under the Eiffel Tower on the rooftop of the indoor nightclub, overlooking the spectacular Bellagio Fountains and reminiscent of a lush garden in Versailles, Chateau Rooftop spans 22,000 square feet in an unparalleled setting beneath the stars. Featuring a lavish rooftop garden, blossoming greenery and lush cabanas, the picturesque nightspot offers a full nightclub experience with an exciting rooftop dance floor, high-energy lighting, VIP bottle service and panoramic views from high above the Vegas skyline.
Before we get into the insider tips, take a minute to watch this video and see what to expect when visiting Chateau.
After seeing what a night at Chateau is actually like, i'm sure you're thinking to yourself that you want to go. We've got you covered. Just click below to message a Chateau Nightclub VIP host directly.
Insider Tips For Chateau Nightclub:
THE SETUP AT THE DOOR: General admission customers should follow direction of the many posted signs, while table customers should follow the direction of the host they have reserved service through.
NAVIGATING THE ROPES: Average wait times are 15 – 20 minutes. Best to arrive by 10:30PM ON Wednesday and Thursday. Friday and Saturday, 10:30PM.
HOW TO GET TO THE NIGHTCLUB: Located inside of the Paris Hotel & Casino. If you are lost, simply follow the signs to the opposite hotel and you should run right into it.
BEST NIGHTS TO GO: Open Wednesday, Thursday, Friday and Saturday. You will find the busiest nights on Friday and Saturday.
DRESS CODE: So that there isn't any problem getting into the club once at the rope, gentlemen should make sure to wear a collared shirt and / or sport coat to Chateau Nightclub. Always be mindful of wearing nicer shoes and avoid anything that can be considered sportswear (track jackets, jerseys, sports shoes, hats, etc). Remember, if you are unsure if something will work or not, play it safe.
DRINK PRICES: Mixed Drinks Start at $15 – $20, Beers $10, Shots $10.
BOTTLE SERVICE PRICING: Table service pricing varies based on demand and event for the night. Bottles start at $500. For an accurate quote on a bottle service minimum and table pricing, visit the Chateau bottle service page. To learn more on how bottle service works, read our complete guide.
BEST TABLE LOCATION: As with most nightclubs, your better table locations are those located closer to the dance floor. The great thing about the layout of Chateau Nightclub is that all tables give a great view of the dance floor and overlook the Las Vegas Strip.
GUEST LIST: Sign Up for Chateau Guest List.
Chateau Nightclub Map: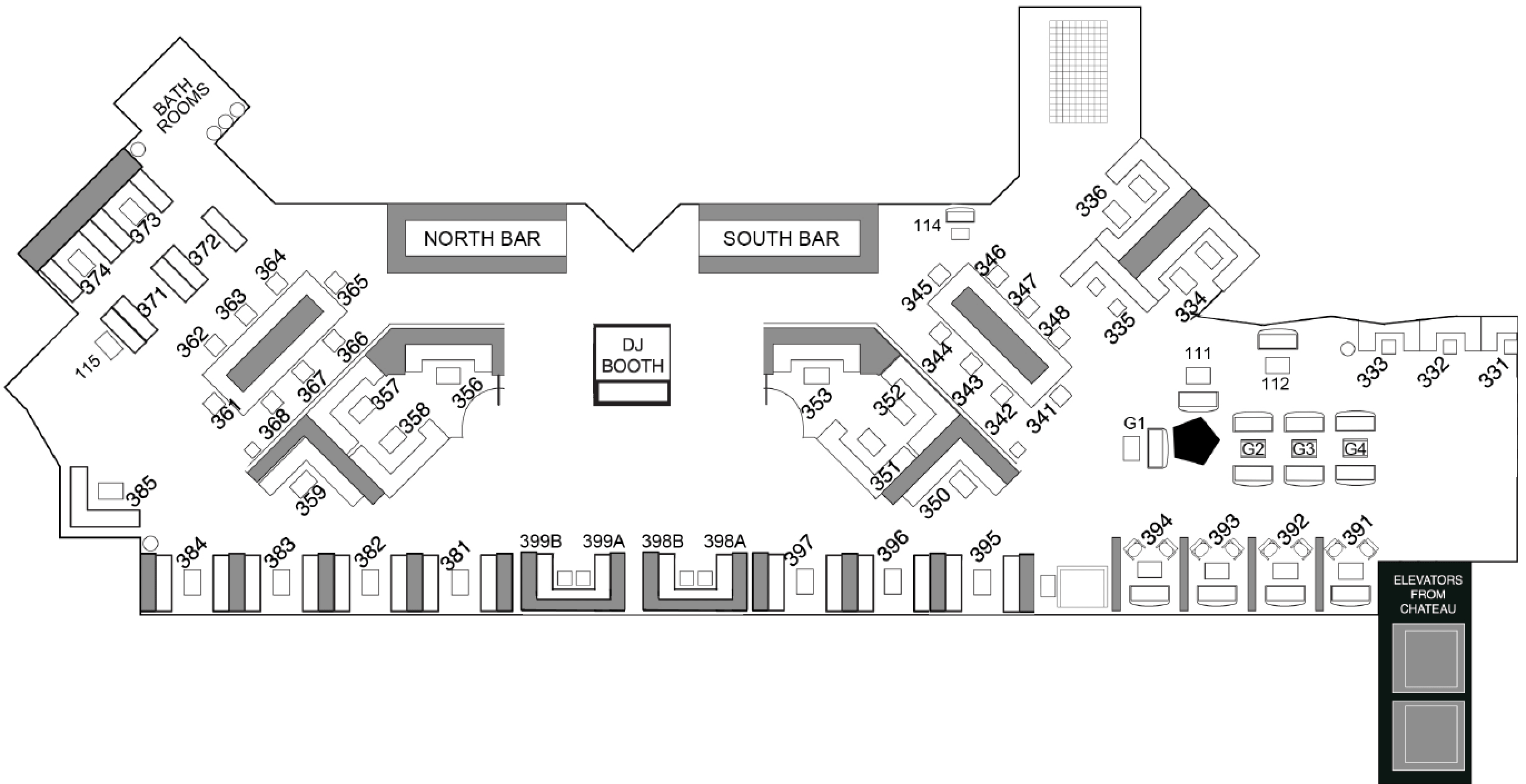 Photo of Chateau Nightclub: