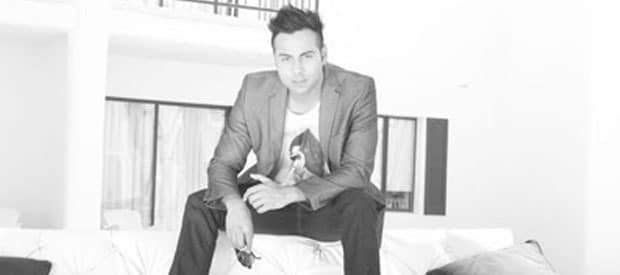 Las Vegas nightlife has always been somewhat compartmentalized when it comes to the various scenes within the scenes, and Eduardo Cordova is unquestionably influential in the trend of bringing gay and lesbian nightlife into more mainstream Las Vegas nightclubs. In addition to his successful events at Cathouse, Revolution, and Bare Pool, Cordova is heavily involved in the marketing of the new venue, Share Nightclub.
LasVegasNightclubs.com: What originally brought your career to Las Vegas nightlife?
Eduardo Cordova: After graduating from the University of Arizona, I moved to Las Vegas to pursue my entrepreneurial dreams of having my own company and being my own boss. I first started working in retail and going out to meet people and see what it was that caught my attention. It was, of course, nightlife. I took every job that would show me more about what I wanted to do. I remember working at Scoop NYC at Forum Shops and walking across to Tao after. I always wanted to see how boutiques worked with clothing labels and how hard it was to have your own. Later on I worked for Casino Player magazine and learned everything about publishing, advertising, and media. I launched my own media company after one year of moving to Vegas and that's when I started working closely with nightclubs. I started working with Tao on Thursdays back then.
JC: Had you worked in nightlife elsewhere?
EC: During a college internship I did in Los Angeles during my Junior year I worked at Tokyo Bar and Star Shoes helping my friend promote his nights in Hollywood. Totally different.
JC: Explain to readers the intrinsic differences in how one operates differently when promoting to a gay clientele versus a general audience?
EC: A lot of the events clubs have in Vegas could be applied to the gay audience, but there are many aspects to consider. I would say the right formula to cater to a LGBT clientele is: entertainment, service, and security. Many venue owners think that by putting a rainbow flag and booking a house DJ, gays will start walking in your doors and it's not quite that simple. You have to know what is relevant for this audience as far as entertainment; performer, DJ, or celebrity host. Make sure that your staff knows that gays just want to have fun. This group is a lot more friendly and less trouble to venues regarding security. On the other hand, one bad experience could be the end of the event for good. This is a very loyal crowd.
JC:  Prior to your events, Las Vegas gay and alternative nightlife had always been localized to a specific area east of The Strip. How did you first begin promoting these events in mainstream nightclubs?
EC: In 2008, I had been meeting with almost every venue on the strip to pitch a gay night with no luck. Venue owners were concerned of the "gay label" if someone from out of town came to the club in that night and left thinking is a gay club. Then I was at Cathouse one night and Tiffany Masters helped me talk to Billy Cross to do a night on Sundays since they were closed that night. Cathouse agreed to have this night but told me I could not say it was a gay night because the casino may not like that. They told me " just invite your friends and lets see what happens." I decided to call the nigh "Closet Sundays" since I could not say it was gay and the night itself was in the closet. I called my promoter friend in LA to help me host the night and it started with around 40 of my friends, then 60, then 100. By the 6th month we were the busiest night for this venue and we started to get a lot of attention. My gay friends that were directors in Light Group and Tao Group were coming to my nights and saying how cool it was and that we needed something like this in a Casino. After 1 year I got an offer from Light Group to move this night to where it its not at Revolution inside the Mirage and its been 3 years now. Sundays is the only gay night inside a casino in Las Vegas mainstream world. Since the name is not relevant anymore, I am re-launching Sundays at revolution with new name and concept this coming April 2012.
JC: How was the response from the gay community? Was it a runaway success?
EC: The hardest thing to do is to take the gays out of the gay world and their routine so I knew this was a big challenge. I like new and fresh ideas and this is what makes my events successful. We had a briefing with casino security and club staff about this new night to make sure everyone makes these new guests feel welcomed. From valet to the bathroom attendants, it was clear they were all welcomed. Believe me, the biggest test is inviting drag queens and transsexuals to your events and, if they feel welcomed, then everyone else should!
Imagine the biggest drag queen you have ever seen having to valet or self park and walk all the way across Mirage casino to get to revolution or to Bare pool for "Heaven." Imagine all the looks that she would get and all the heel walking she would have to do. This was the hardest test but I made sure they all felt like VIPs and everything after was a big success!
JC: What percentage of the nightlife market do you see as being within your target clientele?
EC: In vegas I would say that LGBT market accounts for 10-15% of the nightlife.
JC: Do you feel like the Las Vegas gay nightlife scene is still evolving into something bigger? If so, where do you see if going within the next 5 to 10 years?
EC: We have come a long way already in the gay rights movement in the US and this has a lot to do with the way people see this community. We are in a constant battle and change. I do know that gay nightlife in Las Vegas is evolving into something bigger and could be a huge market if done the right way.
5-10 years from now I see Las Vegas being the capital of gay weddings, entertainment and nightlife. All we need is Nevada to legalize gay marriage for casinos to jump on gay wedding ceremonies which will be huge impact in our economy. Just imagine…
JC: Do you see room in the market for other mainstream Las Vegas nightclubs to open their doors for gay nights?
EC: Yes, of course! Anyone wants to give me a Saturday please call me!
JC: Nightclubs in Las Vegas typically have a good run of 6 to 10 years before operators start looking at replacing the venues with something newer. Is this same mentality necessary in gay nightlife? Why or why not?
EC: People are always looking to go to the new hot spot. I believe that a club should not necessary close, but definitely get a facelift.
JC: Tell us about your new venue? How did it come about?
EC: Share Nightclub is the new kid on the block. This is the proof that gay nightlife is on its way to be developed in Las Vegas. I got a call from Gino LoPinto to see if I would be interested in helping with marketing this new venue to a gay audience. I said I have been waiting for this so I got involved. Share is not a new concept in Vegas, its very simple: 2 stories, nightclub on the main level and a lounge / strip club on second floor.
This place is really cool compared to any other gay venue in Vegas, and that is what attracts people. The staff is really hot and friendly. It is off the strip right behind the Palms but that can make it special and more accessible.
JC: Do you see yourself opening multiple venues in the future?
EC: Yes I do. I have been offered to partner with several projects for gay clubs/restaurants in Vegas. I am just waiting for the right time and the right space.
JC: Inevitably, someone reading this wants to someday do what you do. What advice do you have for them to be successful in a similar career?
EC: I would say to dream big, don't settle and always take any job that will lead you to learn more about what you want to do.
JC: Give us some names of people you believe deserve recognition within your industry, and why?
EC: In the local LGBT community there are many names that deserve recognition. I do the "Power of 20" every year to honor these individuals. But in the gay nightlife industry, I would say there are only a few in Vegas. I think Mike Crisp, the owner of Share Nightclub, deserves recognition for taking this risk and taking gay nightlife to a new level. Lisa Pittman definitely deserves recognition for always pushing for the girls and do basically the same thing I do. She is a fighter and an advocate. I think the entire LGBT community of Las Vegas is getting stronger every year and I see a very bright future for us.