It's finally here- your trip to Las Vegas for a few days of sunshine, boozy cocktails, and general debauchery has finally begun. Stepping out of the airport to rip off that mask feels so good until you realize the mask mandate in Sin City has been reimposed. Here we go again, folks. But before you heave an eye-rolling sigh and kiss your full-face photos goodbye, there is good news. The clubs are still open! So knowing where and when you need a mask while in town can help you plan accordingly and get your trip back on track. While indoor venues do require your mouth and nose to be covered at all times unless you are eating or drinking, there are plenty of outdoor attractions just waiting to be explored, and options to avoid being masked up the whole time you're in a club.
On July 30, 2021, Las Vegas reinstated the mask mandate requiring patrons and visitors to wear face coverings while inside casinos, restaurants, bars, etc. When you are sitting at a table eating or drinking, you can remove your mask, but you are required to wear them when moving around indoors. Even people who are vaccinated must adhere to the new rules. Governor Sisolak's office released a statement targeting the new strain of the COVID-19 virus as one of the main reasons for the reinstated mandate. "This update comes as the Delta variant now accounts for the majority of new cases. The Delta variant has shown to be much more contagious and spreads more than twice as easily from one person to another…"
The new variant has caused cases to skyrocket in Sin City over the past few weeks, making the need for face coverings more prevalent to help curb transmissions between individuals in public spaces. For anyone wanting to spend their evenings schmoozing inside a club, this can put a damper on the plans. However, thanks to the fact that table seatings don't require masks, indulging in bottle service might just save the night.
Some clubs, like Omnia, also offer an outdoor space, better known as Omnia Terrace, where you can listen to your favorite beats while sipping drinks without the need for masks. The intimate but spacious venue lets you party above the Strip like a true Vegas rockstar. If you're looking to cool off after a day spent in the sun, spots like Daylight Beach At Night, Encore Beach Club At Night, and Ayu Nights let you party in or out of the pool by moonlight. You can play in the water, or treat yourself to a cabana or daybed while world-renowned DJs take the stage- all without the need for face coverings.
Should you choose to check out the other indoor Las Vegas nightclubs, you will want to plan on having a mask handy for public areas like the bar, bathrooms, dance floors- and anywhere else where you aren't eating, drinking, or sitting at a table. VIP bottle service, where you can sit back and enjoy a truly magical experience also come with the perks of no facial covering requirements- all the more reason to splurge while visiting the city of neon dreams.
During the day the town comes alive with pool party connoisseurs seeking out the best place to catch a tan and down a drink or two. While there are a variety of places to choose from, the good news lies in the fact masks aren't required at any outdoor venues. All the more cause to sunscreen up and head out to spots like Drai's Beach Club, the brand new Ayu Dayclub, Wet Republic, Marquee Dayclub, Daylight Beachclub or Encore Beach Club. Ditch the face blockers and spend your Vegas vacay catching rays and enjoying the hot breeze on your cheeks. That desert heat never felt so good, right?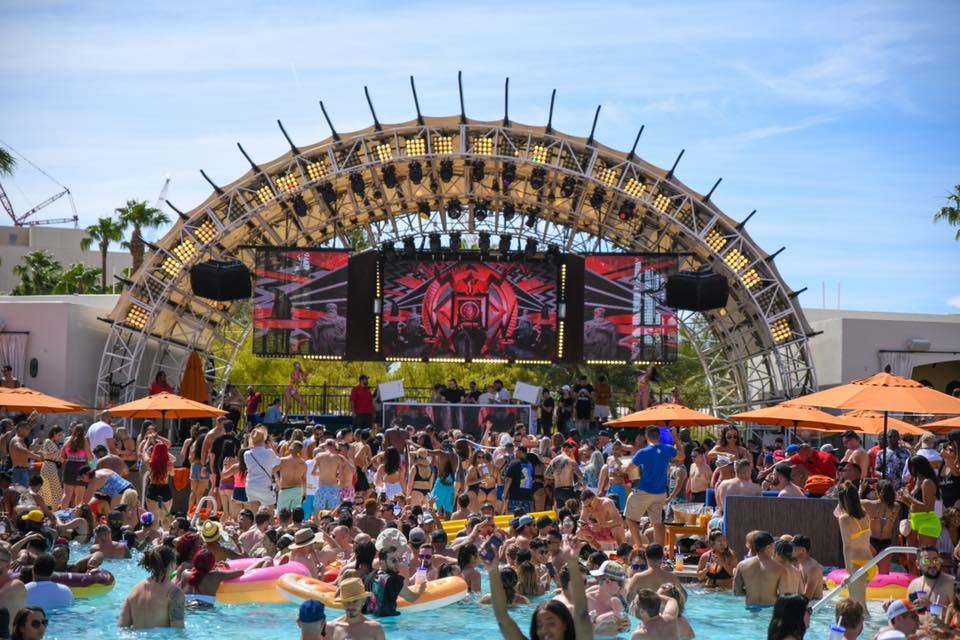 It is important to remember that even when on your way to an outdoor event or venue, you might need to mask up while walking through the casino, or going to the bathroom, so keep one handy when you're out and about.
Armed with the mask mandate information and guidelines, all you have left to decide is where to begin your party tour. Depending on the experience you're craving you can choose from any number of incredible settings. Ayu Dayclub offers a taste of the Southeast Asian islands, giving you Bali vibes right in the middle of the desert. The bohemian backdrop and oasis feels will set the scene for a truly memorable experience that might just be the cherry on top of your holiday with a weekend full of day and night events beginning on Thursday evening.
Daylight and Encore Beach Club, as well as Marquee and Drai's, all offer day and night events so you can party from sunup to sundown in one place, or bounce between for a sampler of different musical stylings. If you happen to still be in town on a Sunday night and want to go out without a mask, make sure to check out XS Nightswim or Drenched After Dark at Marquee.
No matter what you do in Sin City, it is always a good idea to keep up to date with mask policies and venue rules to ensure you don't encounter any snags in your plans. While face coverings can potentially ruin any outfit, the upside is you won't need a small piece of fabric to dictate your entire trip- in fact, the only tiny pieces of fabric we want to think about are g-strings and revealing swimwear. As for the mandate: did anyone say matching Vegas masks?