Looking for some amazing Las Vegas nightclubs to visit? Then keep reading! We'll give you a comprehensive list of all the ones you'll need to hit up and who you need to contact at each club!
In 2018, over 42 million people visited Las Vegas. This popular tourist destination is great for not only gambling and strip clubs, but also clubbing!
This city is known as the city that never sleeps, and their nightclubs are no exception. Las Vegas clubs are usually open until 4:00 am, so if you're looking to do some hard partying, this is where you need to be:
If you're looking for a club that plays just hip hop, then perhaps Drai's is right for you. This club is located in The Cromwell and their resident performers include The Weekend and Chris Brown.
When you're not busy dancing away, you'll get to enjoy a breathtaking view of the entire Strip while you sip on your drink. This club also has a dayclub in the summer, so you'll be able to party in the daytime if you wish.
Drai's is open Thursday through Sunday from 10:30 pm until 4:00 am. Expect to wait in line for about an hour or so.
If you want a table and/or bottle service, it's best to make a reservation ahead of time.
Drai's Host Contact: Contact Phil Loomis here directly.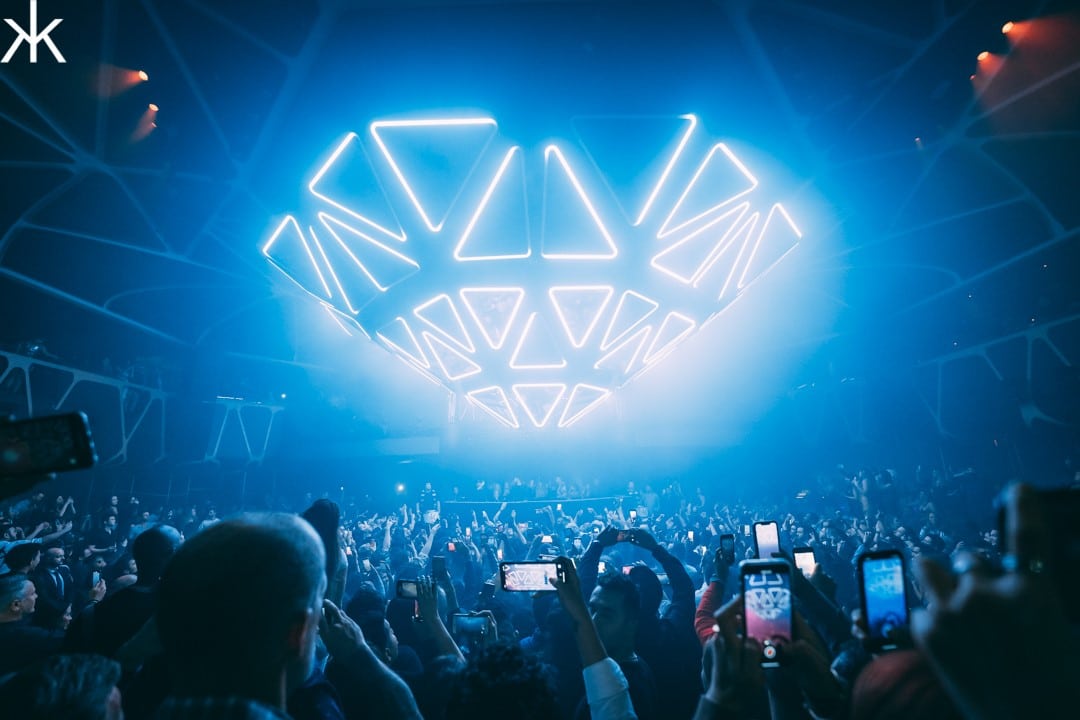 This is one of the hottest clubs you'll find in Las Vegas. If you're ever in the city and you Google "night clubs near me," Hakkasan is guaranteed to be one of the first ones to pop up.
This club is located in MGM Grand, which means you won't be disappointed when you walk in. Hakkasan spans 5 floors, giving clubbers plenty of space to dance their hearts away. Some top DJs have spun their music here, such as Calvin Harris, Tiesto, and Steve Aoki.
If you ever feel like you need a break from all the electronic dance music, hip hop, or top 40s, you can always go across to the Ling Ling Lounge. This lounge has a chiller vibe, but not completely so that you'll fall asleep. And if you ever get hungry, you can go next door to the restaurant Hakkasan for some tasty Chinese food.
Hakkasan is open from Thursday until Sunday, from 10:30 pm until 4:00 am. If you want to get in, do be aware that there's a dress code to follow. This means some fashionable attire.
If you want a table and/or bottle service, it's best to make a reservation, as the club is insanely popular and busy. Expect to wait in line for about 2 hours.
Hakkasan Host Contact: Contact Dustyn Zenner here directly.
Before 2015, this club was known as "Pure." However, in the spring of 2015, it reopened as Omnia. This club is owned by Hakkasan Group, which has quite a few Vegas nightclubs around.
Omnia is located in Caesars Palace and usually plays top 40s and hip hop. However, like most other Vegas clubs, you'll also get popular DJs spinning EDM.
It has a slightly more upscale look than other clubs, considering it has chandeliers, antique mirrors, and other things made of beautiful oak. In fact, it has the main attraction of a kinetic chandelier that weighs 22,000 pounds! The chandelier has 8 concentric circles, which enables the club to have state-of-the-art lighting effects.
In this nightclub, you'll find 4 different sections to get your dance on. What really makes Omnia shine is its 12 VIP boxes located in a balcony-like area. This gives it an old-timey feel, as it's reminiscent of the boxes you find in opera houses.
Omnia is open from Thursday until Sunday, as well as Tuesday, from 10:30 pm until 5:00 am. Like with other clubs, you'll have to follow a dress code and make reservations in advance if you want tables and/or bottle service. You may wait in the line for up to 2 hours.
For the dress code, not only do you have to wear upscale attire (men have to wear collared shirts), but there are certain things that are prohibited. For example, they won't let you in if you're wearing hats, sneakers, sandals, hard-soled shoes, boots, baggy clothing, ripped clothing, men's shorts, or any type of athletic clothing.
Omnia Host Contact: Contact Brandon Devlin here directly.
Looking for another upscale club? Then you'll find it at XS, which is located in Encore at Wynn.
In this nightclub, the walls are decorated in gold. You heard us right: it's covered in actual gold!
At XS, the music you'll enjoy include EDM, hip hop, top 40s, and some '80s tunes as well. Resident DJs include Chainsmokers, Diplo and Major Lazer, so if you're big fans, don't miss out on partying with them. Many big-name artists perform here as well, such as Drake.
If you want to indulge in Las Vegas pool parties but don't want to go in the daytime, then you'll be pleased to know that XS offers something just for you. Every Sunday night in the summer, you can attend XS Nightswim, which is a pool party in the evening.
But it's not just a regular pool party; this venue has an amazing light and sound system that rivals indoor clubs. You'll enjoy lasers and screens all along the pool's edges. And like with normal nightclubs, you'll still enjoy bottle service.
While all Vegas nightclubs may cost a pretty penny to get in, XS is a bit pricier than the others, so be prepared for that. This club is only open on Friday and Saturday nights from 10:30 pm until 4:00 am. XS is also open on Sundays for special events.
If you thought the wait for the lines in other clubs was insane, wait until you go to XS. Here, you can wait up to 3 hours before you're let in! Also, the dress code is strictly enforced, so make sure you're wearing something appropriate before you go.
XS Host Contact: Contact Kalani Caspino here directly.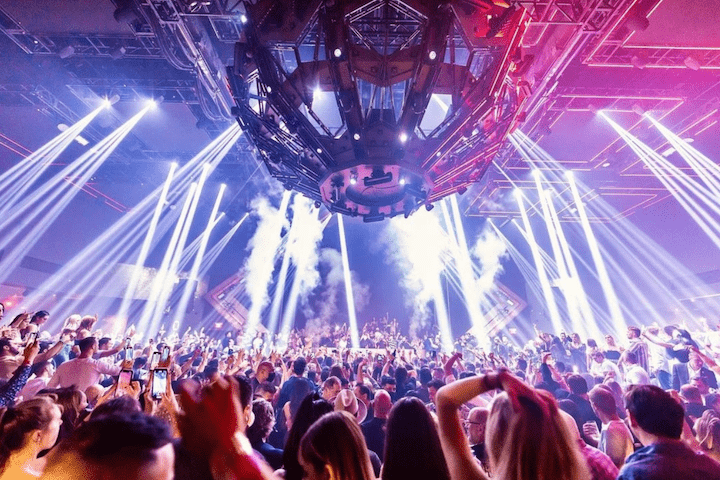 Zouk Nightclub is the newest and the most technologically advanced nightclub in Las Vegas. Partygoers can move through multiple experiences with Capital Bar and Empire, which will be able to operate as an addition to the main club or separate venues on specific nights and seasons. See performances by artists like Tiësto, G-Eazy, Disclosure & more!
To make reservations, contact Mike Glenn, a Zouk Las Vegas VIP Host.
If you want tables and/or bottle service, make sure to call ahead and make reservations so you won't be disappointed.
Zouk Host Contact: Mike Glenn.
Marquee is a Vegas club for millenials. It's located in The Cosmopolitan, which has a very contemporary design.
In this club, you'll get to enjoy quite a few dance floors, including a cocktail den reserved for the VIPs. DJs from all around the world come to spin hip hop and house music.
Not only that, but you'll also find an open-air pool deck which is used as a dayclub. There are 8 Grand Cabanas, which have private spas and infinity plunge pools. Do note that this is only open in the summertime.
Marquee is open on Monday, Friday, and Saturday from 10:30 pm until 4:00 am. Expect to wait up to 3 hours in line when you go.
For those of you who want to go clubbing on a Monday night, we highly recommend going to Marquee. This is one of the few places that will be popping on a weeknight.
The dress code is upscale-casual, which gives you a little bit of freedom in your clothes. Men have to wear button-down collared shirts and dress shoes. For both sexes, you aren't allowed to wear open-toed shoes, flip-flops, or tennis shoes.
Reservations are a must if you want tables and/or bottle service at this nightclub.
Marquee Host Contact: Contact Cliff Orr here directly.
Get the Ultimate Experiences at Top Las Vegas Nightclubs
Now that you know which Las Vegas nightclubs are worth your time, you and your friends are sure to have an unforgettable experience. Clubs in Vegas usually won't disappoint much anyway, but by choosing those that are best suited for your group and tastes, you'll easily have a much better time than had you not done your research.
So with this list of top clubs in Vegas, make every night out spectacular. Be sure to make reservations early, and you'll decrease your chances of running into issues.
Be sure to check out our event calendar for the best Vegas events on The Strip!