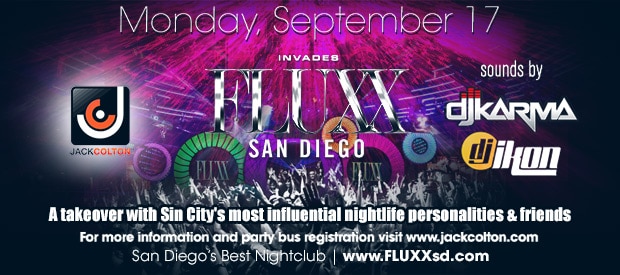 Setup the barricades and prepare your livers, there's an invasion coming! On Monday, September 17th, the Las Vegas nightlife industry is invading San Diego's Fluxx Nightclub and things may get messy! Some of our top Las Vegas residents, DJ Karma, DJ E-Rock and DJ Ikon, will be manning the decks while hundreds of current and former Las Vegas nightlife industry members pour into the club for a night that will surely be worth hopefully remembering.
Fluxx Nightclub will be providing complimentary shuttle transportation from Las Vegas to San Diego on Monday, September 17th, with a complimentary return by the evening of Tuesday, September 18th.
Fluxx Nightclub Table Reservations:
For table reservations, please contact Kalika Moquin at 702-340-7533 or by e-mail at [email protected]
GET ON THE BUS:
Complimentary Bus to San Diego: 
We have a charter bus leaving Bellagio Hotel valet on Monday, September 17th at 11AM which will arrive at Hotel Solomar (2 blocks from Fluxx) at approximately 5PM. Space on the bus is limited and those who have reserved seats in advance will be accommodated first. To reserve space, or if you have any additional questions, please e-mail LasVegasNightclubs.com at [email protected]
Complimentary Bus to Las Vegas: 
The return bus to Las Vegas will leave Hotel Solomar on Tuesday, September 18th at 1PM, and will arrive to the Bellagio Hotel valet at approximately 7:30PM (though it is wise to plan for possible delays). Those who rode the bus to San Diego will be guaranteed a seat on the return to Las Vegas, and those wishing to reserve a seat on the way back should e-mail LasVegasNightclubs.com at [email protected]
BOOK YOUR STAY:
Hotel Solamar is offering guests of Fluxx Nightclub discounted room rates of $155 (Solamar is located 2 blocks from Fluxx Nightclub) as well as at Hotel Palomar (6 blocks from Fluxx Nightclub). To book at Hotel Solomar, call 619 819 9535 or click here. To book your room at Hotel Palomar, call 1-888-288-6601.
San Diego's Hard Rock Hotel is offering guests of the Vegas Invasion a special rate of $159 per night. To reserve at this rate, please call 1-866-751-ROCK (7625) and mention "LasVegasNightclubs.com." **You must make your reservation by 5PM on Friday, September 14th to get this rate.