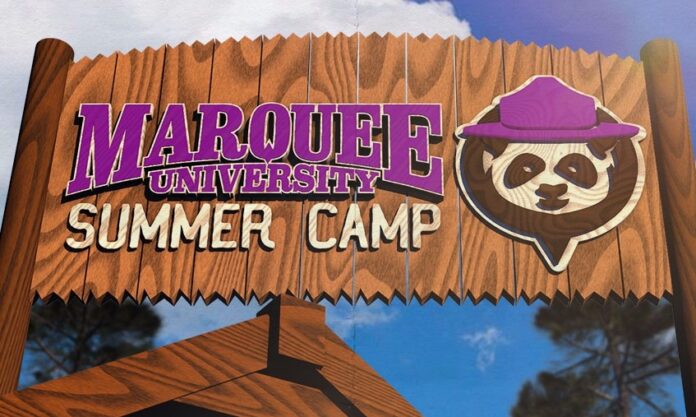 Splash into summer at Marquee University's Summer Camp at Marquee Dayclub on Sunday, June 23rd with sounds by Sam Feldt! School's out and Marquee University is heading to Summer Camp at Marquee Dayclub! Grab your buddies and put on your best board shorts and bikinis for a day of fun in the sun competing in pool-side games for prizes all day long. Let the games begin as soon as you walk through the door as each and every guest is given a colored accessory identifying the team they will be representing in games throughout the day. Whether you came to dip & dance or pop some bottles, the pool deck is the playing field and everyone has the chance to win! Enjoy a salute to summer with the sounds of Sam Feldt and get ready to play at Marquee University's Summer Camp at Marquee Dayclub on Sunday, June 23rd.
Marquee University brings the nostalgia of our most memorable school social events and parties like Prom and Homecoming to Marquee Mondays, Las Vegas' most popular school industry night! Dust off your old school swag and be a part of Marquee University's sophomore class! Vegas' most notable industry personalities and locals alike are encouraged to dress in theme to each event to compete for social media's most coveted titles, crowns and prizes! Take a trip back in time as these themed events transform Marquee Las Vegas into the school year's most anticipated dress up days in nightlife! Be the coolest kid in class and get your friends on the VIP List for personalized invitations to events all school year at Marquee Las Vegas! Register as a student at Marquee University or purchase your tickets here!
Which team would you join?
[poll id="8″]
Summer Camp Games:
1pm – 3pm (BEFORE the headliner set)
GAME 1: Relay Race (1:00 pm)

Overview: Divide players into teams of four. Players will compete as a team, rather than as individuals, to swim the distance of 4 laps in the fastest combined time possible. The team with the fastest time WINS!

GAME 2: Pool Float Pile On (1:30pm)

Overview: Divide players into two teams. Each team will receive 1 large, floatie. Players will take turns getting onto the floatie. The team to fit the most people on their floatie WINS!

GAME 3: Water Balloon Toss (2pm)

Overview: Divide players into teams of two. Each player will stand on opposite sides of the pool.  Provide 1 water balloon per team. The goal is for two players to pass the water balloon back and forth without popping it or dropping it into the pool. The team able to go the longest WINS!

GAME 4: Rubber DuQie (2:30pm)

Overview: Choose 2-3 players from each team. Fill blow-up pool with water and float 1,000 rubber duQies in it. 1 duQie will be marked with a Q. Whoever can find this duQie, WINS!