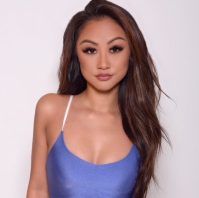 Venue of Employment: Camden 
Job Title: Cocktail waitress 
Instagram Handle: @maryerika
If not originally from Las Vegas, where did you move here from?
Bay Area, CA
How did you start working in the nightlife or hospitality industry? Give a brief work history / background. 
Moved to Las Vegas 4 years ago for nursing school, my first year I went to visit my friend at Marquee & she said the host team was hiring, then a mutual friend referred me and gave my resume to the host manager at the time, and a week later I started my nightlife industry career on the Marquee Host team for 3 years. This recent year I then transitioned into being a server, and I love it! 
Now that you are working in the industry, what is different about your lifestyle?
EVERYTHING. I used to sleep at night. Now I don't sleep at all. It's a different and crazy lifestyle for sure, but I enjoy the craziness.
What does a typical day at work look like for you and what is your "normal" schedule?
Working at a new venue in a newly remodeled hotel (the Palms) I get to see a whole bunch of new and familiar faces. From visitors just wanting to check out our extensive specialty cocktails and/or art pieces, to Vegas locals/industry just looking to familiarize themselves with all things that are new on the strip. My normal workday at Camden typically starts at 9p and ends at 3a, unless we're busy we will stay open until the party stops. Maybe until the sun comes up? I also work at another pool as a server, so I sometimes work during the day and head over to work the lounge in the evening. What is sleep? 
How long does it take you to get ready for work?
30 minutes to 2 hours. It's a surprise every time. 
How many nights a week do you go out (to a club)?
0-3 or…This is also a surprise every time.
Who is your favorite DJ/performer in the Las Vegas market right now?
Travis Scott.
What is your drink (alcoholic) of choice? 
Hennessy or Jameson.
What is your secret cure to a hangover?
B12 before going to bed and pedialyte when I wake up.
What was the longest timeframe you have stayed awake? When and why?
Almost 24 hours. New Year's Eve 2 years ago. I worked dayclub at Marquee, then worked nightclub. Drake performed and didn't get home from work until 7am, when I had woken up at 8a the day before to get ready for work. 
What do you enjoy most about working in the nightlife or hospitality industry in Las Vegas?
The things you see and hear. You think you've seen and heard it all… until next weekend with the new wave of spring breakers and bachelorette parties.
What is your least favorite part about working in the nightlife or hospitality industry in Las Vegas?
The stereotypes. 
If you were not working in nightlife or hospitality, what would you be doing?
Finishing nursing school and probably pursuing aesthetic nursing. And doing YouTube videos. Add me.
Do you have a mentor in the industry? If so, who? If not, who would you like to be mentored by?
I wouldn't mind being mentored by any of the venue owners in the nightclub industry; all the nightclubs generate a generous amount of income and have created a brand that's known from visitors who make it a point to visit their place of business for a good time, and to me that's a huge success. 
Craziest or most memorable experience working in the nightlife or hospitality industry in Las Vegas?
Being a girl on a host team full of dudes…I never knew how much alcohol one could consume in a short amount of time…Within an hour.