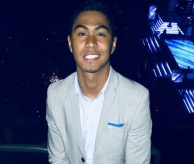 Venue of Employment: Light / Daylight
Job Title: Girl Guy
Instagram Handle: @HADU_KENNN_lightlv
If not originally from Las Vegas, where did you move here from?
Reno, NV
How did you start working in the nightlife or hospitality industry? Give a brief work history / background.

I Worked as a manager at AT&T for years, got tired of all the extra stress. My cousin said work in the industry, so I tried it out part time ended up moving up within my first month. I quit AT&T a week later, and the rest has been history 
Now that you are working in the industry, what is different about your lifestyle?
Less stress, more money, and so much more free time to enjoy 
What does a typical day at work look like for you and what is your "normal" schedule?
There is nothing normal about this schedule, but it consists of me waking up early texting/networking until the sun goes down, and then cruising through the nightclub at night wrangling as many folks as possible to various areas and tables. 
How long does it take you to get ready for work?
30 minutes and that's if my clothes are ready and ironed.
How many nights a week do you go out (to a club)?
Feels like almost every night, but money doesn't sleep, so why should I. 
Who is your favorite DJ/performer in the Las Vegas market right now?
Gucci is fire 
What is your drink (alcoholic) of choice?
Patron or Hennessy.
What is your secret cure to a hangover?
For every 2 shots I drink 8oz of water. Gatorade before bed, wake up feeling like a champ. Or Pho and tons of water 
What was the longest timeframe you have stayed awake? When and why?
I rallied hard for a few days in San Diego. Why? Have you met Kevin Haz, and Zak Jordan…SMH
What do you enjoy most about working in the nightlife or hospitality industry in Las Vegas?
Everyday is simplistic, and pretty fun. But reasonably fast pace, where you are still on your toes. Not to mention all interesting people you meet 
What is your least favorite part about working in the nightlife or hospitality industry in Las Vegas?
The way tourists treat you initially 
Do you have a mentor in the industry? If so, who? If not, who would you like to be mentored by?
Zak Jordan, Kevin Haz and Brad Hogeg