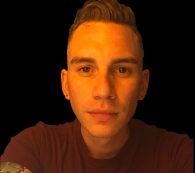 Venue of Employment: XS | EBC | Intrigue 
Job Title: VIP Host 
If not originally from Las Vegas, where did you move here from?
I was living in Hyde Park, New York in the Hudson Valley and moved here from Brooklyn. 
How did you start working in the nightlife or hospitality industry? Give a brief work history / background.
I have been working in restaurants since I was 15. Started as a dishwasher and worked my way up to executive chef. I worked in Vegas fine dine as a Chef for Five years before i arrived in this industry. 
Now that you are working in the industry, what is different about your lifestyle?
With restaurant hours under my belt, working beach club, xs and intrigue wasn't a terrible transition. I do go out and socialize a lot more.  I'm definitely living more and seeing vegas in a new way. 
What does a typical day at work look like for you and what is your "normal" schedule?
Wednesday – Sunday we are at a club. Beachclub during the day, XS and intrigue by night. Office time to hit to phones, and in between time to rest, eat, gym, back to the clubs. 
How long does it take you to get ready for work?
Not too long. 20 minutes with a shower 
How many nights a week do you go out (to a club)?
5 
Who is your favorite DJ/performer in the Las Vegas market right now?
Diplo 
What is your drink (alcoholic) of choice?
Tequila(reposado) water and lime. Short on time; tequila. 
What is your secret cure to a hangover?
As much water before bed as I can. When I wake up to pee, more water. Then Pho Kim Long for Pho.  
What was the longest timeframe you have stayed awake? When and why?
2-3 days. EDC three days while working 8am shifts. 
What do you enjoy most about working in the nightlife or hospitality industry in Las Vegas?
All the people I've met and people I get to hangout with. All of guests have become close friends. 
What is your least favorite part about working in the nightlife or hospitality industry in Las Vegas?
Sometimes I just want a nap. 
If you were not working in nightlife or hospitality, what would you be doing?
Probably still in a kitchen.  
Do you have a mentor in the industry? If so, who? If not, who would you like to be mentored by?
I'm so very privileged and honored to be working along side some of the heaviest hitters in the industry. They have all taken me in and I learn a great deal from all of them everyday. Couldn't have it any better. 
Craziest or most memorable experience working in the nightlife or hospitality industry in Las Vegas?
Million dollar Bardo's, Million dollar day.